It has been four years since a team of us, inspired by the Kieron Gribbon's book, pioneered doing all the Leinster County Tops within 24 hours (as far we know!). So, we were long overdue taking this task to the next province, it's as if we needed the World Cup to come around again! It was always going to be our near neighbour Ulster that would be second on the hit list. I am aware of a couple who have done the 6 counties in the past, but not a team who also took in all the Free State counties as well. Our team four years ago was four of us from the wee county; this time around two of that team were still standing, with the addition of a Jackeen and a dedicated driver.
We strongly debated which route we would take around these humps, hills and mighty mountains of Ulster and eventually agreed to an anticlockwise direction. This was never going to be the quickest route possible. For others who might decide to take on this challenge I can safely say that there are much quicker routes possible. The one thing that was never up for debate was our starting point. This was always going to be the monstrous Donard and in my personal opinion still the toughest mountain I have ever done on this fair island. Also preferring to stay away from the madness of the Saturday strollers on the Glen River route we approached this beast from the Bloody Bridge side. A quick shout out to Bryan and Catherine, we discovered their lovely home on Air B&B, where the Mournes Sweep Down to the Sea and would highly recommend it for any walkers looking to stay in the area. This was our starting point, an easier approach than from the bloody bridge car park and slightly higher above sea level and so we set off to take in a slow 774M ascent, just as the warm up for our challenge! We summited shortly after 10.30, but waited until 11am before heading back down and starting the clock. Our challenge was on!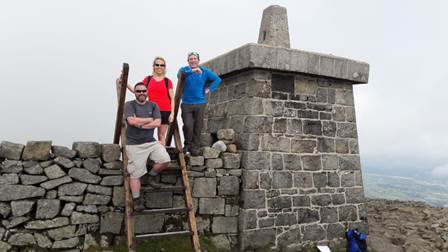 Buoyed by our early optimism of the task ahead and glorious sunshine of our recent heatwave we descended Donard in not much more than an hour and were quickly off in the car, heading for the Glens of Antrim and the lunar like summit plateau of Trostan. The detailed planning for this assault on Ulster meant that we had projected walking times for each summit based on previous reconnaissance walks of each hill. They would prove to be surprisingly accurate to actual performance, as would the driving time calculations derived from google maps. We did however descend Donard at a rate that gave us a twenty minute head start on our projected timing. This was given up by a coffee stop and Belfast traffic and so we landed in the Glens near enough bang on our 2.15pm projected arrival.
Another quick smattering of the factor thirty on our delicate Irish skin and we were off again. This was our first taste of just how little some Ulster hills had dried out despite our recent tropical heat. For those who know this hill, it was up to the waterfall, hang a right, over the fence, into the bog and follow the fence to the summit. A quick look at Scotland, the surrounding glens and the obligatory selfie and we were off again. A very enjoyable experience declared by the two team members who had never ventured into the Glens before and within an hour and half we were off again, winging our way to the Sperrins and the first dual county top of the day.
Relying solely on Google maps will rarely ever get you to the optimum location on a journey like this. We found this out when approaching the Sperrins from the less familiar northern side in around Park. When we ended up on a very narrow road with a sign saying "Weak Bridge" we knew it was time to turn our heavy laden saloon around and take a more active role in the navigating, rather than leaving it to Bridie (the name for the lady who speaks to me from Google). But a short time later we were where we should have been, near a cattle grid and facing into a large boggy hump of a hill, typical to the area. As our driver got her sun lounger out and settled down for some well-earned Z's the other three of us headed straight into a sun that was still high in the early evening sky. Like its Antrim counterpart Sawel was still relatively wet and surprisingly so, although it did entail a little less bog hopping than this summit would demand in the depths of winter. Although a relatively short out and back trip of only 4.5km with a modest height gain of 332M (when starting from the eastern shoulder), this mountain is never one that I have found easy and deserves respect. That last 150M of height gain is a tough one and we had to take it in three pulls, with only 50M of height to gain our younger female team member was enjoying how fresh she felt compared to Compo and Clegg, as we sweltered and staggered to the summit. Although, as can often happen, getting there made it all the more worthwhile and the soft surface under foot made for an enjoyable and quick descent. Well, with the exception of my compatriot Clegg rolling the ankle on the final part of the descent!! Thankfully no damage done, nothing that couldn't be treated with ibuprofen and on we moved.
Hitting 7pm I tracked down an intermittent signal on the phone to keep in touch with the Louth championship match in Carrick-on-Shannon (my suggestion to adjust the route to take in the game, having been roundly shot down!) While many others around the country and indeed the world will have been sitting back enjoying the Germans breathe some desperate, but ultimately misguided hope into their World Cup campaign with late drama against the Swedes. Most importantly for us, we were heading towards our last summit before night fall, in that county where they very enthusiastically sing about building a wall to keep out both north and south. As our driver noticed a hand painted sign reading "New Spuds – Very Good" we knew we were heading in the right direction.
One of the kernels of our overall plan was to get off Errigal safely before dark. Arriving in the Dunlewy just before our projected 8.30pm walk time meant that we were well on schedule to do this. As we pulled into the car park the sun was still beaming down on us, as we walked out of it the behemoth had already blocked it all out and moon was starting to rise on our backs. Errigal is an iconic mountain, so much written about it and so many iconic photos taken of it. My first memory of this mountain was from inter cert geography, when we studied its topographical features and Fr Mulligan prescribed writing out the page in multiple for malevolence shown. Why would I ever need to know about such things as ordnance survey maps!
Given that we had only descended Donard within the parameters of the challenge the climb and decent of this beauty was always going to be the most significant walk of our weekend adventure. And so we set off, making descent pace over the peaty foothills , before crossing the stream and heading up towards the cairn that tells you that it is going to be a whole different ball game from here on in. It was around here that we met a young couple in their jeans and runners struggling to negotiate the scree descent. They seemed worried about the lateness of our ascent in their words to us, they are lucky we didn't sit them down and bore them with the lengths we were really going to this weekend. We kept our thoughts to ourselves, but all we thought was "the cheek of them, in their jeans and runners sliding down the mountain", do they not know who we are?
All of these thoughts and moans offered sweet distraction from the tough plod that we made up this well-worn track. And then, close to the first of the twin summit peaks we got the answer. The question being, why in the name of Thor do we do this? Because of the views and experience of walking and watching from the top of a mountain like this. The view of the day and one of the greatest walks we have ever done. The only things taking away from our views being the infinite number of fires being burned by the farmers of Donegal, sending up plumes into the beautiful summer evening. All was now indeed good in the world again, we stopped to "smell the flowers" get those 360 degree videos and views and happily head back to the car, safe in the knowledge that we were more than half way there and believing the worst was behind us. All our projected times had still left us with near two hours of a buffer time for delays or emergencies. Having passed the milestone that we had set of getting down to Dunlewy before dark we took our time, completely changed our clothes for the night time walk of Cuilcagh and got comfortable. Most if not all out there can appreciate the feeling of fresh clothes after the all-day stink. Better again, our amazing driver had water, soap and hand towel ready for us, it really is the small things. But, even better again, she had individual thermos filled with homemade stew, spuds and oatmeal bread. We headed off into the night as happy as Larry with our lot, full bellies and optimistic about the homeward leg……..
Continued on Track 3828