This route is a straightforward there and back way of getting to the Hag's Tooth, also known as Stumpa an tSaimh or Stumpeenadaff. You can start from Lisleibane car park or Cronin's Yard.
As you walk in you will pass Lough Gouragh. Before that there are various rocky outcrops to the right or north of the track. One group is known as the "Hag's Teeth" but it is not until you get to Lough Gouragh that you can properly see the Hag's Tooth in all its rocky glory.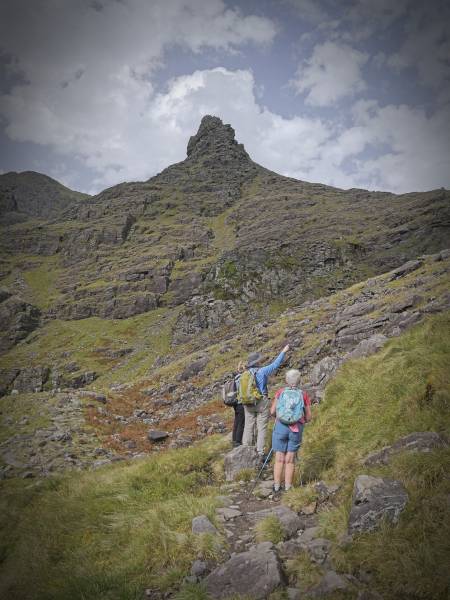 One way up is to ascend a grassy cleft in the rock visible in the picture, that starts below the peak near the path and heads nearly to the top to the right.
We opted to go to the right beside a stream.
You will reach the flatter ground under the coum to the south of Beenkeragh and the Knockbrinneas. From here it is possible to see the profile of the Hag's Tooth and how it connects to the rocky ridge from Beenkeragh.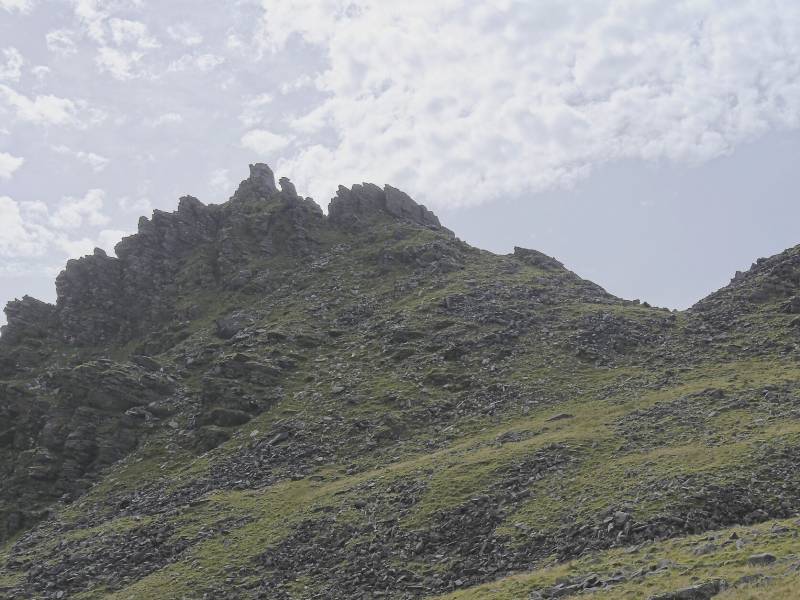 From the col it is then possible to climb the 27 or so metres to the top. Near the top there is a dangerous exposed scramble. Much of this is tackled from the NE side, which is out of the general wind which is from the SW.
=============================
My advice. Don't do this peak if you are not an experienced scrambler and if the conditions are not reasonably good.
=============================
The magnified view of the top is from the other side to the col. Near the top is a ledge from which you can touch the top. This is reached from the East side of the outcrop. So as you are within a few metres of the top, go left and then up to reach the ledge.
We also measured the height and prominence of the summit. The height shown on OSI (1:25,000) map is 650m, however we found the height to be 661.97m. The col we found to be at 634.65 so the prominence is 27.3m. The error in the height as given by the OSI is extraordinarily high.
This trip was done as part of the project by member osullivanm to climb the Vandeleur-Lynams and it was her fourth last to complete the challenge.