Welcome to MountainViews
If you want to use the website often please enrol (quick and free) at top right.
For more map options click on any overview map area or any detail map feature.
Detail Map Features
Showing 20 of a total of 69 items:
Tonelagee 815.8m,
Camenabologue 758m,
Conavalla 734m,
Stoney Top 713.7m,
Table Mountain 701.7m,
Camaderry Mountain 698.6m,
Tomaneena 682.4m,
Camaderry East Top 677.3m,
Tonelagee E Top 668m,
Camenabologue SE Top 663m,
Tracks:

3395, 29km
3549, 25km
2963, 22km
4628, 21km
1707, 20km
4075, 19km
2962, 19km
2132, 19km
4626, 18km
4196, 18km
Find Suggested Walks

Find hill, mountain, island, coastal feature.
Videos




Circuit of Fair Mountain, of the weirdly shaped forest.
After climbing to the top of Turlough Hill and the slightly camouflaged building site that MV calls "Tomaneena" we headed for Lough Firrib and then on to try the relatively unused "White Hill" ridge to its north.
This turns out to be extremely rough and more or less untracked.
It overlooks a forest to the north and we descended to this. While passable the untracked tussocky slope and the so-called "clear felling" impeded progress to get to the recently redone forest track.
Lacking a clear way of returning to the start we opted to go for the bridge a couple of kilometres to the west, to return by St Kevins Way. This was doable though a dogleg. It isn't clear if there is a way past the rough land and possible river to get back to the start.

Reaching St Kevin's Way is a little unclear in places so we walked along the rather busy road for a while.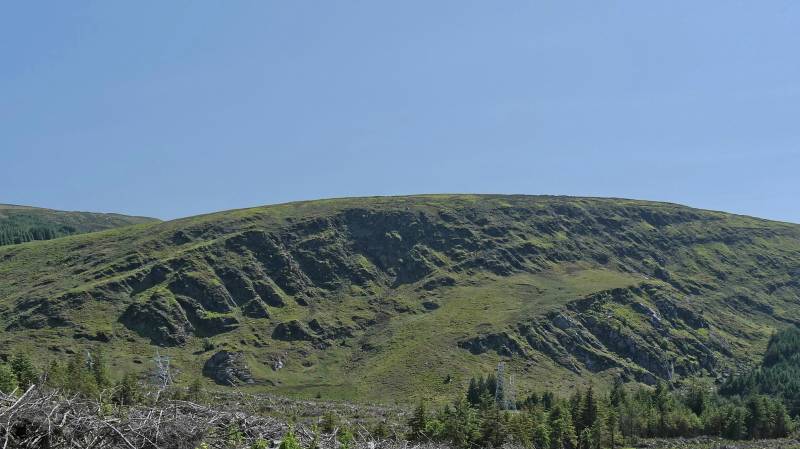 ---