Starting a hill walk from a beautiful deserted beach, with the hills towering above is hard to beat. This morning Crummie's Bay (beside Fort Dunree) was that beach - hard to find in these days of necessary staycation! i had chosen a pair of trail shoes as the weather had been extremely dry recently - this didn't help crossing the Owenerk River as it carved through the sand, though it was low enough that my feet stayed dry😊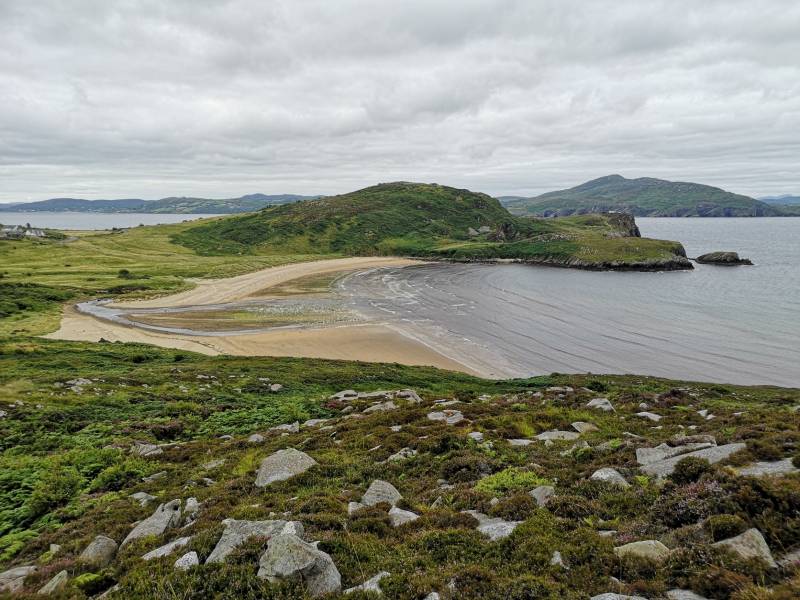 It was a steady climb through the short heather (buzzing with bees) up into the Urris Hills, with beautiful views over the beach and then Lough Swilly and the line of the Derryveagh Mtns. The walking is pretty easy and there is a well worn path between the rocks along the line of hills. I made a worthy detour to link with the Urris Lakes Loop Walk and pass Lough Fad and Crunlough. These are beautifully nestled little loughs and one of my first wild camping adventures was at lough Fad which seemed like the adventure of a lifetime (which it was at the time).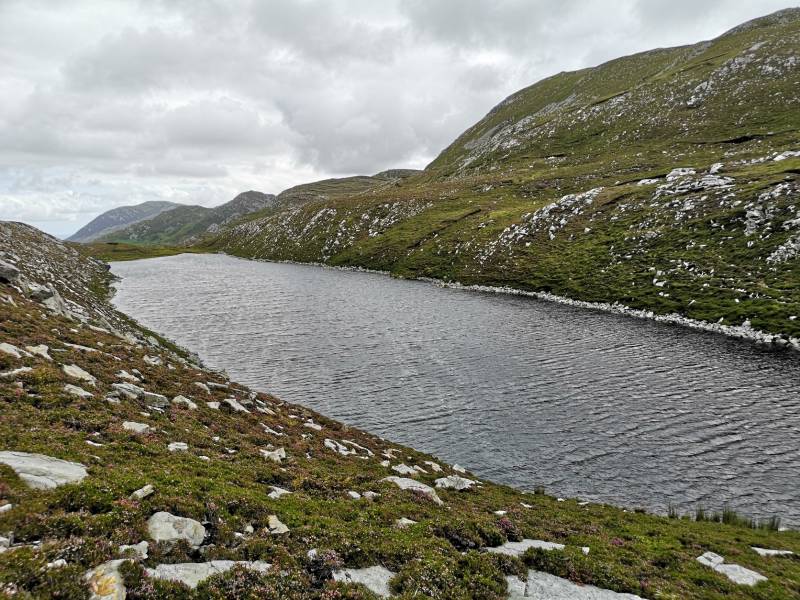 I was soon back up on the hill tops following the line of mini summits, which all look like mighty mountains (it is true!) with stunning views over the Inishowen coastline and a good part of Donegal - and to the Sperrins and Antrim Hills on this clear day. Croaghnagarragh was reached before the significant drop to the Gap of Mamore - a little bog road can be followed down to the road itself, It is a good viewpoint for the hills to some, leading up to the bulk of Ragtin More. I met my first people at the Gap, quite a few of them in fact. though they were soon left behind as I climbed up Mamore HIll. More fabulous views all the way as I passed its 2 little summits with cairns.
Another drop to the popular track coming up from the carpark which brings people to Crockmain and its bigger neighbour, Ragtin More. My drop was rather direct and a more leisurely descent would be to follow my return leg. I followed another old bog track for a bit and then up to the summit of Crockmain. A slight drop brings a little lough and then the fairly easy pull up Ragtin More. Met a group descending and then had the mountain to myself.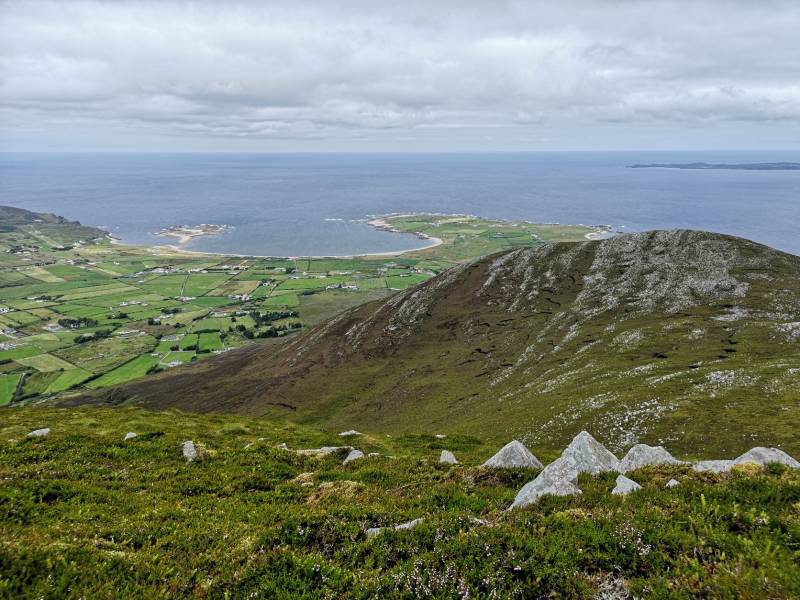 I think Ragtin More is pretty cool - it is very rocky and has a number of cairns built by those who couldnt resist all those stones lying around no doubt. The views over to Dunaff Head and the golden strands of sand delight no matter how many times they are viewed. The line of hills traversed is laid out like some magnificent painting of perfect hillscape pointing the way to the rest of Donegal and all the brilliance it has to offer.
It was now time to do it all over again and it didn't feel like a chore, it felt great. Rising and dropping all the way and taking in Urris at 471m that i had deliberatley missed when exploring the loughs. The beach was a welcome sight and it was much busier than it had been this morning. The trail shoes had managed well on the dry ground. These are some of those hills that you keep going back to time after time as they hold great memories and build new ones with each return. Well worth a visit!