This is the classic middle section of the Brandon ridge, up from the coastal village of Cloghane (plenty of parking at the church) past the grotto at Faha, through the spectacular corries and paternoster lakes, over Brandon to Brandon Peak and Gearhane, then descent and a long road walk back to Cloghane. It is almost the same route as Colin Callanan's 4335, but this is the one-car version, which adds - a lot - to the length. I also included the short detour of a few minutes to Faill na nDeamhan's minor summit. Faill na nDeamhan is an impressive pinnacle, but is flanked by even more impressive pinnacles, so is not essential.
Looking east over the Faha Ridge: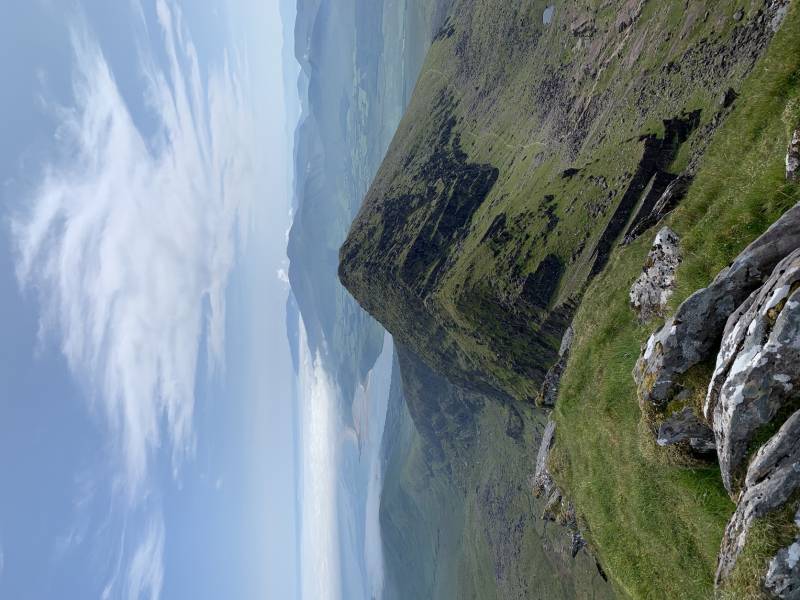 The top of the Faha path snaking up the back of the corrie, as seen from Brandon: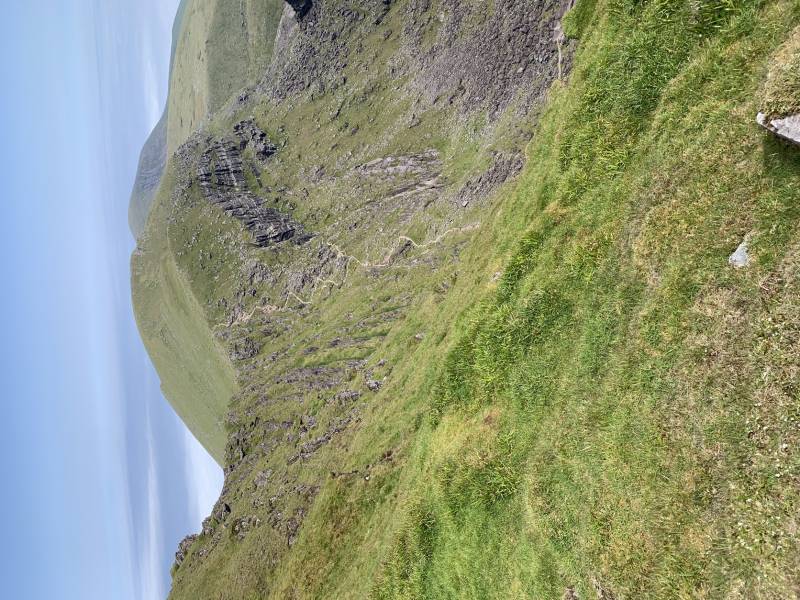 This was undertaken in the middle of a heatwave, which meant the sea-to-952m-summit ascent was gruelling, but the views were spectacular. The fact the ascent passed by some lakes near the top also became important, as extra drinking water was needed. The sun blazed overhead, but some of the surrounding valleys were filled with cloud. There were fewer people on the hills. Once I left the main summit and started towards Brandon Peak and Gearhane, there was not a soul around. The walking got easier, too, with the 190m to Brandon Peak the only substantial ascent. Brandon Peak is a stunning spot, its summit cairn perched over a massive precipice and with endless hill, coastal and island views.
Approaching Brandon Peak: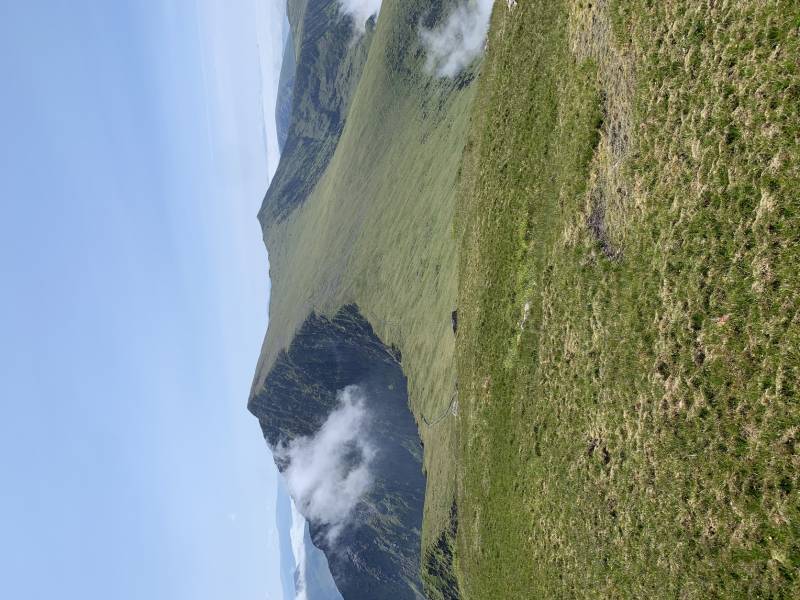 One thing I might change if I did this again would be to descend from Gearhane to shorten the walk out. Looking at the map while standing at Gearhane, I noticed a steep but apparently feasible descent by going down the (roughly) east ridge to Lough Avoonane. That was confirmed by the view from the road later. Instead of doing that, I was following the route in Lonely Planet Hiking Ireland and met a good track marked on OSI 70 to descend gently past Loch na mBan through Mullaghveal, getting more water from the Owenmore River around where the track becomes road. It is a simple route without the proximity to dangerous ground that Gearhane has so is the safest option. Still, the shorter walk out from Gearhane is tempting, at least in good visibility when the descent line should be clear. A mistake here, though, could be serious. As it was, I had 6.5 km of road to get back to Cloghane.
The two-car version version would omit that 6.5 plus the 2km at the start from Cloghane to the Faha car park (which is small and fills up early in summer) so instead of 21.7 km would be something like 13.7.
Cloud covering the lower ground to the west: