This route starts from the carpark beside Lough Annascaul.
It goes straight up to Knockmulanane starting from a point about 100m south of the carpark.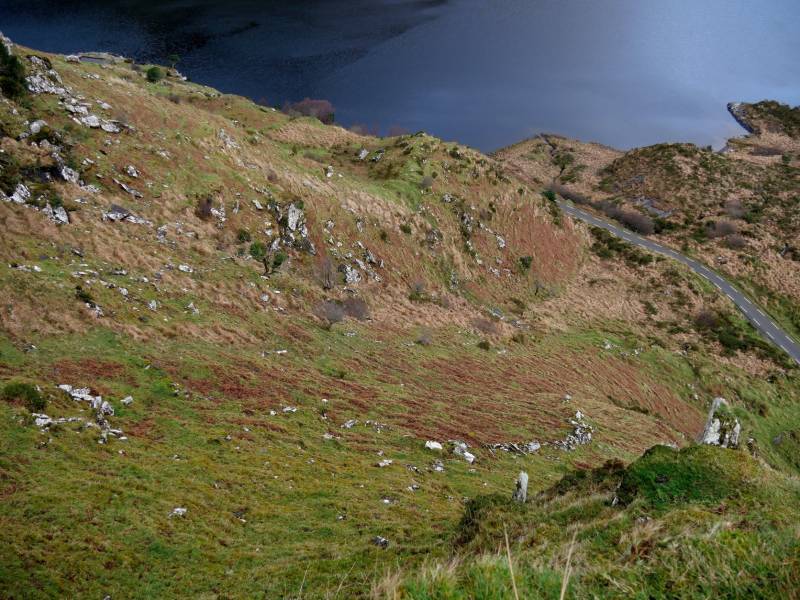 Although we managed this extremely steep route on broken ground with wet grass, a better start would probably be about 200m south of the carpark where there is a more regular slope. (See track/2237, which looks better) Under no circumstances would this be a good route for beginners, either going up or down.
There is a substantial cairn at the top of the slope and two more further west. The westmost is the top. There's excellent shelter from the usual SW winds near the top. The views are some of the finest Kerry has to offer including north towards Beenoskee, the magnificent Glenahoo River Valley and Brandon Bay. To the south there is Dingle Bay and beyond to the north Iveragh peninsula with Knocknadobar and many other summits visible.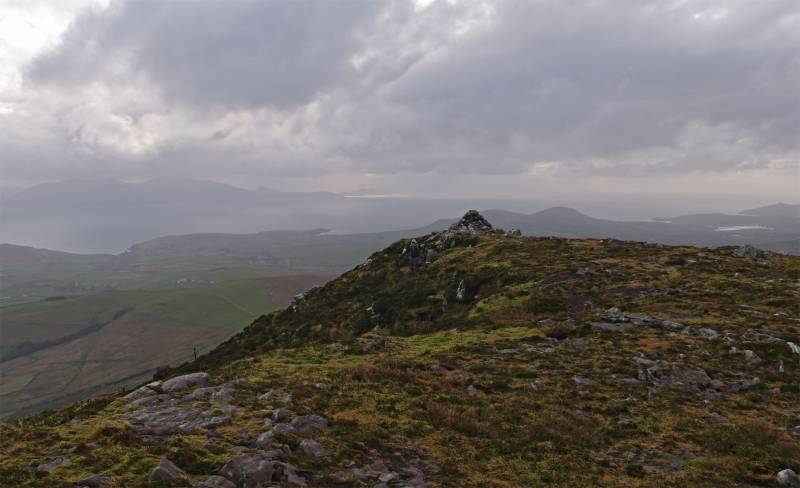 As you walk towards the minor peak of Knockmulanane West 563m savour the experience of being on a ridge overlooking so much on both sides including lakes, rivers, sea and mountains. To the north is Loch Thuairin Mhárta and a smaller lough to its SE. Also keep a look out for how you are going to get down. This is not at all a trivial choice because the land is steep and includes some substantial crags.

You should be able to see a narrow diagonally sloping track. This is a handy if not very safe way of skirting the rock and the lakes and leads you NE towards the rough ground at around 350m north of Knockmulanane.
Your next task is to get down to the valley NW of Lough Annascaul. One way to do this is to head north about 1km over the rough ground to where the old green road coming from Lough Annascaul forms zigzags. We decided to opportunise on whatever we could find dropping more directly to the valley floor. The route we took shown on the map is feasible but not easy.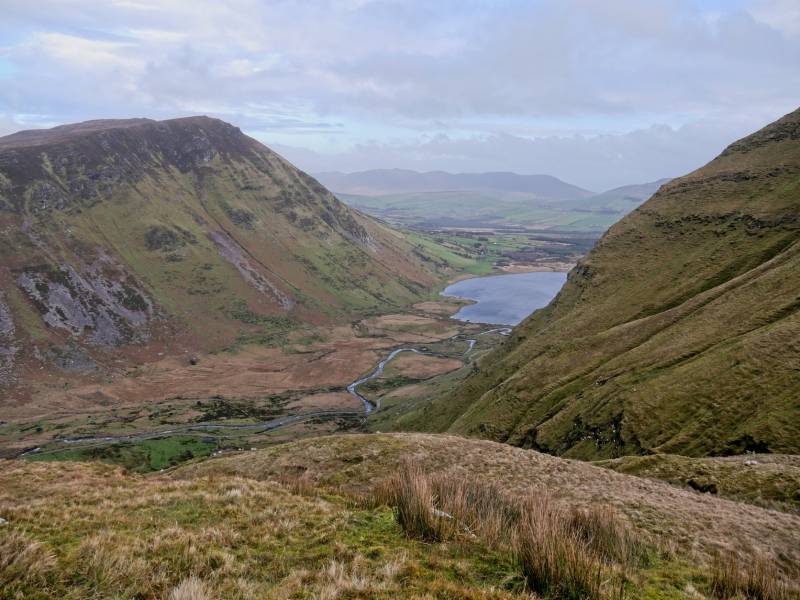 There are serious cliffs on both sides of it and wet slippery grass on the way. Once again this is not a route for beginners however it saves time.
.
Overall this is a relatively short walk with great views but requiring care and preferably good visibility. The descents taken demonstrate possible ways down, but both need care.