If you want to experience the remoteness and challanges of true independent wilderness trekking in Europe, then Sarek National Park in Northern Sweden is the place to go. Lying inside the Arctic Circle with no roads, signed trails, wardened huts, or motorised access, Sarek was established in 1909 and covers 1,970 square kilometres. This famous park lies at the very heart of the Laponia Area, part of the homeland of the indigenous Sámi people (also known as Laplanders). Laponia was recognised as a World Heritage Site by UNESCO in 1996 as it is the largest area in the world (and one of the last) with an ancestral way of life based on the seasonal movement of livestock in the form of semi-domesticated reindeer.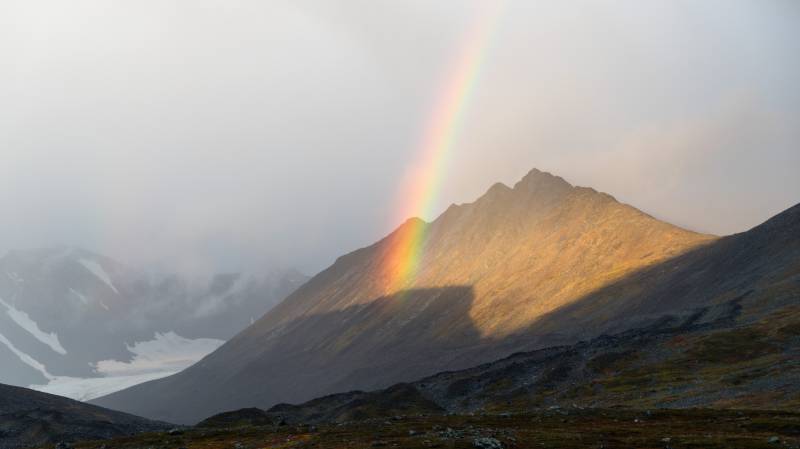 Around Sarek's eastern edge runs Sweden's most famous long distance trail, The Kungsleden (King's way), while its western edge is circled by the 150 km long Padjelantaleden (Higher-land way), both of which are well-serviced with huts and mountain stations. Situated between these well-used trails, Sarek is a roughly circular expanse of genuine wilderness, one of Europe's last; a daunting, glaciated, inaccessible region of 2,000 metre high mountains, densely vegetated trough valleys, unforgiving high-alpine plateaux and turbulent ice-cold rivers fed by glacial meltwater. The landscape feels decidedly primordial, perhaps because the last remnants of the vast Fennoscandian Ice Sheet only receded from the mountains of eastern Sarek some 9,000 years ago, just after the end of the Pleistocene epoch.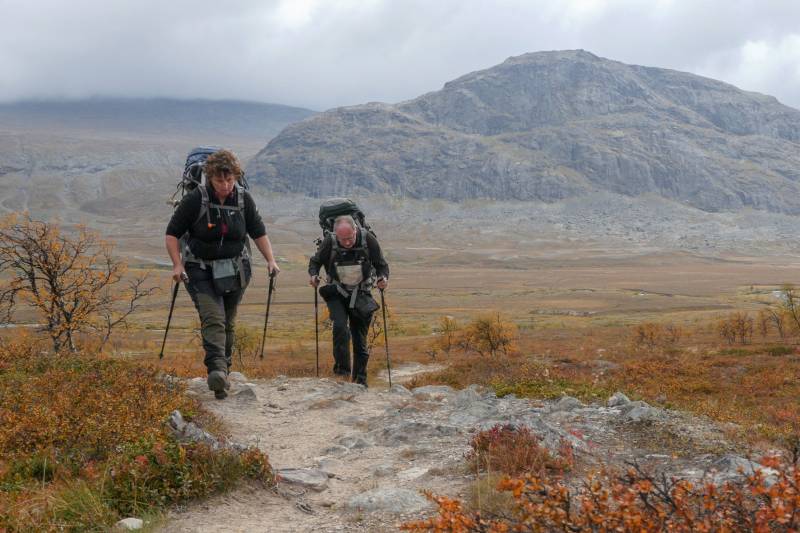 The only trails found in Sarek are those created by the migration paths formed over thousands of years by foraging reindeer herds, which the Sámi in turn followed. There are myriad routes in and out of Sarek which are largely dictated by the enormous valleys that separate its icy massifs, providing corridors into the heart of the national park. Many of the valleys are deeply forested with dwarf birch and willow, or dominated by bogs and mires, making progress challenging. The nearest access points are a day away from any trail head; unpredictable wild animals including enormous moose, and predators such as brown bears, wolverines, lynx, wolves and foxes are found in Sarek. Crossing the park is a serious undertaking.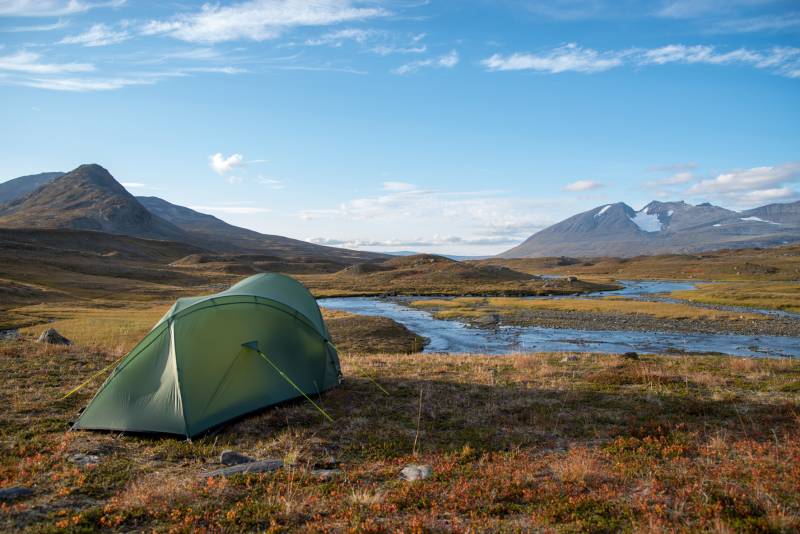 We devised our route by looking at Google Earth and studying the 1:100,000 Fjällkartan map sheet BD10 (Sareks nationalpark published in Nov. 2012). In addition, an excellent guide to Sarek has been published by Fredrik Neregård, entitled Fjällvandra i Sarek: de bästa färdvägarna i nationalparken med tips på vadställen, lägerplatser och toppturer (Hiking in Sarek: the best routes in the national park with tips on hiking trails, camp sites and top trips; Calazo Förlag, 2013; pp. 287; ISBN-13: 9789186773830). This book is only avaiable in Swedish, and includes descriptions of 28 itineraries with alternative routes; tips on 55 summit trips and other day trips; details of starting points and transport; and is handsomely illustrated with quality images and mountain maps to a scale of 1:100,000.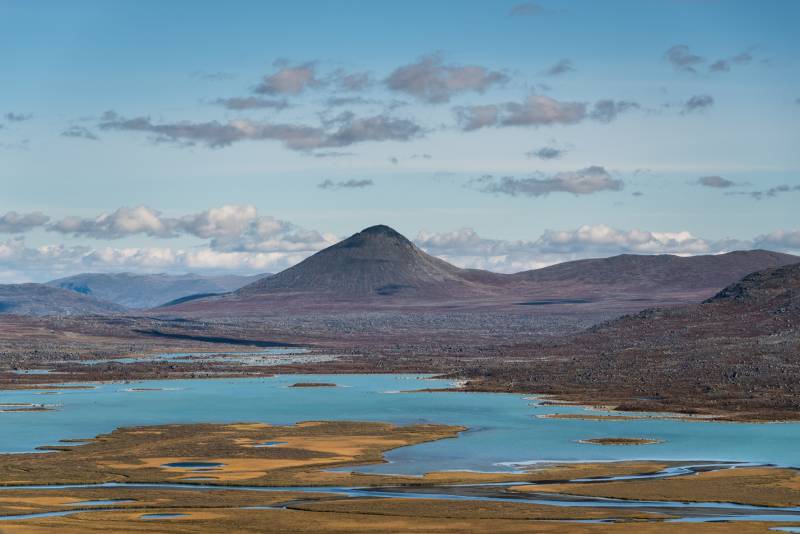 We settled on a west to east route across Sarek broken down into roughly 12-15km sections over 7 days, which is a realistic aim given the terrain and the weight you have to carry. We started at the Svenska Turistföreningen's (Swedish Tourist Board or STF) hut in Ritsem and finished at the STF hut in Saltoloukta. Both the start and end points can be readily accessed by efficient and reasonably priced buses from the town of Gällivare, which is connected by air and rail with the capital, Stockholm, and by bus and train with the town of Kiruna, the gateway to the Swedish Arctic. As we were overlanding in the Arctic, we choose to drive to Ritsem where we left our Land Rover Defender at the boat jetty on the shore of Lake Áhkkájávrre. After our trek across Sarek, we got the bus back to Ritsem from Kebnats which lies over Lake Langas from the STF hut at Saltoluokta where we spent the night. The STF huts at Ritsem, and especially at Saltoloukta are excellent, the later exceeding some hotel standards in terms of food and accommodation. However, such much-welcomed comfort comes at quite a financial cost!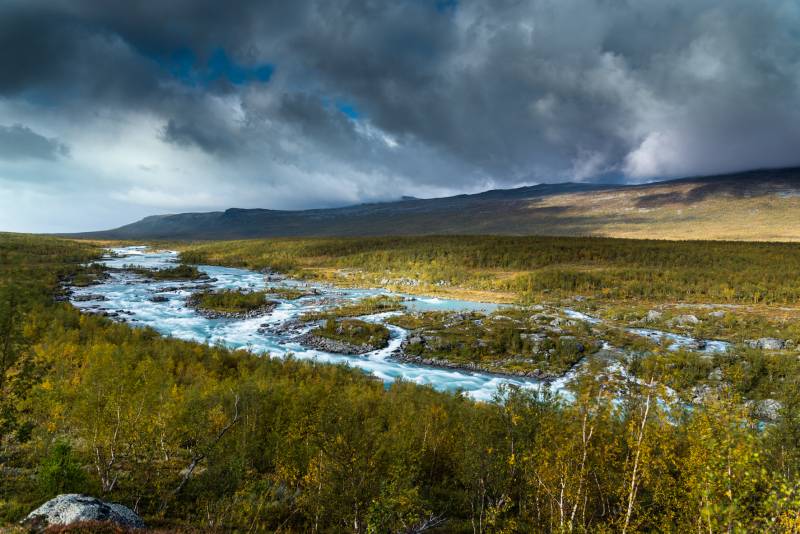 This was our fourth trip to Arctic Sweden and autumn (late-August-early-September) is our preferred time to visit. The weather can be mixed, it's much quieter, the biting insects have gone, but more importantly, the autumnal colours are magnificent.
Trekking in Sarek requires an ability of self reliance in the wilderness and navigation skills in terrain which has no marked trails. You need to carry sufficent provisions for the trek and be prepared for several river crossings, many of which are 'boots off'. The rewards are the jaw-dropping landscapes and the peace and solitude that comes with being alone in the wilderness. It means carrying quite a load (18kg to 20kg plus each) and economising on weight where necessary, such as using vacuum-packed freeze-dried meals, and a titanium flat-pack Honey wood burning stove (there is plenty of fuel available in the form of sticks and twigs in the forest areas), allowing us to carry just one large gas canister as a backup. A light-weight tent, and four season sleeping bags were essential as the mercury can hover at or below freezing by September.
Although this is the first time we have shared the GPX version of our route, a detailed description of it has been published in Mountain Views'
The Summit
(2018 pp. 16-23). Further details can be found on our website: https://purplepeakadventures.com/blog/2018/10/wild-at-heart-a-trek-through-sarek-national-park-europe-s-last-great-wilderness and a video features on our You Tube channel.