This will always be a memorable and very varied walk. It has views of the iconic Drei Zinnen, a spectacular rocky mountain group reaching 2999m above sea-level. The summit of Monte Piana was on a World War 1 frontline between Italy and the Austro-Hungarian empire. Thousands died in what are now mouldering trenches and silent tunnels. There are commemorative memorials at several points, though on the occasion we were there an official war museum had not yet opened for the summer season.
Our visit also had added spice from various misfortunes such as missing bridges and misunderstood bus timetables.
Start from the car park near the north end of Lago di Misurina. This is reachable by bus services from Dobbiaco/ Toblach to the north or Ampezzon di Cortina to the south. Essentially private cars are banned from the route up Monte Piana. There is a paid 4wd service, however we had come to walk. The walking route officially designated the 122 is sometimes near and sometimes on the road and will bring you to the start of the summit area at Refugio Bosi and a commemorative chapel.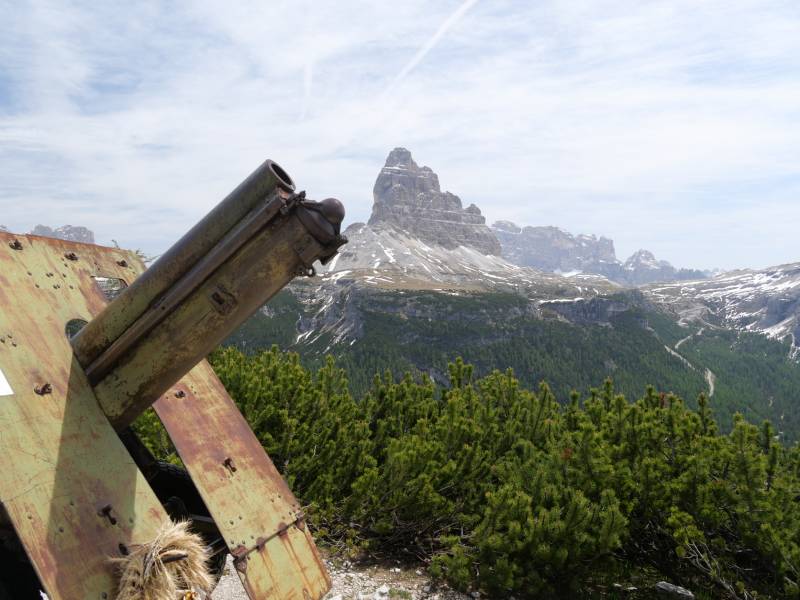 There is then a varied series of paths you can choose walking over the battlefield with a commemorative pyramid.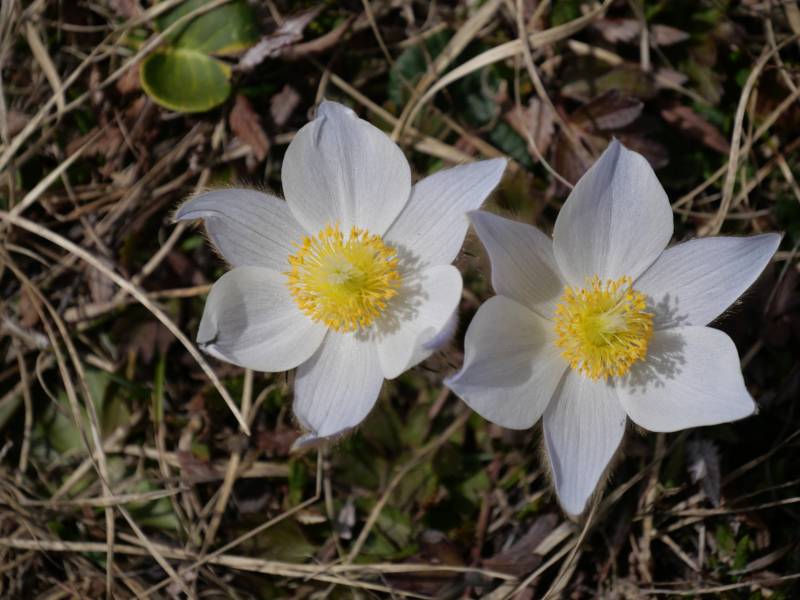 There are huge views in all directions. On the occasion we visited in early June about a third of the top was covered in snow some quite deep. Given the tunnels and trenches walking on virgin snow can be hazardous.
We descended via route 111 to the east. It is essential to accurately find the top of this and not to deviate to other routes that are offered. There are signposts and the route is shown on our track and others that are published for example by Rother. Parts of the start of the route are via ferrata, that is they are narrow paths with steel wire handrails.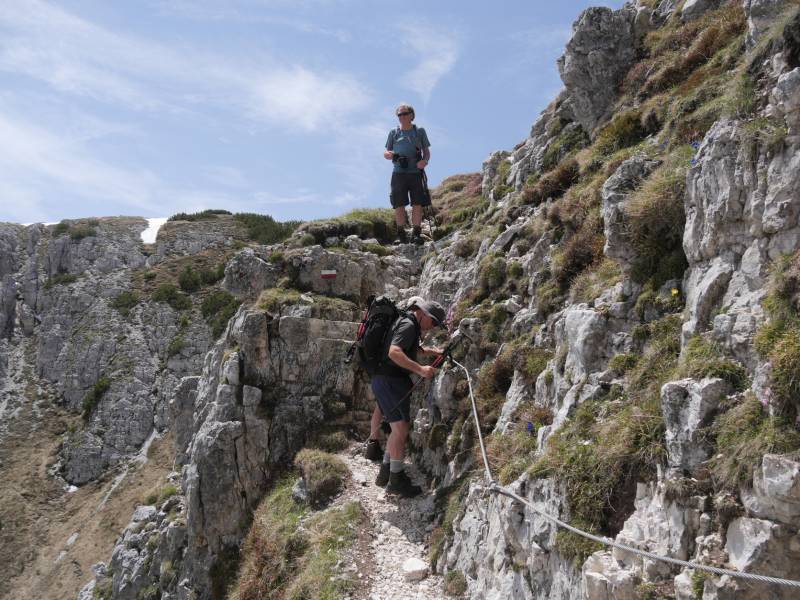 Once on the track navigation is reasonably easy as the route plunges some 500m down to the River Rinblanco. As of June 2019 the bridge from route 111 to 108 has disappeared following the extreme weather of late October 2018.
Signs of this weather which had extreme winds and extreme rainfall are everywhere to be seen.
Some of the locals said it was almost unprecedented and thought it was a result of climate change. When we were there the river was relatively low and we got across it easily enough without the bridge. However it cannot be assumed that this will always be the case.
Follow the 108 down the river until it meets another river the Schwartz Rienz. There is another river crossing here. Until the severe storms mentioned above this had been reasonably easy to cross however when we arrived in June 2019 the water had been channeled into one 3m wide channel moving very quickly.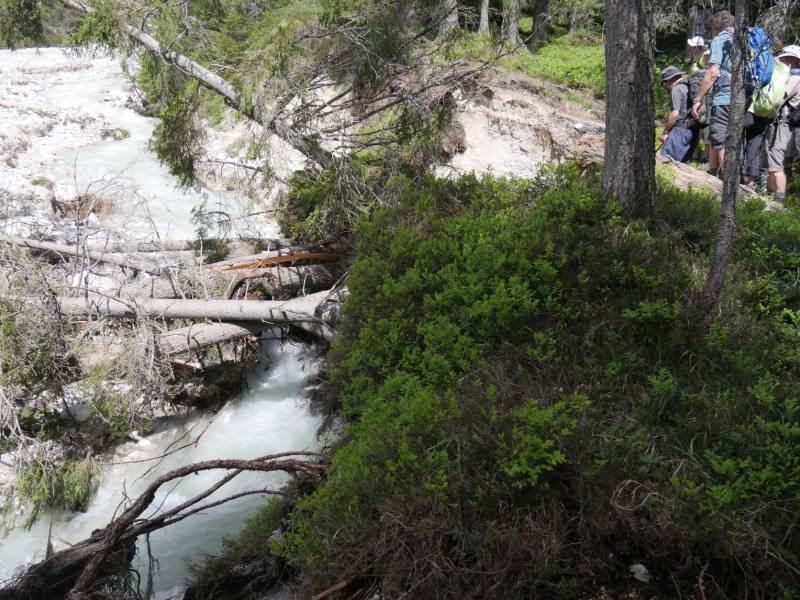 A group of trees had had their roots undermined and formed a temporary bridge, best described as "hairy".
It might have been possible to ford the river around there at the level of the water we encountered. Were it not then feasible then essentially a party could find itself in a seriously awkward position, several kilometres from safety or even a mobile signal. Given this situation it migh be wiser to do the entire route in reverse.
After this last river crossing there is a straightforward forest road to the public roadand a very amenable restaurant Drei Zinnen Blick. This is immediately beside a bus stop. We had been reliably informed that there were a number of buses on a shuttle route with a frequency of around 30 to 60 minutes. We duly waited for the bus until we realised that said shuttle service only started for the summer the next day. Hence we were forced to return to said amenable restaurant to await a regional bus that came an hour later. A pleasant irritation with the merit of not being life threatening unlike crossing a torrent on unstable trees.