When we set up Na Sléibhte Hillwalking Club we said we'd travel to mountain ranges all around the country. I think it's fair to say at this stage that we've provided our members with the reason to go to places that they wouldn't normally visit.

Members had the choice of a linear 18km trek with about 1,400m gain or carry on and add Nephin at the end. That bit extra made it a 30km trek with 2,074m gain. A noble club walk. In challenge parlance, it'd be like taking in the Devil's Mother after finishing a traverse of the Turks.
Personally, I'm looking forward to the next time someone asks me if I ever climbed Nephin and where did I climb it from? "Yes, from Furnace". It was my first time up there. All those cairns would break your heart - thinking that the next one is the summit.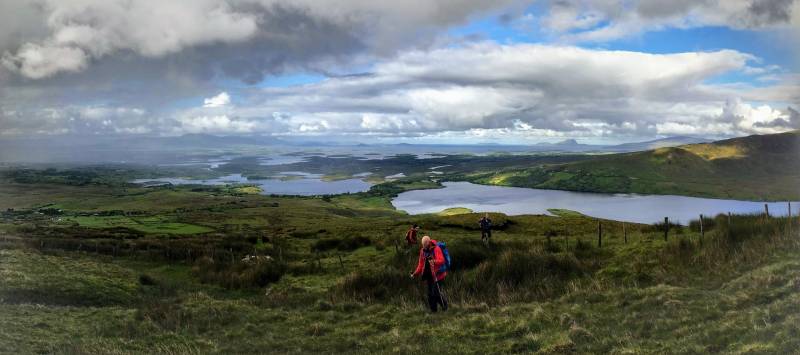 We were lucky with the weather. The heavy showers kept missing us and the mist that clung to the tops dissipated as we neared the summits.

Parking was limited at the start but I believe there is plenty back towards the salmon fisheries/visitor centre. Buckoogh must be a candidate for the most weather eroded summit in the country - zero walker damage. The ground on the descent from Knockaffertagh to the Keenagh Loop Trail was hostile so maybe try a route a bit more south. Also, best to follow the lower track we walked up and down from Nephin spur to Bogadhoon.