Welcome to MountainViews
If you want to use the website often please enrol (quick and free) at top right.
For more map options click on any overview map area or any detail map feature.
Detail Map Features
Showing 19 of a total of 54 items:
Djouce 725.5m,
War Hill 684.8m,
Tonduff 642m,
White Hill 631.1m,
Tonduff East Top 593m,
Maulin 570m,
Great Sugar Loaf 501.2m,
Knockree 342.1m,
Carrigoona Commons East 242m,
Tracks:

2353, 35km
3155, 34km
3440, 30km
2309, 28km
2966, 24km
4437, 22km
4751, 19km
1333, 18km
2722, 18km
4118, 17km
Find Suggested Walks

Find hill, mountain, island, coastal feature.
Videos




Recent Contributions

Get Notifications

Djouce Woods - Maulin - Powerscourt Waterfall
Essentially, this is a hike around three sides of Powerscourt Waterfall, and finishing at the base of the waterfall. Starting from the Coillte Car Cark at Ballinteskin, the initial hike is through Djouce Woods and taking the higher track at Paddock Pond to get the first good view of the waterfall, then making the long ascent northwestwards by the wall before joining the Wicklow Way. After crossing the river, ascend northwards on the other side of the river before turning north-west to the top of Maulin and then descend into Crone Wood by its south-western corner. Within Crone Wood, turn east from where arguably the best view on the route can be seen, including the waterfall, Dublin Bay and Howth peninsula. Re-join the Wicklow Way at Ride Rock, and follow it zig-zagging north-westwards for a short while before taking a sharp turn down east on a track that zig-zags down part of the way to the waterfall access road. We finished our hike at the waterfall, but we then walked to the main road from where our drivers who had parked at Crone Car Park had split away from us and now picked us up.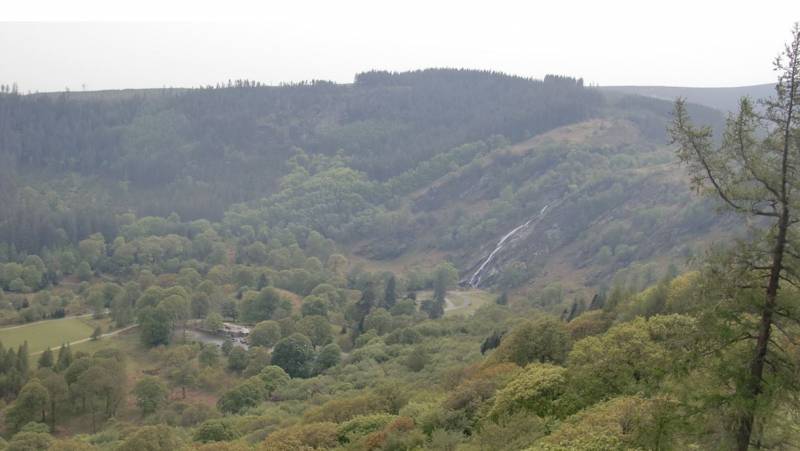 ---