This is a variation of the way-marked brown route from Fanore to Ballyvaughan. We skipped the first on-road section from Fanore Beach and started on the old famine road towards Black Head, known as the green road. Great views of the Aran Islands to our left. Thanks to our learned companions, among the more interesting and unusual plants and flowers that we encountered were the bright purple Bloody Crane's bill. The Mountain Avens littered the verges of the green road and were abundant in open areas near the slabs of limestone. We also spotted the beautiful blue Gentian, the plant that everyone wants to see; this vibrant blue flower makes such an impression that you will always recognise it when you have seen it once.
At M155 116 we departed from some of our comrades and from the way-marked track by ascending south-eastwards towards the high point of 314 m at Doughbranneen. Here, we encountered the impressive D-shaped walled enclosure known locally as Caherchunarisa. At this higher altitude, the views extended from Cliffs of Moher, Aran Islands, Galway Bay and the Twelve Bens beyond.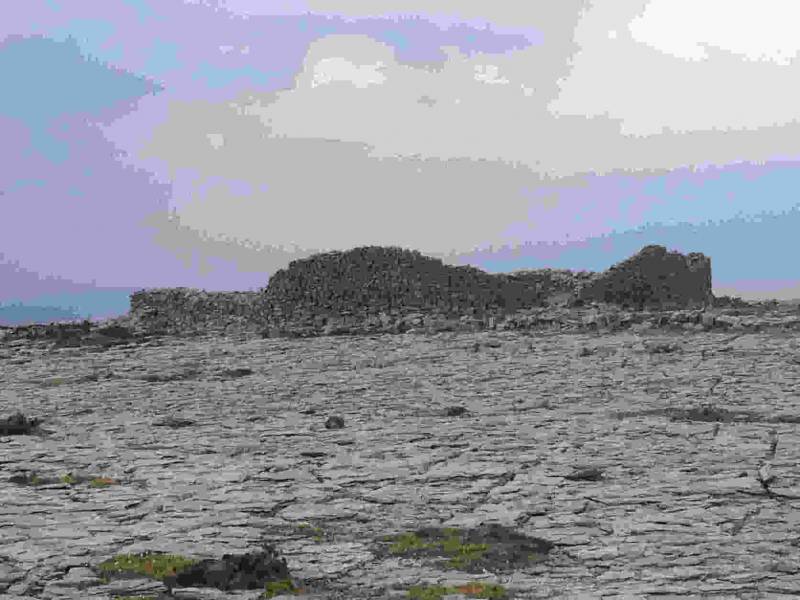 We skirted Gleninagh Mountain to our south, noting that our relatively short ascents seemed to us to be much more substantial in this unusual landscape. With perfect timing, we re-joined our "green road" comrades at M186 094. The route headed south-eastwards towards the high point of Cappanawalla, but we decided instead to walk on a farm road through the Gleninagh Valley, through lush farmland well nourished by The Burren and with well-kept roadways and impressive fencing. We re-joined the main route at the southern end of the valley, and walked as far as the main road at Glenfort, having decided to avoid the final main road section to Ballyvaughan.