When we set up the club we said it was all about the economics of supply and demand - if we supplied challenging walks would there be a demand from members to do them? We get our affirmative answer in spades, once a month.
Our April sortie into the hills was in Kerry and on the menu we had some walks from Kate Kearney's to John Cronin's. You had the choice of going via Tomies/Purple or Strickeen - 2/3rds of the group headed for Tomies Rock.

It was a foggy morning but once we got above 450m it just opened up to a wondrous sight. A gentle zephyr from the south had a welcome cooling effect later in the day. These conditions decided the nature of the walk - take your time, soak it up, take loads of photos and study the route for a day when conditions are not so merciful. I'm coming up on seven years hill-walking and I hadn't been to Beenkeragh.

The first time doing a challenging route like this is always the hardest, I find. I think it's just down to not being familiar with it so it's mentally tiring, as well as the physical demands of it. Scrambling at this level, twice in the same walk, wouldn't be my cupán tae but bone dry rock has a different 'taste' to it and others are more graceful at it.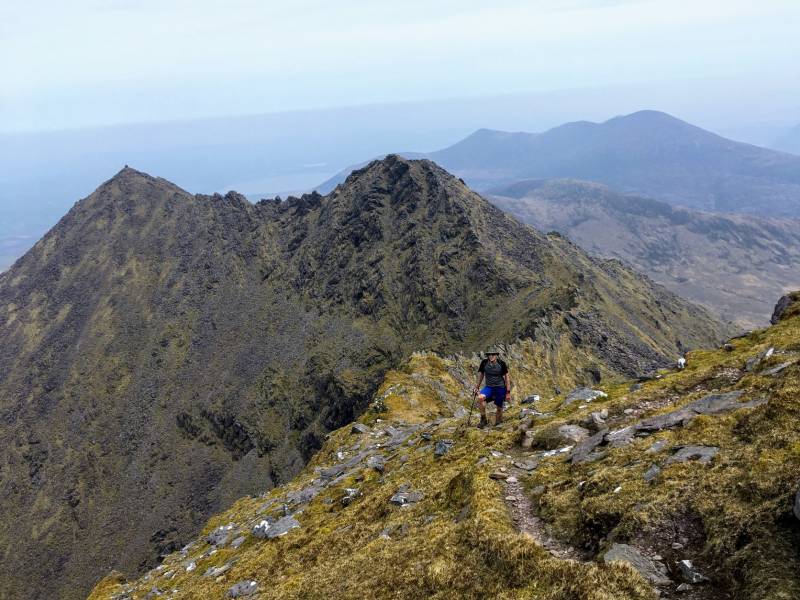 We met five walkers on Tomies/Purple, five heading to Drishana from the gap, from Drishana to Cnoc na Chuillin just three, and from there to Carauntoohil the hills were swarmed. Great to see so many young folk out though. There were a good few coming up from O'Shea's but only one person from there on, until we got back down to the track.

Make no mistake, this is a tough walk and I'd hesitate to take the full thing on of a bad day - it's just technical in places. That said, there are plenty exits down to Cronin's along the way. The only water source along the way is Glas Lough, if you're comfortable with that.