This route was suggested by the Grade 1 scramble up the Glencullin Ridge described in Alan Tees'
Scrambles in Ulster and Connacht
. I didn't have the book to hand doing the walk, just a remembrance of reading the description, so this was a variation, with less scrambling (but still a bit).
The route starts at the path that heads towards Coum Dubh/the Ramp, but heads right of Coum Dubh to ascend by the Sruhauncam River. It feels odd to be bypassing Coum Dubh for the much less interesting looking ground to the right. I went up keeping the stream just to my right, a straightforward boggy ascent. Once the stream veers south the terrain ahead starts to look more interesting, with the big cliffs under Ben Bury and the Glencullin Ridge coming into view.
Ben Bury in the distance with the Glencullin Ridge on the left: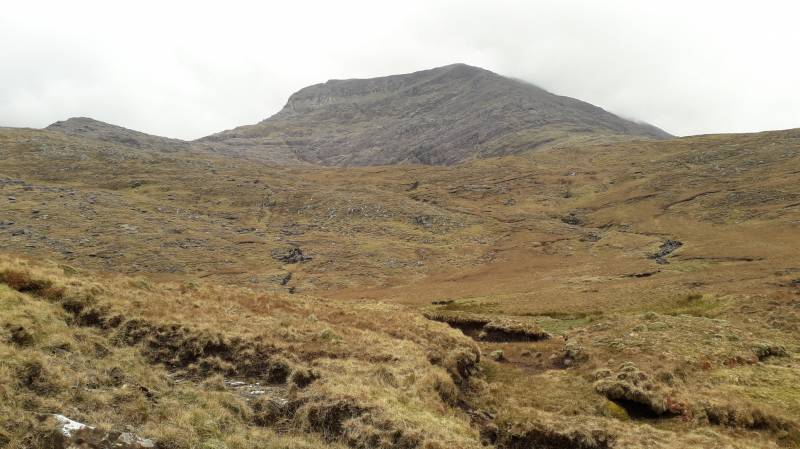 Ben Lugmore with the upper section of the Ramp passing beneath it. Taken on the Glencullin ridge: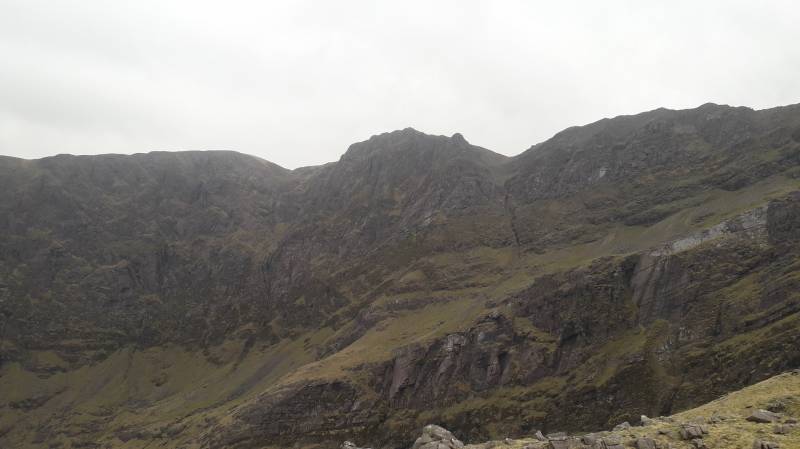 Once the loughan at about the 410m contour came into view, I lost a bit of ground to visit it instead of heading straight for the ridge. There's no need to go to the loughan but it's a good spot to have a break and take in the route ahead. Getting onto the ridge from the lake the ground becomes noticeably rockier and steeper, but still not really steep enough for scrambling, and there are numerous route choices available. Once on the ridge, the excellent views across Coum Dubh open up. The route ahead now is really steep and rocky, and this is where some scrambling has to be done. In the perfect conditions – no wind, no low cloud, no precipitation, dry ground – it was easy to find the straightforward grade 1 scrambling steps that lead onto the Ben Bury summit area. Twice I backtracked a couple of steps to find an easier route than the rock face directly ahead, and it was then I became aware of the exposure. Going up in these conditions was fine, but I wouldn't come down this route.
On the ridge, with the steep part ahead.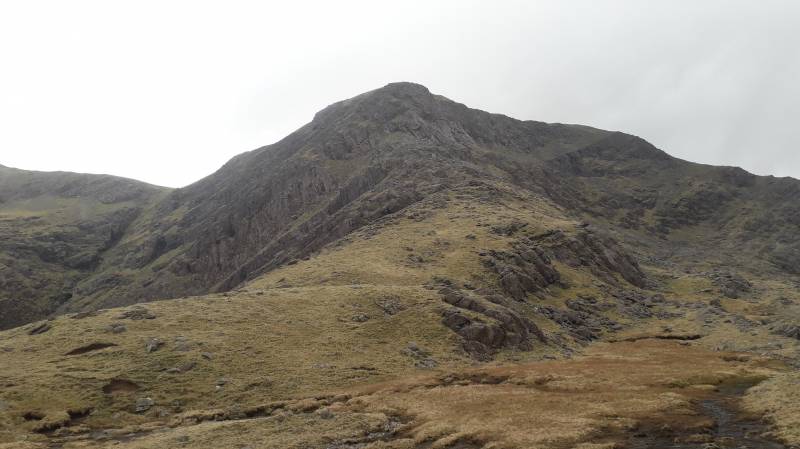 From Ben Bury's summit area I headed for Mweelrea, the tip of which was still in cloud. Then I came back past the cairn marking the top of the Ramp to make the short ascent to Ben Lugmore West Top. This grassy summit is a nice place for a rest, looking over the cliffs down to the Ramp hundreds of metres below and across to the Glencullin Ridge in profile. I didn't go over to Ben Lugmore main top, just returned to the Ramp and descended.
The Glencullin Ridge is a nice alternative to the Ramp, not as spectacular in the lower part of the walk, then more difficult and exposed in the top part. Needs a calm, dry day, preferably after a longer dry spell.