This is a short route up Doughruagh and Doughruagh South Top from the shores of Kylemore Lake. On the n59 about 2km East of the Abbey entrace there is a small gate at the roadside giving on to a small clearing with trees beyond. Head to the right edge of the clearing and follow the line of least resistance through the trees. It looks unappetizing but after 2 or 3 minutes of twisting, turning and fighting with branches you will exit the trees under a small exposed rock face and from here it's all open hillside.
Heading for the col between Doughruagh and Garraun SW Top would give the most gentle ascent. This route heads further west first to come out at a nice viewing point at the 200m contour, looking down on the Kylemore valley, the Abbey, and some coastline. The ascent north-west to the summit from here is convoluted, some boggy ground and also round and over a succession of crags of blackish gabbro. Some short, minor scrambles can be attempted or avoided.
The route up: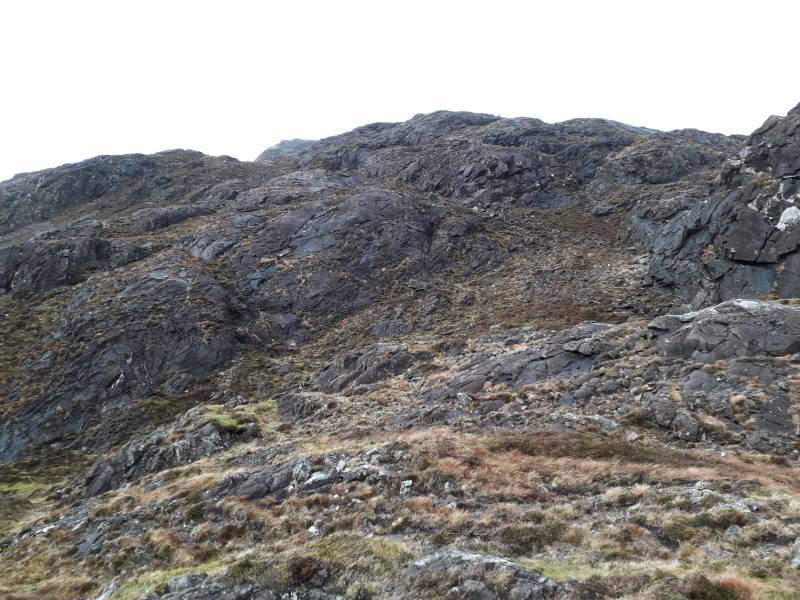 For the descent I ended up heading more or less straight for the col, as descending on the steeper slopes further south was, after the near incessant rain of recent days, slippery and uncomfortable. From the col there was a detour to a conspicuous crag at L 766 590. This crag has a small cairn at the top.
Water streaming down a rock outcrop. It didn't rain during the walk, and I don't think it had rained that day at all, so this was the legacy of a very wet month: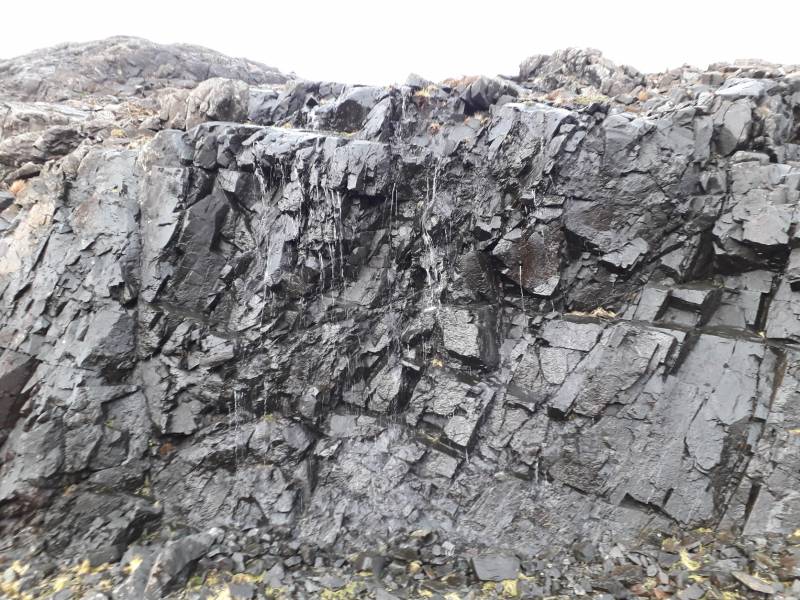 The most important part of the descent is to have an idea of where to enter the trees at the bottom. The aforementioned conspicuous crag is a good marker from the higher slopes – keep it well to your left – or visit it then turn sharp right (west), as I did. Descending the hill to the right of the crag, and easily visible from it, is a narrow stream with sometimes steep banks. You have to cross this stream at an appropriate point and aim to enter the trees a little to the right of the stream. Another 2-3 minutes pushing through the trees will see you back at the clearing.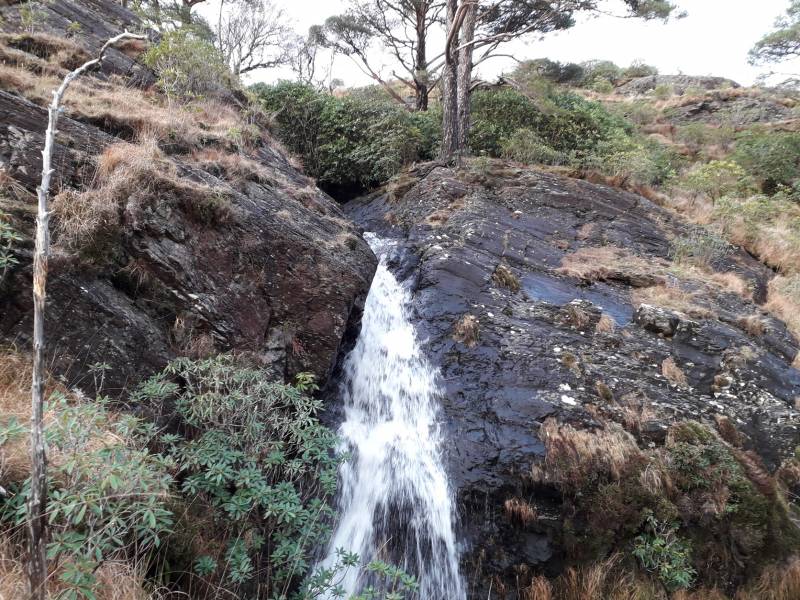 This route took 1hr 43min rather than the 1hr 28min given here. Descent was about 480m. And distance according to Garmin was 5.48km rather than the 7km that appears here!