The walk starts from a point high in an east facing coum of Maumtrasna. This road goes up to the two unfinished mini-hydro schemes in the valley, one each for Lough Nadirkmore and the smaller Lough Nambrackkeagh. There is parking here for at least 10 cars. It is hard to see the relatively small output of scheme (apparently 15kw) justifying the disturbance of an otherwise wild valley.
Maumtrasna is by area probably the largest mountain in Ireland. Its attractions are mostly in the 10 or so coums on all sides which have steep sides and often have lakes.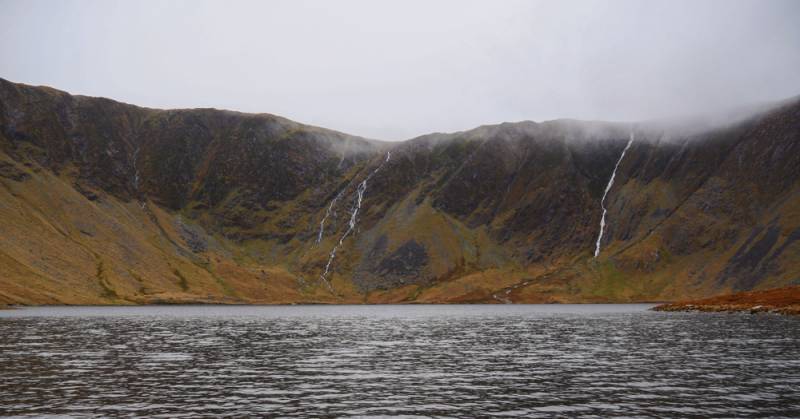 On our walk mostly to study the geology and flora we also saw some swans. They flew into the larger and deeper of the lakes, paddled around but then moved to the smaller lake. According to our excellent instructor Trish Walsh of the Petersburg Outdoor Education Centre, this was probably because the smaller lake is shallower and had weeds the swans could reach.
The Buckaun ridge is pretty impressive with steep sides, rough grounds and only the faintest of tracks. As we ascended we noted some small cairns which grew larger until they became around 2 metres in height in an east west layout.
The ground at the edge of the Maumtrasna plateau is extremely rough, is trackless and needs careful navigation. A party could easily get split in the rough ground. The cliff face into the coum is around 250m here and it is unlikely that any descent can be made safely. The Binnaw ridge is not quite so rough.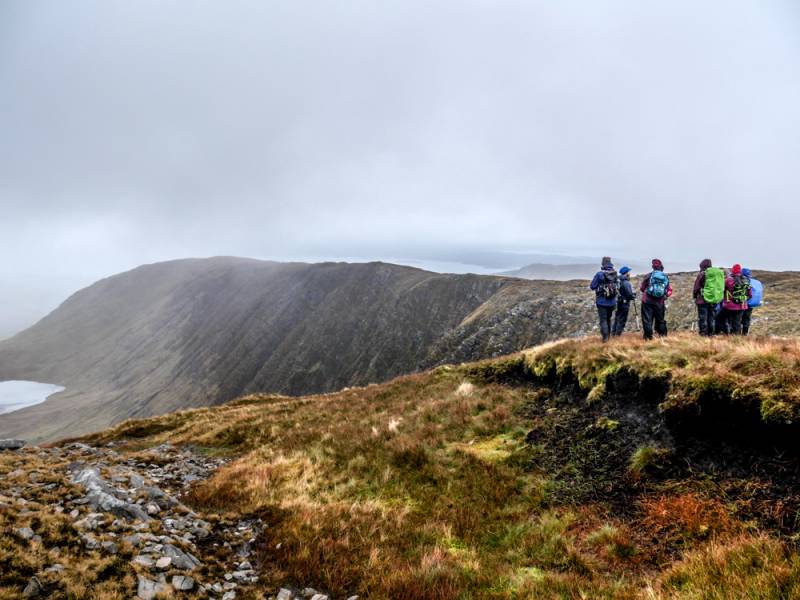 Descending from the Binnaw ridge to its north is only possible at specific points towards the east. Take a look at the route used on the track. It is to the east of the smaller lake, visible in this photo, which means you will need to walk almost the full length of Binnaw to get down safely.
On the day of the walk there were showers or at least drizzle perhaps half the time.
This track originated with an MI Environmental Walk where a group of some 15 people were being presented with information at various points slowing the walking speed down. This results in various parts of the track being shown in pink where the speed was particularly slow. The part of the track on the high slopes like Buckaun also seems to suffer from missing trackpoints, probably caused by the satellite view being obscured by the mountain.
The environmentat information presented was detailed and uptodate and really interesting - thanks to all in MI for arranging it.