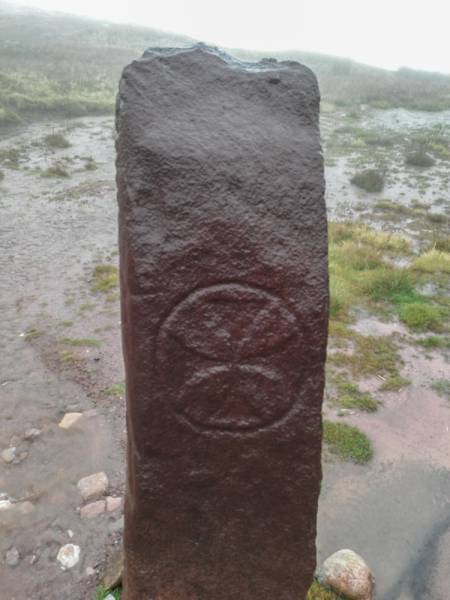 Drenched carpark.
At the north end of Ballinknockane and on the Dingle Way there is a car park for perhaps 15 cars. On our water adventure the wetness here was fully indicative of the squelch ahead.
The Glorious Ramp
I can't think of another place in the Irish mountains with a continous ascent on a near straight route for 3km with an almost even slope. The gradient was around 14% and the surface was that of an old road, repeatedly cut by parts that had eroded away. Apparently the track was originally for turf cutting. The starting carpark is near a stream that branches out to perhaps 15 smaller streams on the northern and western slopes of Brandon. The turf cutters road while damaged by water respects the layout of these streams otherwise it would have been washed away completely in parts.
There are periodic marker posts which shepherd walkers through a number of functional gates in local farmers' fences.
The swampy Col
The full cart track gradually peters out however there is a muddy path to the col, made properly boggy by numerous rivulets on the occasion we were there. There in the col is a standing stone.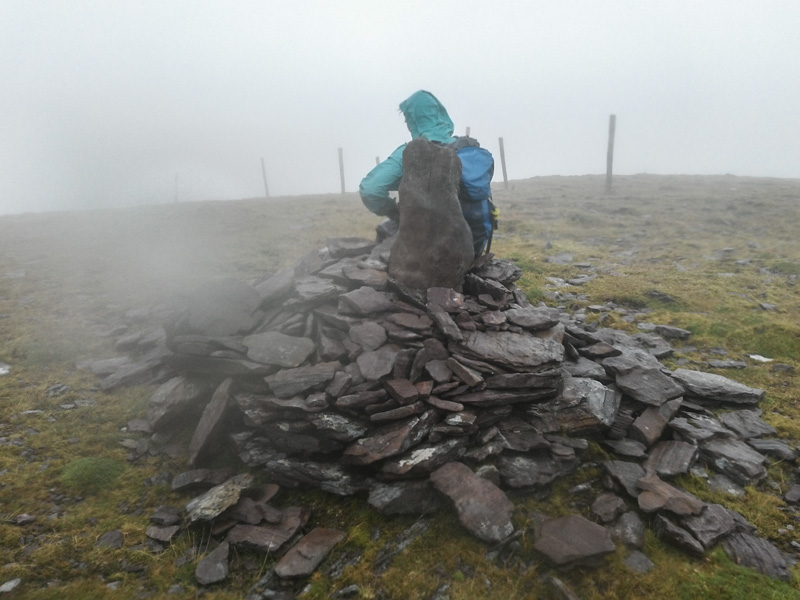 Reaching windy Masatiompan
There is a line of fence posts that serves as a handrail on the steeper and rocky ascent up Masatiompan. The views from here would have been magnificent, however we were able to see almost nothing in the fast moving cloud and heavy rain. Putting on clothes at the top was an exercise in preventing anything not held down from blowing away. Photography of a limited sort was only possible because the waterproof gps had a camera.
Slithering down
In the prevailing wind and rain and being seriously saturated we simply returned the way we had come, however I reckon a great route could be found taking in Beennaman. All in all, an exercise in summiteering made much better by the knowledge that those with us on the MV Brandon trip had chosen to stay low, had been out in the rain for longer and didn't reach anything as interesting as Masatiompan.