This is a relatively easy way to reach the Croughan ridgeline and get a taste for the magnificent all-round views. Ireland had a long coastline and Achill is one of the best places for spectacle on it.

Start from the Acorrymore Lough car park which has space for at least 10 cars. There is a small dam here feeding a waterworks further down the mountainside.
A moment looking at the cliffs when you are there should impress on you the need to pick your route carefully. There are places where the slopes run straight into the lake.
We chose to follow the route in an clockwise direction so that the west wind of the day was at our backs on the ridge. Go approximately west up slopes covered in low heather and sphagnum moss, making for easy walking. Initially you head for Croughan SW top which looks like a smallish bump on the way up. When you get to the top it is more obvious how it fits into the landscape. The route shown is intended to provide a continuous relatively easy climb.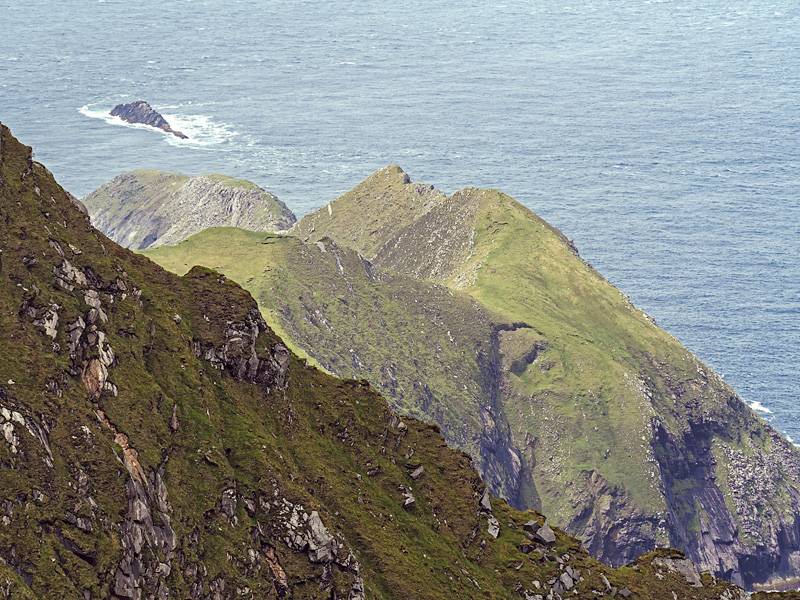 The first top at 664m probably has the best view of the day. The long beak shape of Achill Head, the huge drop to the north coast, the Boycott house below are nearer features. Further and south there is Croagh Patrick, the Sheefry, Mweelrea and the Bens. To the north the Belmullet Peninsula, the Inishkeas and Blackrock Island, scene of a recent helicopter tragedy.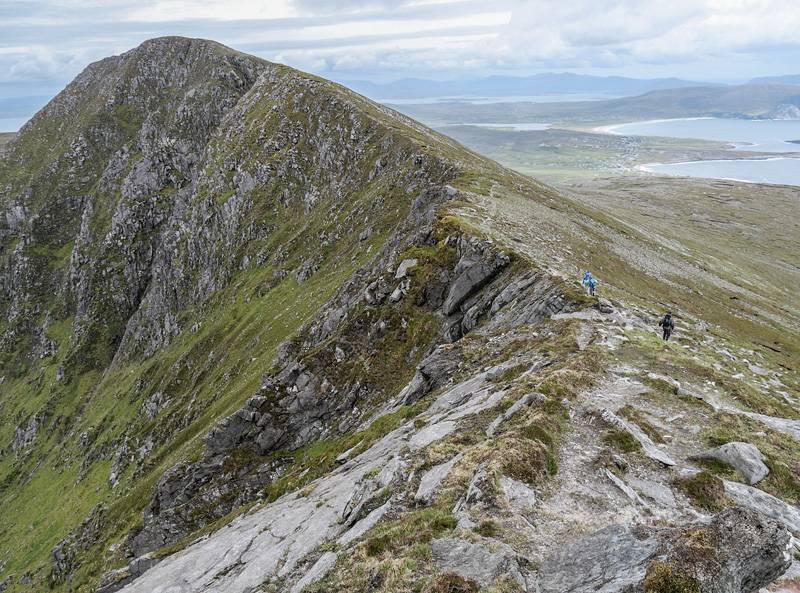 The main top shares much of this view as well as being able to see the crumbling cliff edge stretching NE as well as the Slievemore, Achill's other high mountain.
Gradually as you walk away from Croughan you realise the extent of the coastal erosion happening. There are giant splits in the land, rock towers precariously balancing and evidence of very large and, as of 2018, very recent slides of rock down to the sea.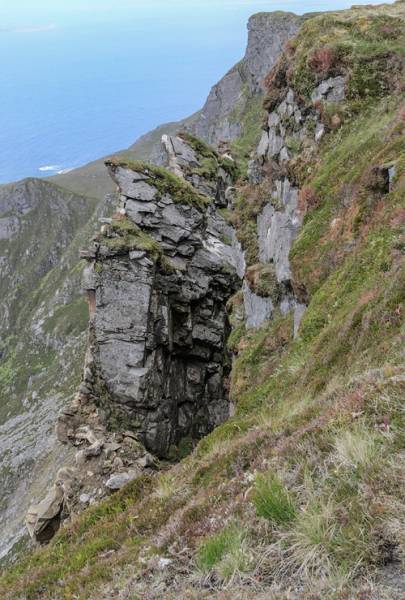 Eventually you come into sight of Bunnafreva Lough West (called Loch Reithi Dabha on East-West's map). From above this you can see coastal and glacial erosion side by side as Bunnafreva Lough is a corrie loch while the whole area to its west and north is falling into the sea. Bunnafreva Lough has a remarkable symmetrical shape like an elongated egg.
The return to the car park starts here though first do take a moment to see that symbol of resistance and eccentricity: Achillhenge. The completion route went just far east enough to miss the extensive cliffs and very steep ground above Lough Corrymore and the smaller Lough Corryntowy which you will encounter. Don't short cut this. From this last loch there are a number of sheep tracks leading to the car park.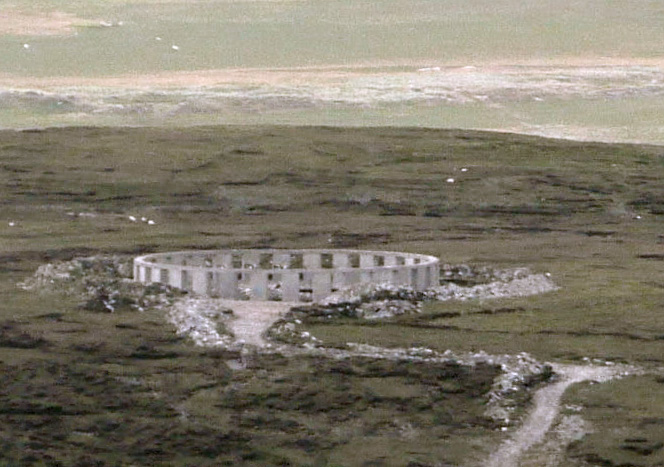 .