Welcome to MountainViews
If you want to use the website often please enrol (quick and free) at top right.
For more map options click on any overview map area or any detail map feature.
Detail Map Features
Showing 20 of a total of 83 items:
Mullaghcleevaun 846.7m,
Tonelagee 815.8m,
Mullaghcleevaun East Top 796m,
Duff Hill 720.8m,
Gravale 719m,
Stoney Top 713.7m,
Carrigvore 682.4m,
Tonelagee E Top 668m,
Scarr 640m,
Black Hill 602.2m,
Tracks:

3395, 29km
2355, 28km
2821, 23km
2963, 22km
2583, 21km
1439, 21km
2332, 21km
4075, 19km
2962, 19km
1293, 19km
Find Suggested Walks

Find hill, mountain, island, coastal feature.
Videos




Mullaghcleevaun and Tonelagee
The tracks shown on the map for parts of this area are sometimes difficult to find, and tend to disappear and reappear. However, orientation was never a problem. Some of our group found it challenging having to tackle Tonelagee towards the end of this long hike. The route from Mullacleevaun to Tonelagee across Barnacullian is covered in peat hags, with deep channels in the peat that provide an array of "roadways" in good weather. It was nice to walk on dried-out peat after the recent good spell of weather. However, I previously walked this route during heavy rain in the summer of 2014. On that occasion, I slithered my way along this boggy route, and then found that I was cut off from the car park at Glenmacnass by the swollen river. The Glenmacnass River swells quickly with rainfall, so weather conditions are very important for this hike.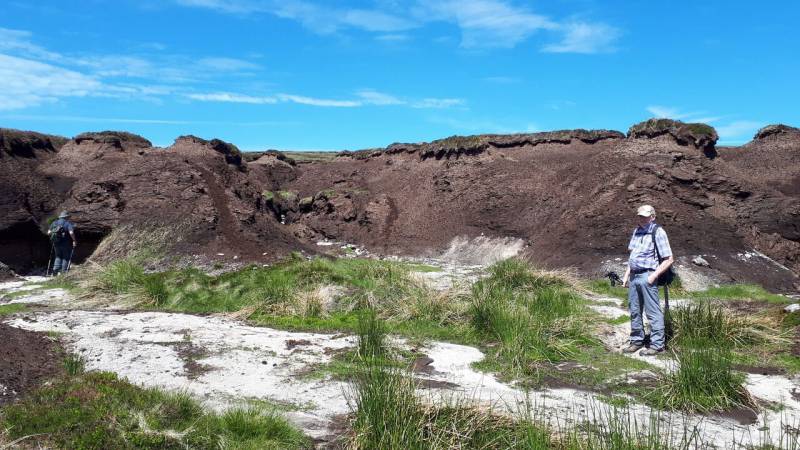 ---