Welcome to MountainViews
If you want to use the website often please enrol (quick and free) at top right.
For more map options click on any overview map area or any detail map feature.
Detail Map Features
Showing 17 of a total of 38 items:
Moanbane 703m,
Silsean 698m,
Fair Mountain 571.2m,
Carrignagunneen 561m,
Church Mountain 544m,
Corriebracks 531m,
Slievecorragh 418m,
Tracks:

2420, 41km
2864, 20km
1707, 20km
4196, 18km
3290, 17km
2210, 15km
2395, 15km
3721, 15km
2350, 14km
3796, 14km
Find Suggested Walks

Find hill, mountain, island, coastal feature.
Videos




Recent Contributions

Get Notifications

Ballinagee Bridge to Hollywood (Western Half of St. Kevin's Way)
This is the first half of St. Kevin's Way, but walked in reverse direction. This pilgrim route normally starts in Hollywood and finishes at Glendalough, with Ballinagee Bridge being slightly more than half way. For this "reverse" hike, head South-East from Ballinagee Bridge for 270 m. Then take a track in South West direction known as The Gentleman's Way through a pleasant wooded area by the Kings River for 2 km to the Glenreemore Brook where there is a pedestrian bridge crossing. Although the scenery from there, parallel to the King's River, is very nice with views of river deltas as the river meanders, the track is entirely on a minor but quiet road for 6 km, then 2 km on the relatively busy regional road R758 (wear high viz vests!), where it turns South onto the Scalp Road, a minor quiet road, for 3.5 km. The Scalp Road has nice scenery to the South and West, including a spectacular gorge, Knockroe. It is only the final 1 km to Hollywood that is again off-road and is picturesque as it rounds Slievecorragh. In my opinion, too much of this half of St. Kevin's Way is on a hard surface, and the other half in the Glendalough direction is more to the liking of hikers. However, I wouldn't knock it. It will suit some people, and our party enjoyed the route.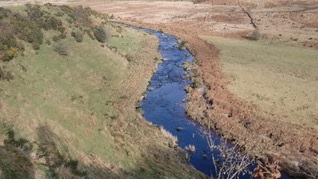 ---