Welcome to MountainViews
If you want to use the website often please enrol (quick and free) at top right.
For more map options click on any overview map area or any detail map feature.
Detail Map Features
Showing 18 items:
Croaghnageer 569.1m,
Croaghnageer East Top 543.5m,
Croaghconnellagh 523m,
Croaghnageer North-East Top 521m,
Brown's Hill 496.4m,
Croaghonagh 451m,
Cloghervaddy 402m,
Croaghbrack 401m,
Tracks:

2751, 42km
2238, 31km
4543, 15km
3164, 15km
4456, 15km
3637, 10km
4662, 10km
3168, 9km
4292, 7km
3170, 7km
Find Suggested Walks

Find hill, mountain, island, coastal feature.
Videos




Recent Contributions

Get Notifications

Cruach Eoghanach
Cruach Eoghanach
is a handy outing on the days when you get out of the car, feel the force of the wind and rain, look at the main Bluestacks on the other side of the road and think 'sod this for a game of soldiers'.
Indy and myself parked up near the quarry on the road branching off the N15 (see madfrankie's notes on this summit) and followed the track south. I was using the 3rd edition of OSI sheet 11, a map whose approximations and embellishments hereabouts were already well known to me. Suffice to say the route up the mountain isn't quite as represented on it...just follow the track south past a couple of turns (see the track for where my attempts to interpret the map were undone by reality) before turning properly uphill at an obvious junction. From here it's steady going to the top, with a short dip being crossed before the final short climb.
If one can disregard the radio gubbins up there it's an impressively wild area, but Indy had been promised there was ham back in the car so we didn't linger.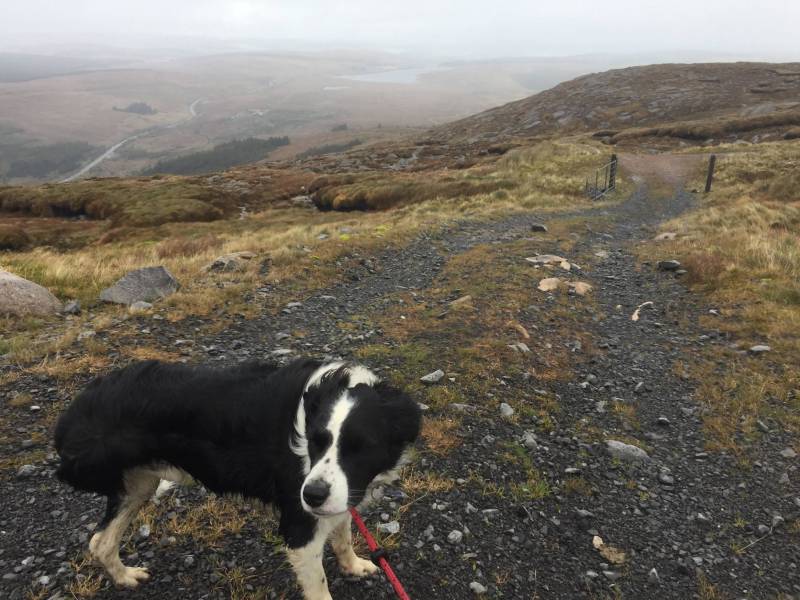 ---