The three peaks of Corranabinnia SW top, Corranabinnia itself and Glenamong had been on my radar for a few years now. Yet, I was always taken with the idea of climbing them from the West as the three peaks form a gentle arc of a circle with it's centre somewhere 'out the west'. Also, other routes on MV suggest either a very long day using the glens and ridges to the south and east or doubling back for either peak at the end of a shorter circuit. However, it was also clear why no one seemed to favour the approach from the west – 5km of bog just to get to the mountains!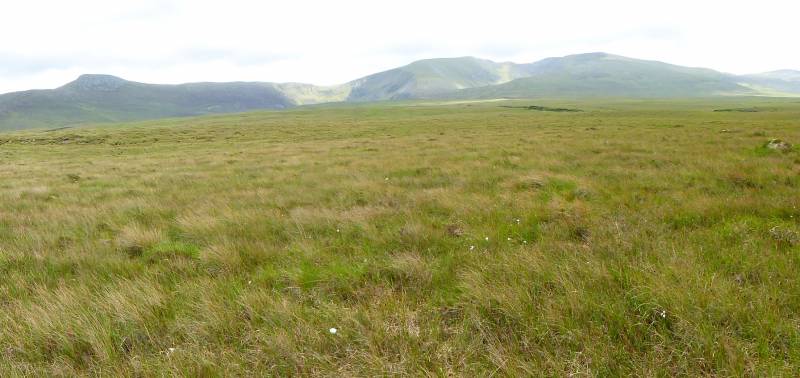 Glenamong, left, and Corranabinnia, centre...and lots of bog in between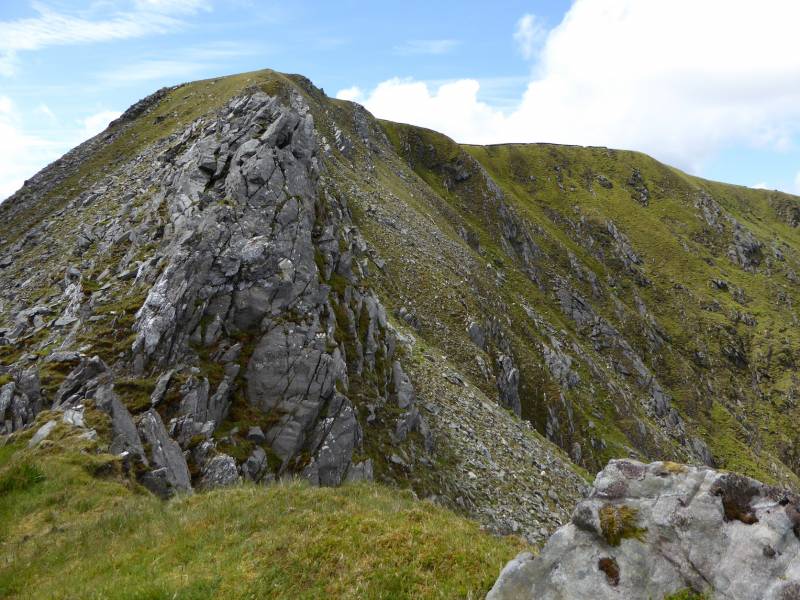 The ridge between Corranabinnia SW top and Corranabinnia
So I decided to 'science the crap' out of the problem in order to find a solution! I had been following the rainfall figures for April and May on the Met Eireann website and noticed that the April 2017 rainfall was only 30% of the average for April and May 2017 was about 50% of the May average for this part of Mayo. This suggested very dry ground in the area. Confirmation of this was from the Soil Moisture Deficit figures for Poorly Drained Soil of 30 to 40 mms for the days leading up to June 3rd.
(Soil Moisture Deficit
(SMD): this is the amount of rain needed to bring the
soil moisture
content back to field capacity. Field capacity (SMD=0) is the amount of water the
soil
can hold against gravity i.e. the maximum water a pot plant can be watered and not leak water. - Met Eireann website)
As you can see from my track, I parked at the road head at some old houses, surrounded by rhododendrons, and headed approx SE towards the ridge descending from Corranabinnia SW top. If boggy terrain is judged by the amount of times your boots are immersed in water, then I can honestly say that under these weather/soil conditions, this is not a bog! My feet were completely dry; in fact, the worst stretch of bog was on the saddle just south of Glenamong.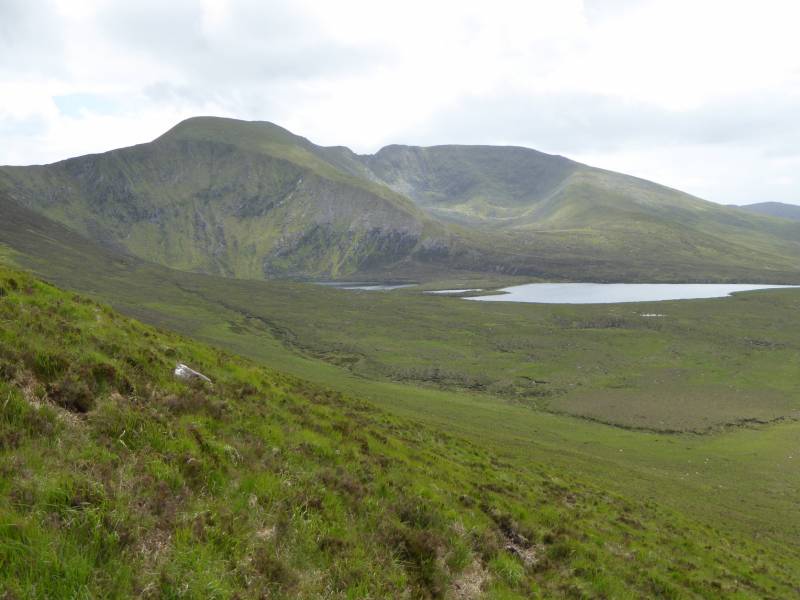 Corranabinnia, left and its SW top, right, with the gap on the ridge between them
I really enjoyed this route and have never before had the experience of standing in an almost completely flat bog, many kilometers from roads or houses. This really is getting away from it all.
If anyone is interested in repeating the route, I would suggest caution as you return to the start. There are one or two small rivers very near the houses that have silted up and are, in effect, slow moving bog. They are easily seen as they have very green grass growing in them. Just be careful.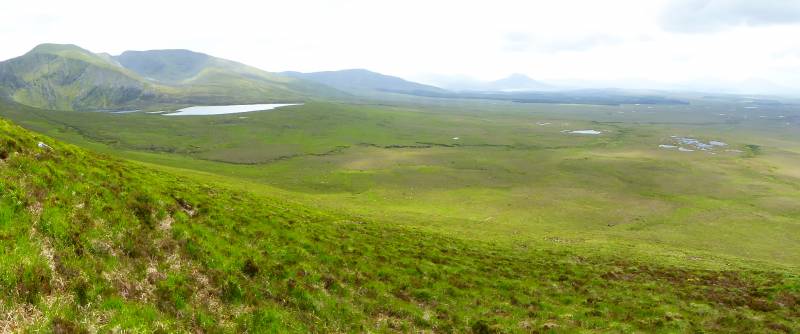 Panoramic photo showing the route across the bog. The starting point is on the extreme right hand side of the photo, just below the skyline.