Welcome to MountainViews
If you want to use the website often please enrol (quick and free) at top right.
For more map options click on any overview map area or any detail map feature.
Detail Map Features
Find Suggested Walks

Find hill, mountain, island, coastal feature.
Recent Contributions

Get Notifications

Moylussa CE CHP Sat4th Feb 2017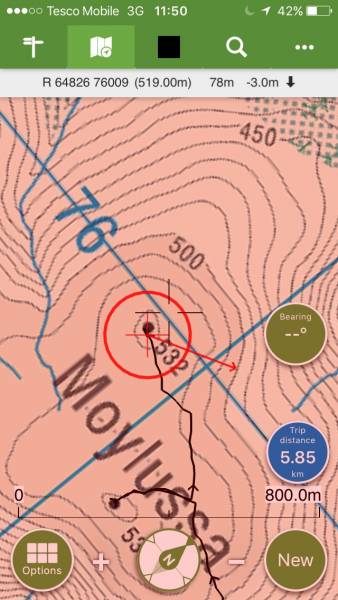 Starting in Ballycuggaran Forest car park to take on Clare's CHP Moylussa our group of 6 headed northwest following the East Clare Way around Leenlea Mountain leaving the East Clare Way and after a short distance joining a fire brake which leads to the board walk that brings you to a stone which is not the true high point on the mountain the twin summits are southeast IR 65124 75576 and northwest IR 64838 75931
Saturday 4th February 2017 Moylussa , Co. Clare – 532m by Deirdre O'Sullivan Rafter
First on the list was Moylussa just outside Killaloe, we began our walk in darkness at Ballycuggaran Forest Park at 7:00am, as the sun rose we had stunning views across Lough Derg and the surrounding countryside. The wood is named after the O'Cugguran's who were an important family connected to Brian Boru. A light sprinkling of snow as we made our way up through the forestry resulted in a very interesting and scenic walk. Moylussa is a mountain with 2 peaks so therefore after pausing for photos at the Coillte erected boulder which is not actually the highest point we went in search of the true high points of County Clare in finger numbing weather. Once we had our photo evidence we started off down the mountain letting nothing get in our way , not even a particularly high fence which did'nt seem to have been doing it's job as the local sheep had made a perfectly sized hole in the bottom of it , we made like sheep and scrambled under it , plenty of laughs about that. A quick stop in the Applegreen Services at Birdhill for coffee and we set off for our next County Top, Galtymore. Present: Michael Moroney, Maureen Browne, Helen Gleeson, Sadie Ryan, Sabrina Daly, Deirdre Rafter.
---