Welcome to MountainViews
If you want to use the website often please enrol (quick and free) at top right.
For more map options click on any overview map area or any detail map feature.
Detail Map Features
Showing 20 of a total of 119 items:
Cloghernagh 783.2m,
Camaderry Mountain 698.6m,
Tomaneena 682.4m,
Camaderry South East Top 677.3m,
Mullacor 660.7m,
Lugduff 652m,
Lugduff SE Top 637m,
Fair Mountain 571.2m,
Brockagh Mountain 556.9m,
Brockagh Mountain NW Top 549.5m,
Tracks:

2484, 46km
1431, 42km
2235, 41km
1536, 39km
2195, 35km
2427, 34km
1441, 34km
1898, 33km
3395, 29km
3461, 28km
Find Suggested Walks

Find hill, mountain, island, coastal feature.
Videos




Users Online:



simon3

,

walkerhollick


Guests online: 220

Recent Contributions

Get Notifications

Moonlight Challenge 2016
The Annual Glen of Imaal MRT Moonlight Challenge is always one of the best organised challenge walks on the calendar in my experience. This year's route started and ended in Glendalough going around the edges of the Glen. This route does not take in any MV summits, but comes close to three. Most of the ascent is done by the time you pass Lugduff SE Top and much of the route is on forestry tracks, boardwalks and well established routes.
One of the benefits of doing this as a Moonlight Walk is that you avoid the madding crowds that throng the lower reaches of this area on your average weekend! The only downside can be traffic congestion caused by slower walkers on the boardwalk sections!
While there was great disappointment for those looking for a supermoon over the last couple of nights, there was no such disappointement on Saturday night, when this Challenge was indeed a Moonlight one!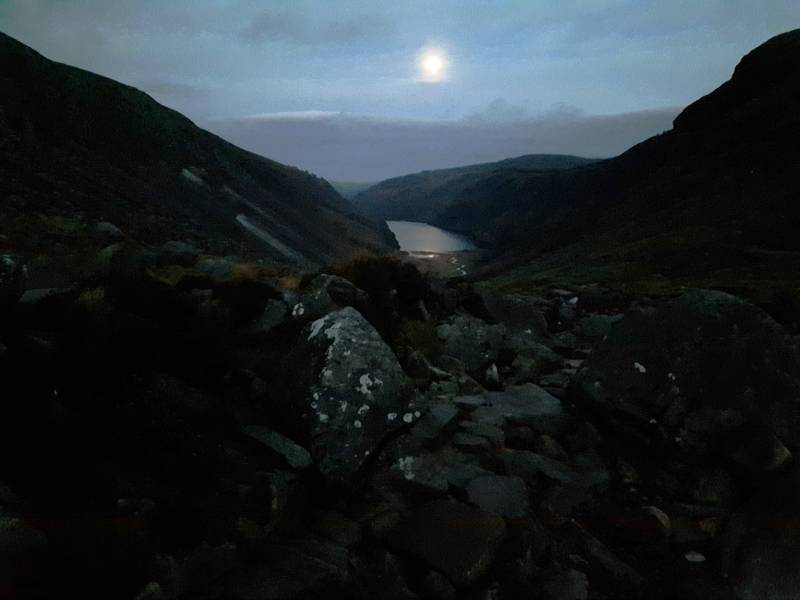 ---