The 7th of June 2015 was a beautiful day. I rolled out of it early to meet up with the club in Kenmare at around 09:00 and there are 11 souls ready for a splendid day on the mountains. It's billed as an 'A' Strenuous and if you didn't want to do the full thing, you could make it as short as you like.
The boots are moving up the road towards Derrynabrack at 10:01. No idea where I'm going today or what the route entails, just follow the leader. That first climb to Feorus East opens up the lungs and the legs warm up. Then it's on to Derrysallagh and Knocknagorraveela NE top and a pause for bite to eat. Two or three decide to go SW from here and head for Coomnalack.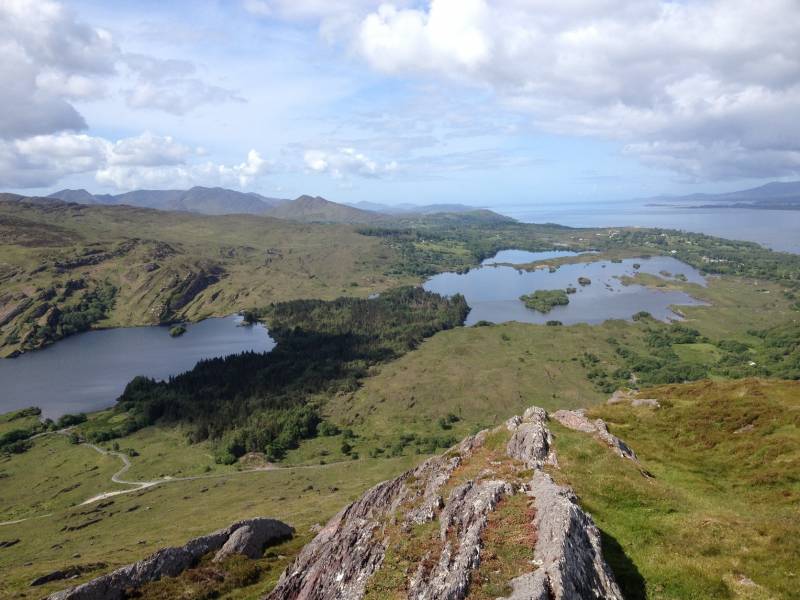 The plan for the main group is to lose the height gain and hit for Baurearagh Mountain. There's a track on the map that leads down to Inishfoyle but we've the adventure hats on today so it's 'follow the river down, there's surely a bit of a track beside it'. There isn't, and we must have crossed it 10 times to negotiate our way down. Choose an alternative if you're going to follow this route.
It's 13:30 by the time we exit the trees and briers. There's a difference of opinion as to the 'best' was up Baurearagh. The main group go 'wide' (SE) as it doesn't look as steep. It's all steep and it's the warmest part of the day. We make it up and follow the ridge for 5km. We have a debate about whether it's more energy sapping for the leader of a walk or those that are not thinking about where they are going and 'just' following. We decide to rotate the chore of being at the front. I think it's easier to switch off and just follow.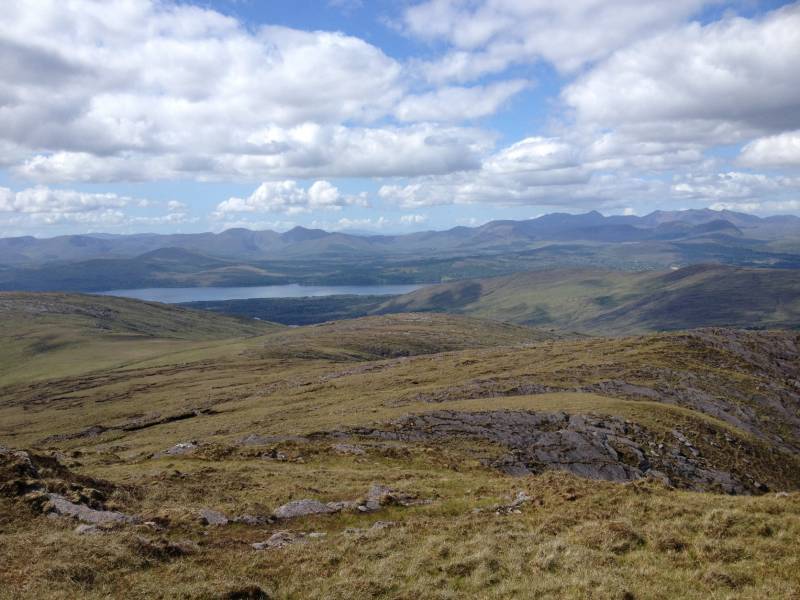 You can never have enough water on a day like today. We're 6 hours and 20 mins. into the walk by the time we get to Coomnadiha the bladders are running low. You're conserving it now and the lads tell you that there are a few sneaky climbs to go before we hit the downhill button.
The walk is now more reminiscent of a challenge walk than a club walk. You're looking at the GPS and you notice that you're heading for that spot where Cloonee Lough Lower and Middle meet. The only thing is, there's no land connecting them and you find out that this is part of the walk. The water comes up to the groin area as you cross. That'll test that waterproof case that you have for the phone.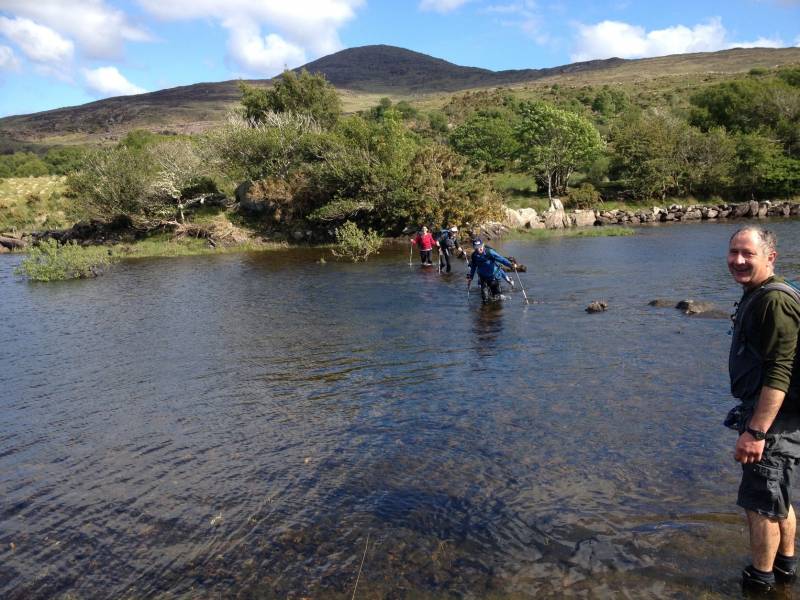 Two kilometers to the cars with the boots and socks soaked. No point in making an footwear or clothing adjustments. None of the walkers do. You change at the car and head back in to Kenmare for a bite to eat. "What'd you think of that walk Ger?" "Bit of a Jesus Mary & Joseph walk Seamus."