In December 2012 I started walking on Tenerife. The bug had firmly caught me at that stage and I had my hands on Paddy Dillon's 'Walking on Tenerife'.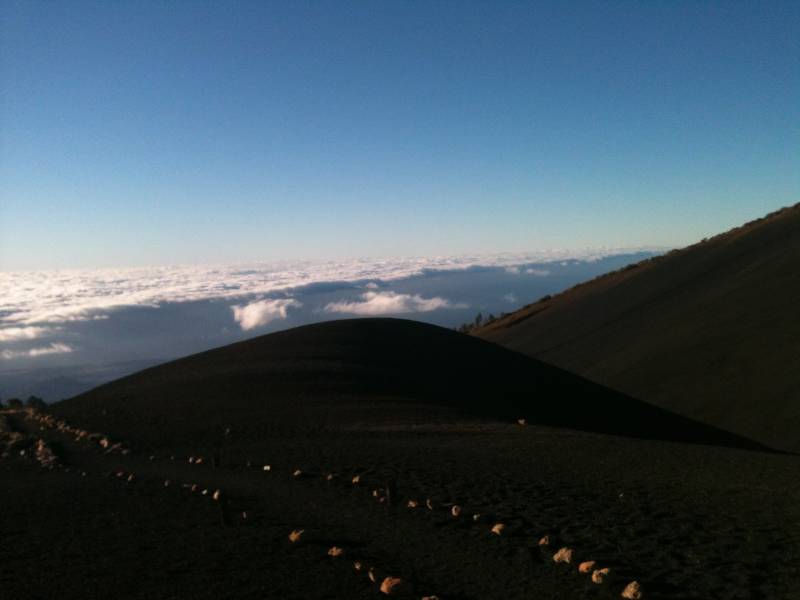 On each of the Canary Islands there's a track called the GR131 so I went with the intention of doing the Tenerife section. It's in the book as a 5 day walk as Paddy breaks it down into that number of sections.
It's a marked walk and I didn't have any GPS at the time. I've borrowed the gpx above from Wikiloc, so the stats aren't mine. I think it's longer than 73km and might be closer to 85km. I walked alone and used the bus service, returning to base on the South, in Los Cristianos, each evening.
What I did was, on the Tuesday walk from Vilaflor (highest village on the Island at 1,400m) to La Caldera (south of Aguamansa) on the first day and took a good 35km out of the middle of the track. Two days later I walked from down from Vilaflor to Arona (20Km) and, on the Saturday, from La Caldera to La Esperanza (30km).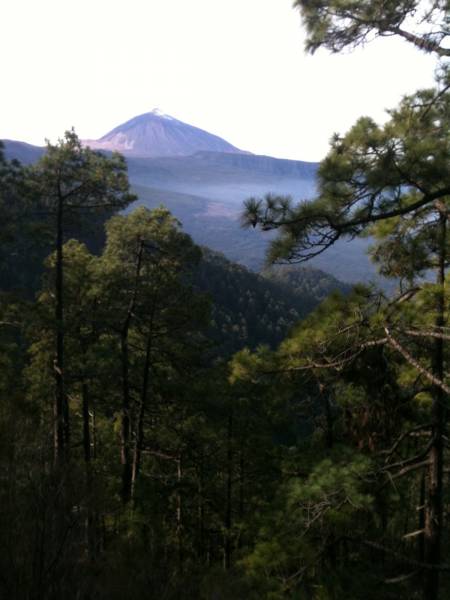 Additional Info:
The entire route is very well marked but I did stray from the track on 3 occasions. On two occasions I was about 50m/100m away from a marker and on one occasion I got totally distracted and ended up on the TF24 (about 14km from La Esperanza) and had to drop back down to the track, from the road. If you stray from the track in a pine forest, just backtrack until you pick up the markers again.
It's easy walking because of the tracks so you'll be motoring faster than you would here. The highest you'll be is around 2,374m at Degollada de Guajara and in December I needed gloves.
Bus starts from Los Cristianos (base) were 05:50 X 2 (to Vilaflor) and 06:10 (to La Caldera). Three different buses were required to get from La Caldera to Los Cristianos (& vice versa) and from La Esperanza to Los Cristianos. Travel times on buses, for longer journeys, were 2 to 2.5 hours. I think the one to Vilaflor takes about 40/50mins.
Those early starts to Vilaflor are grand if you know where the track starts but it's still dark when you get up there so a head torch is a must if you don't want to wait until it's bright . Buy a 'Bono Via' travel card for discounted travel.
Plan your bus journey here http://www.titsa.com/index.php/en/ but also get your hands on a current hard copy bus timetable for the whole of the Island. They normally just hand out the popular tourist bus routes so you have to specifically ask for the other.
Resources:
If you have ViewRanger, the following 'Tenerife Hikers Map' is also included with the 'normal' topographic map of the Island.
http://www.viewranger.com/en-gb/mapping/maps-routes/premium-maps/spain
Map: http://www.easons.com/p-3079999-tenerife-hikers-super-durable-maps.aspx - the popular trails on the Island are on this.
There are lots of other trails available on this website
http://www.todotenerife.es/en/article/show/5049/0-red-de-senderos