Welcome to MountainViews
If you want to use the website often please enrol (quick and free) at top right.
For more map options click on any overview map area or any detail map feature.
Detail Map Features
Showing 20 of a total of 36 items:
Sawel 678m,
Mullaghclogha 635m,
Dart Mountain 619m,
Mullaghasturrakeen 581m,
Mullaghclogher 572m,
Mullaghdoo 568m,
Dart Mountain North-West Top 525m,
Carnanelly West Top 505m,
Learmount Mountain South Top 492m,
Learmount Mountain 489m,
Tracks:

4117, 16km
3319, 16km
1237, 14km
2570, 14km
2216, 13km
2571, 12km
2257, 12km
2163, 11km
3385, 9km
2654, 9km
Find Suggested Walks

Find hill, mountain, island, coastal feature.
Videos




Peak bagging in The Sperrins in autumn
Again, the use of a mountain bike is highly recommended for this route, if you are a solo walker. I left my bike in a ditch at the side of the road, east of Sawel and drove around to the start, just west of the village of Crannagh. The walking route itself is quite straightforward and is simply a case of following the ridge - providing, of course, that the visibility is good. This day it was perfect and the views are outstanding! I could see Errigal and the other main peaks of Donegal; Cuilcagh, in Cavan/Fermanagh and down to the Mourne mountains, and Ailsa Craig, off the Scottish coast...probably the best views in Ireland!
The cycle back to the car is mostly downhill except for a few small sections before Crannagh and takes around 30 mins.
The view across Glenelly valley from the Southern slopes of Mullaghclogha: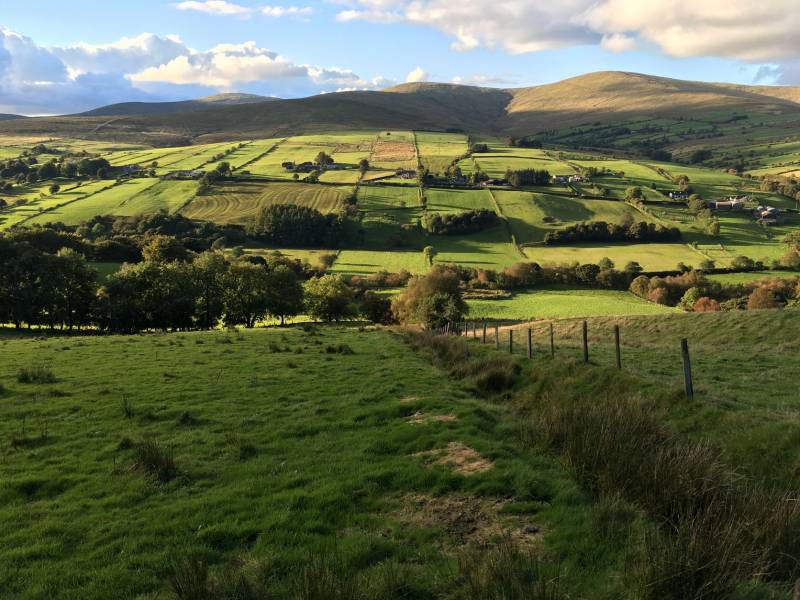 ---