In 1992, Hugh Sharkey did the 'Maamturks Double' on the day of the Challenge. The records are skimpy but there is a time recorded and I believe it was done from the base of Corcóg to Leenane and back to the base of Corcóg. There was a time when the Challenge was done in reverse in alternate years.
Those of you that have done the challenge 'one-way' will recognise the mental and physical demands of having to turn around and do it all over again. There's more climbing on the reverse, from Leenane to Corcóg. I can find no other record of anyone else having done this challenge hill walk - it's about 54km with 4,700m gain/descent on the toughest of mountain ranges. Maybe it's modesty, maybe the records are bad. I just don't know.
There's no doubt in my mind that Hugh was very (very) fit. He was 41 when he did the double. In 2006 he was one of three Irishmen to die in climbing accidents abroad, in the one week. Hugh, from Donegal, died in a climbing accident in Jordan; a 26 year old Dublin man fell to his death in Tenerife; and a 61 year old Waterford man fell during a descent of Snowdon.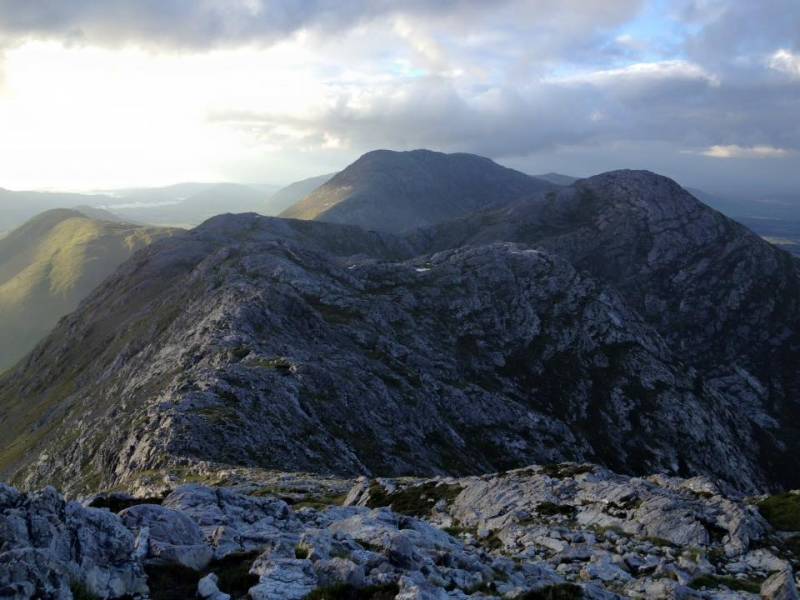 Anyone that knows me will be aware that I have a bit of a grá for the Maamturks. I was up there four times in 2015 doing the challenge route - twice the traditional way and twice in reverse. It was always in the back of my mind to so something like a double. The first time I did the challenge route in reverse (July 2015) I stood on Corcóg, 9hrs and 34mins after leaving the Leenane and was just empty. I would have considered myself fairly fit as I'd done a very good time on the day of the challenge in April. The reverse was definitely harder but maybe I just had to get used to it. I find that when you do a challenge walk for the second or third time you're able to take a pretty big chunk out your previous 'best'.
I made my mind up, after being up there again in September, that what I would try to do is walk from Leenane to the summit of Corcóg, do an about-face, and make my way back the same route to the door of the Leenane Hotel. This walk started to gnaw away at me and it just wouldn't go away. No matter how well I did on other walks, it wasn't *this* one.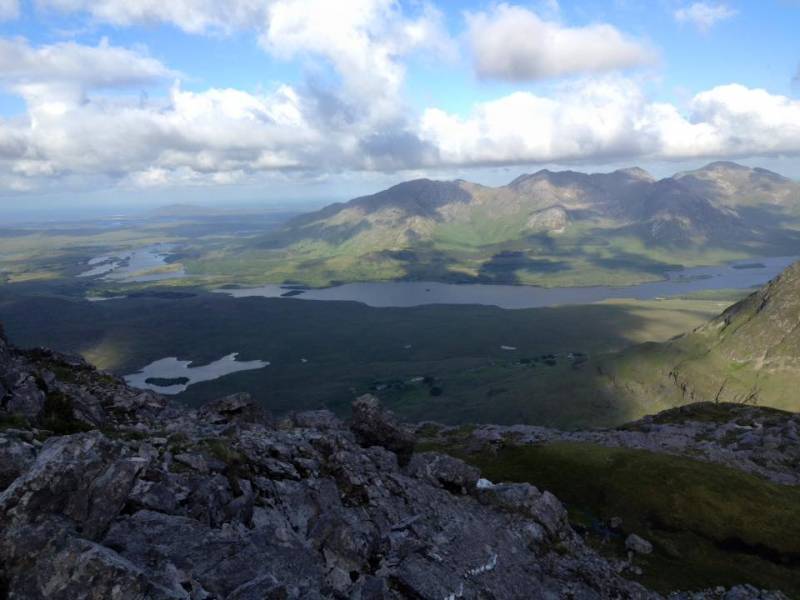 The forecast was good for last Friday (17th) , my confidence was up after the Coomakesta Pass to Cronin's Yard walk two weeks earlier and I'd recovered pretty well from that one, so I decided to check in to the Leenane Hotel and take my chances. 'Give yourself 20hrs to do it and you should be coming off Leenane Hill around 23:00 - Sure how hard can it be?'
As I walked out of the hotel on Friday morning I could see the drizzle being tossed around under the light in the car park across the way. I waited there for 20mins; the dark cloud began to break up, the wind died down a bit and the drizzle eased. Tús maith, leath na hoibre.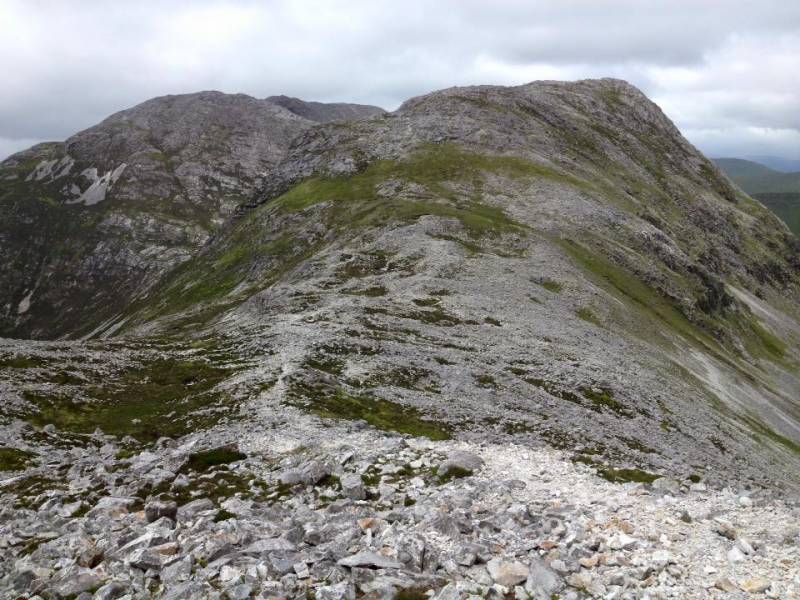 The bracken is getting fairly dense on the lower reaches of Leenane Hill. A shower came so I had to put the coat on half way up. The easiest part of walking in the dark with a headtorch is ascending. If you're 'going up' you're going the right way. There was a small lake near the summit that I didn't recognise so I had a bit of a 'What!!?' moment - it looks so different in the dark and the mind loves a bit of trickery.
Things went very smoothly for a long time after that. I snacked and drank away as I moved along and the only company were a few hares. I had dropped a bag behind the altar at Mám Éan on Thursday evening so I was able to top up my supplies/have a rest on the way out and the way back. On the way there (and back) I did think 'What if someone takes it?' 'What'll you do then?' - more mind foolery but; when I went back on Saturday morning to collect it, someone did have a gawk into it.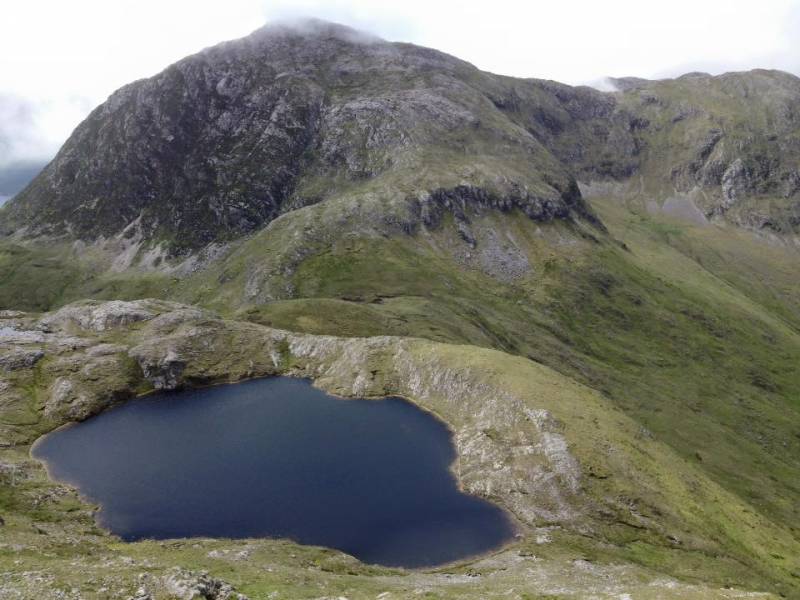 If ever I had an 'unlucky' mountain with the weather, it has to be Letterbreckaun. As I approached from Barrlugrevagh on the return, the fog rolled in and it started to rain. My steps were tentative on the greasy rocks all the way to Gowlaunard and I was happy to be facing Maumturkmore without having slipped. I'm happy when I get to here on a traverse and Friday was no different. 'The Col' does come to mind though. As I climbed up out of it I reminded myself 'One false top at a time, boy.' It was great to get below 500m on Leenane Hill as I could see the glen and the river that's just beyond the gate. Both knees were sore.
So that's that torment of a walk over. I know it's not a 'double' in its true definition but it was what I wanted to do and that's all that matters to me. If you've got this far in reading this post, perhaps you might think of adding it to your list of 'walks to do'. Your skinny jeans will never feel so tight around the thighs, even three days later.

My best guesstimate on gain/descent on a contour to contour basis is 4,400m but you know that ground isn't even so you can add a few more 'for the pot'.