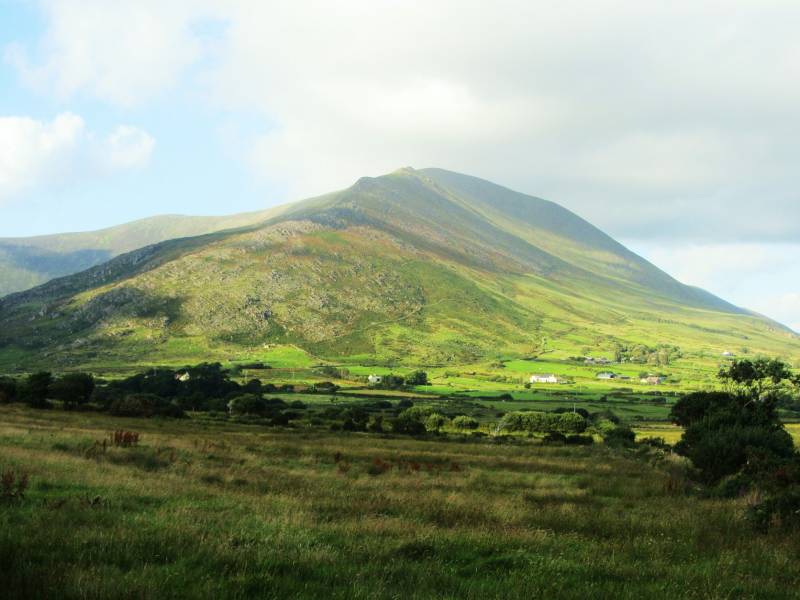 Sometimes you are presented with dozens of mountains and you have to figure out which ones to walk .There can be so many combinations and permutations. But the Kells Knocknadobar
massif
, with its four sub peaks, pretty much stands alone, so the summiteer is inevitably going to put all four together in a single route. What is required is a sane running order.
Don't Turn Your Nose Up at the Pilgrim Path!
I parked at the little car park at the western end of Knocknadobar and headed up the Pilgrim Path. I'm glad I did. People who work on mountains rarely go straight up. Neither do sheep. They zig-zag. Zig-zagging adds length to a walk. The ascent stays the same. Crucially, to state the obvious,
the gradient is reduced
, and this has a remarkable easing quality on the human body. The Pilgrim Path represents the ingrained wisdom of decades of ascent. I strongly recommend it. You get close to the final ascent in a reasonably fresh state. Hare up in a straight line if you want to. You will pay the price.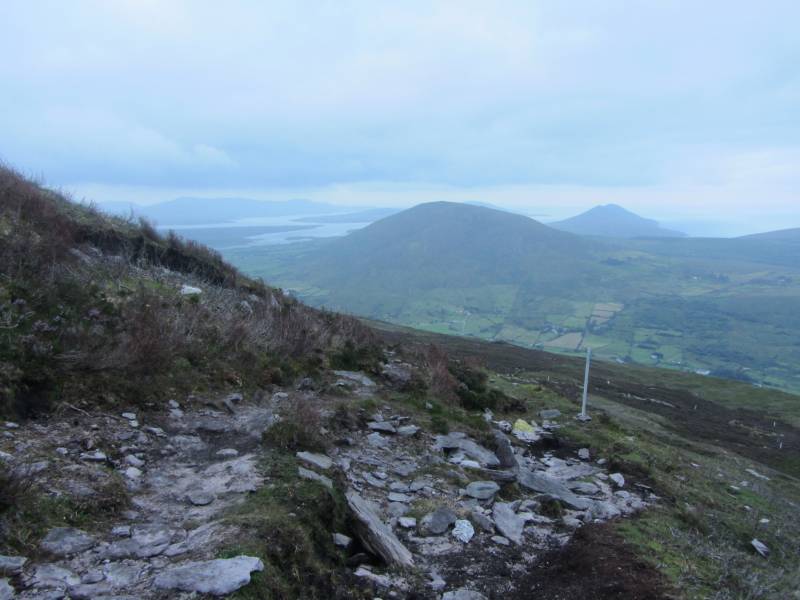 The Harbour Descent Option
You will see that I went up the PP to Knocknadobar, waltzed across to its North Top, doubled back up the main summit, but curving east towards Kells Mountain and its sister, then back towards the col but dropped off before I reached the col and went down by the forest to my waiting bike. I believe that a more elegant route (although it would add to the overall ascent because you would have to go back up Knocknadobar) would involve:
Pilgrim Path to Knocknadobar;
Straight on to the Kells sisters;
Back up towards Knocknadobar and
Head to its North Top and descend to the harbour
Track 2709 (simoburn) shows that there's a way to the harbour but I read
dbloke
and felt that the area around the harbour is simply too well fenced and built up and you might be embarassed. The only real possibility would arise if the tide were out and you could drop off to the shore well back from the harbour. Then you could walk the shore to the harbour without annoying people.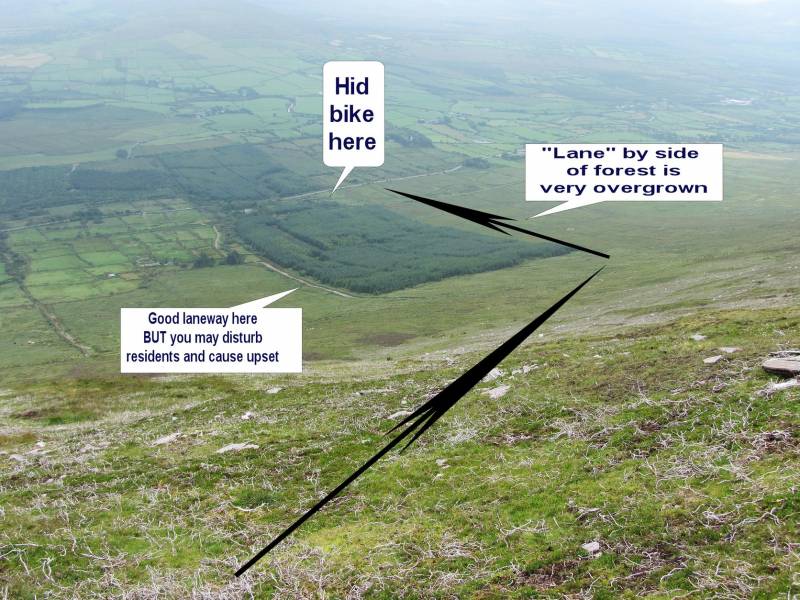 My Descent
I descended off Kells Mountain to the western side of a rectangular area of forest to collect my bike and cycle back to the start. I felt that permission would be needed to go down anywhere to the Ring of Kerry road. To ease the optics, I made a point of avoiding the obviously good track on the eastern side of the forest (there's a house nearby). The track to the west was completely overgrown with briars and all manner of horror and eventually I simply went into the adjacent field. That annoyed me because the whole point of getting to a forest was to avoid any contact with farming activity, and while there were no cattle or sheep in the fields by the forest that day there were substantial deposits suggesting recent digestion.