I hesitate to add yet another Mangerton route to the umpteen already uploaded, especially as mine is simply a replica of simon3's Track 931. My excuse is that I have some photos that may encourage you to get up there, and give you a realistic idea of the terrain. Onzy, for reasons of personal circumstance, divided the ascent of these five peaks into two separate outings. He acknowledges the apparent inefficiency but I think we all agree that there is more to life than squeezing the largest number of mountains into the shortest possible route.Er...actually No, we don't all agree!!
Crossing the River
I crossed the river that flows from Lough Garagarry at about
V 99571 83747
on my way from the Start Point to Stoompa East. I had looked around a bit before using an existing rudimentary bridge made up of two old planks to get over the rushing water. Although the "bridge" was fragile, and care was required, it did the trick.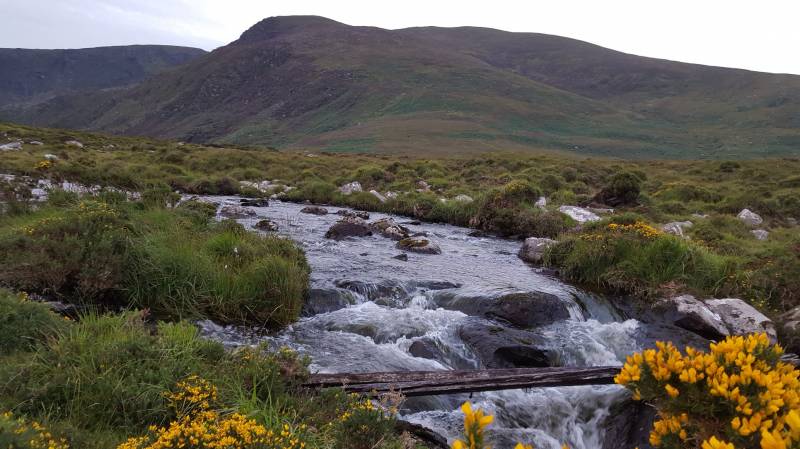 The View from Stoompa to Mangerton and NT
This is a composite photo showing the view from Stoompa looking west. Sorry about the cloud.

Between Mangerton and its North Top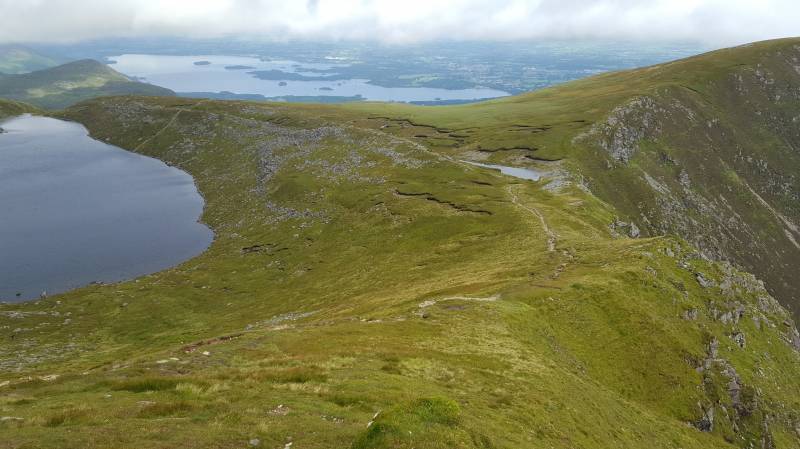 I just love little ridges with water nearby. I've been on a lot of them. But this has to be one of the best. The above photo shows a view northwest from the rim of Mangerton towards the lakes of Killarney with the ridge centre photo and The Devil's Punchbowl on the left...
The next photo shows a view from the self same ridge looking to the walker's right (east). On the left of the photo is Mangerton North Top sloping to Glencappul. In the background, just right of centre, is Stoompa. Lough Erhogh is mid photo with Lough Anagh barely visible behind it.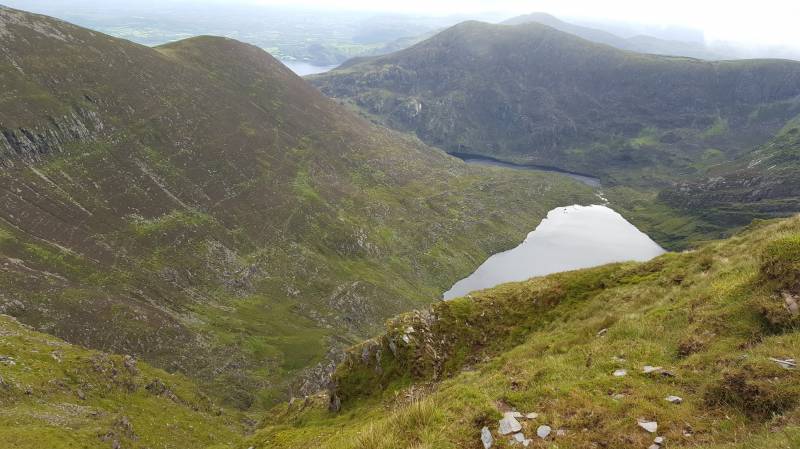 The Main Track
Photo below shows the main Mangerton track in the foreground with lakes of Killarney in the background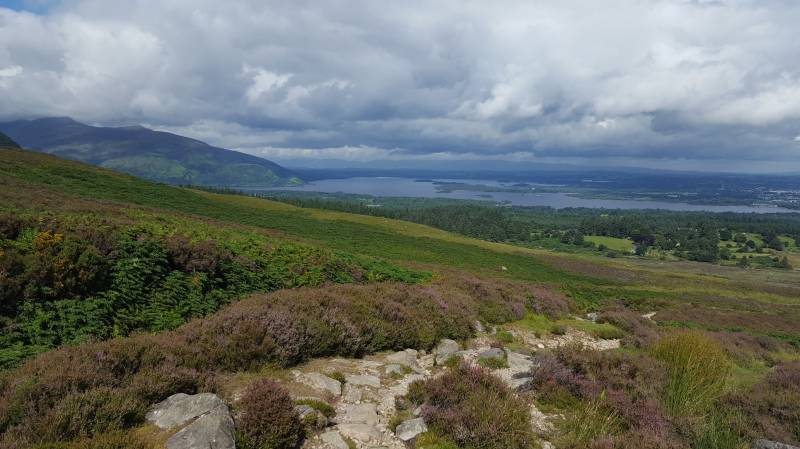 Postscript!
Mangerton is a very busy mountain but you can have it all to yourself if you get up early enough. I started before 6am and didn't hear another human voice until I began to cross from Mangerton to its North Top. By the time I was descending from Glencappul there were hordes charging up the main track, many of dressed in very fetching but entirely unsuitable clothes!