This is a way marked trail but just when you need to see the 'Yellow Man' the most, he's either in hiding or not to be seen.
I didn't see the point of backtracking at Gurteen Upper SW of Kilsheelan. I'm familiar with the Category 3 bike climb (and descent) that is Tickincor and I just didn't fancy the walk down the tarmac road from Harney's Cross.
When I crossed the bridge at the Old Waterford Road in Clonmel I made my way to the 'Mayors Walk' at Knocklucas and headed up towards the Holy Year Cross and Glennegad, that overlook Clonmel.
You can divert to Glenabbey and visit Carey's Castle before you come to Russelstown Wood. It's worth a visit if you haven't been.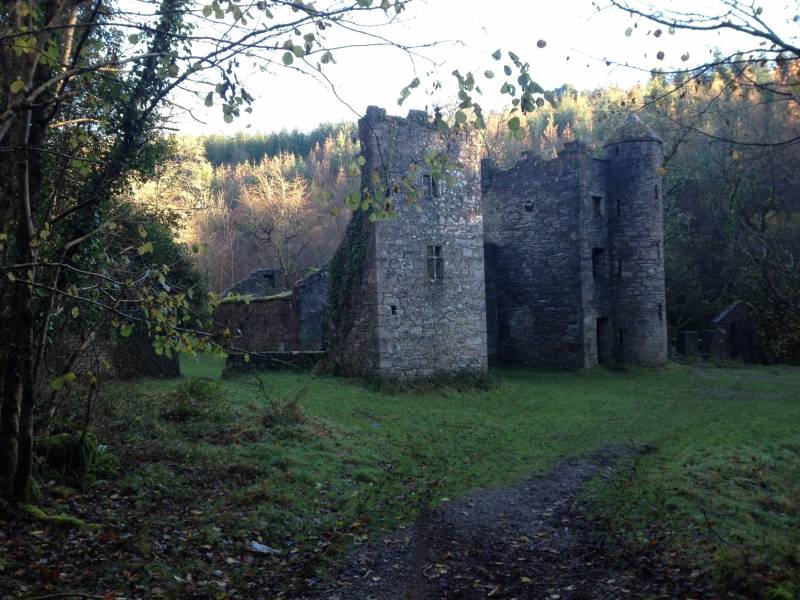 There's a handy access to the Nier River at Fourmilewater. You know, if you need to top up your water or bathe your feet. As you approach Newcastle the way has been altered, for the better, (from the map) in the last few years. You don't have to go to Newcastle village but you could if you needed a tea/coffee or supplies from McCarra's shop.
At Skeaghatoureen (gotta love that name) Bridge you can continue up the road and follow the 'Yellow Man' or follow the 'Red Arrow', they meet up again at the trail head in Goatenbridge. The 'Red Arrow' marker connect the track/trail between Newcastle and Ballyporeen.
My walk end is just outside Clogheen at a place called Mountanglsby.
Points of Note:
i) Trail shoes are best. The heavy boots are hard on the feet and runners won't do.
ii) I didn't see the 'Yellow Man' at a junction near Gurteen Upper, another one in Russelstown Wood and as you skirt around the side of 339m beyond Glennegad.
iii) You could follow the track up by the river bank from Kilsheelan to Clonmel.
iv) Height gain/Descent Recored 1,450m/1,370m
v) A great long walk if you have an aversion to hitting a summit of any description.