Parked at the Priest's Leap, with the intention to bag five summits, but quickly decided to add Caoinkeen and its SE Top as I thought I would have just enough time before dusk... well, just enough happened to be
really
just enough !! Started with the gentle climb of Knockboy itself. The weather was cloudy and a bit cold, but not too windy, and so it remained during the whole afternoon.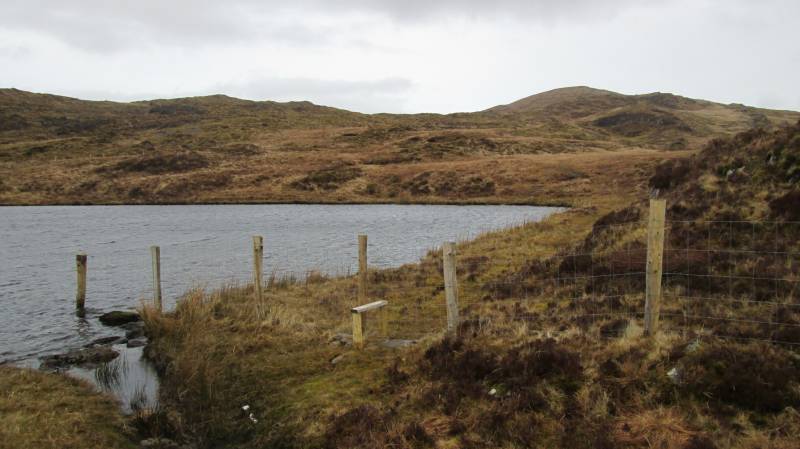 Knockboy may not be a fantastic summit in terms of walking, but the views are great and the area gives a certain feeling of remoteness. No need to say I met no soul up there !!
I then descended on the softest ground one could dream of for a descent to quickly reach Knockboy N Top. Followed the ridge down NNE towards Caoinkeen on good ground, a mix of grass and flat, bare slabs of rock. I must say I particularly enjoyed this part of the hike, as I found the going was really pleasant.
The ascent of Caoinkeen from the col is quite gentle and rather quick. The summit has a cairn and a few small flat slabs of rock vertically aligned like a spine. Of course, I would not have left before having a look at the dramatic cliffs over Lough Ahinkeen !! Note that the track follows the edge of the cliffs for a while, so care would be required if following this route under poor visibility.
It then took me more than 45 minutes to reach Caoinkeen SE Top, across large slabs of rock which can easily be either climbed over or contoured. Had a dilemma on which actually was the highest point of Caoinkeen SE Top, as two points compete for this title. This summit is actually a small hump at the end of the SE ridge, but has nice views to offer. Stopped for a quick snack, but did not take the time to visit the cliffs' edge over Lough Nambrackderg, as time was running out.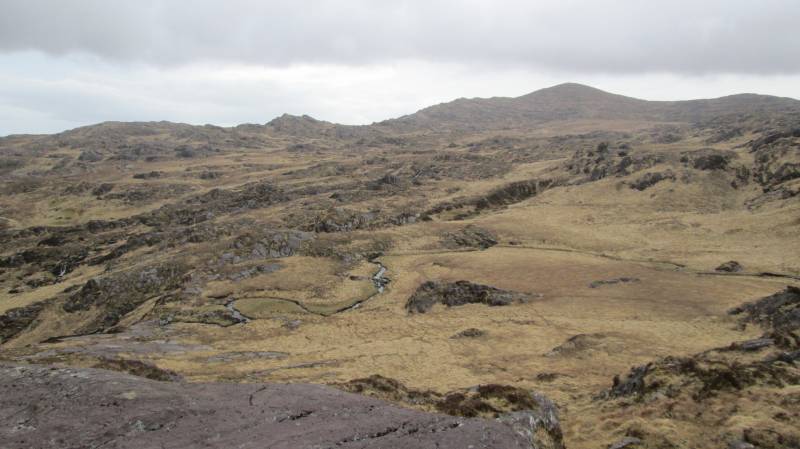 I decided to try and make a beeline over the boggy ground below to reach the col which stands of the middle of the picture, heading more or less SSW. This part was pretty soggy but allowed me to avoid the rocky ground to the right without losing too much height. It was a long haul though, and I think navigation in this area could be a bit tricky without a GPS under poor conditions. Nice scenery along the way, with a few waterfalls here and there. Spotted a couple of grouses just before reaching the col. Seeing Knockboy S Top was a relief somehow, as I knew I had done most of the job at that point. Time taken between the two summits: about 1h20.
Fine views from Knockboy S Top, but not much time to enjoy. The ground between there and Coomhola was pretty wet and slippery. As I started ascending Coomhola, I felt all my energy had gone, but hopefully it was not too long until I reached the rocky top. Great views over Bantry Bay and the ridge between Derroograne and Priest's Leap.
From there I tried to head straight to the gap where I had parked, losing as little height as I could while avoiding having to cross the large bands of rock that stand along the upper W side of the ridge N of Coomhola. I finally ended up on the road, with a beautiful sunset partly hidden behind Priest's Leap before me, and... a line of sheep behind me !! They followed me for a minute or two, before a honking car driving up the road from the S, a few hundred metres from me, had them turn back. Yeah, dinner time... Reaching the gap at last, I threw my rucksack in the car and headed straight for the summit of Priest's Leap, but the beautiful colours of the sunset had turned pale. Could enjoy a bit of the great views, but dusk was now on its way, so had to go back, as I had left my torch in my rucksack. Note that there are quite a few broken bits of a derelict fence strewn here and there along the way up to the top, which I got caught in twice due to the fading daylight. Also found the summit's position as uploaded in MV not too accurate, will see if I can make a suggestion about it somehow.
All in all, a nice walk on rather hard-going terrain, apart from the beginning and the very end, and seven summits bagged !!