First Came the Idea...
In September 2014 I started thinking about the possibility of attempting this route and committed my thoughts to Motley Views, as follows:
Here's what I'm thinking of. I'll park my car at the Healy Pass and cycle downhill to Lauragh and then along the coast to Ardgroom. Turn left to Glenbeg and hide the bike there. According to the "directions" facility on Google Maps, that ride will take just over an hour...cause there's a little hill to climb between Lauragh and Ardgroom, and a bit of a slope up to Glenbeg Lough. The hillwalking part will be from a little road that climbs SW of the head of the lake and emerges onto the open mountain. After that it's a walk over Lackawee, Maulin, Knocknagree, Knocknagree SE Top, Hungry Hill, Derryclancy and back to Healy Pass. The alternative would be to keep the legs fresh by leaving the bike at Healy Pass and drive down to Ardgroom . Admittedly it would be mentally taxing to cycle for an hour after the mountain walk BUT the first bit would be downhill, and the rest could proceed at an easy pace. Obviously the advantage of a two car run would be the ability to start at Healy Pass and walk the other way thus saving about 300m of ascent straight off. Well! have any of you thought about this already, or actually done the job? Please tell me what you think.
Conor74 responded that he'd be interested in having a go but before we could develop our ideas Superburn (one
simoburn
) long on action but, understandably, short on words, uploaded this stunning Track:
Then Came Superman...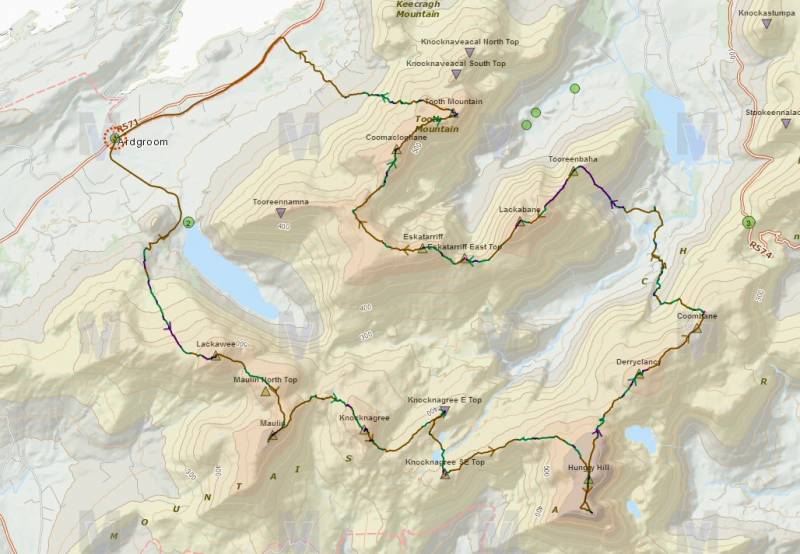 simoburn clearly didn't have the luxury of a second car. Nor did he have a bike. So he simply took a hard left at Coombane, and took a "short cut" home around the Rabach's Glen. The whole thing took him less than ten hours. More than 40 kilometres: 2370 metres of ascent. Phenomenal! Faced with the reality of simoburn's extraordinary feat, I decided to forget about the linear walk and get on with my life, until Good Friday 2016...
My Experience
Drove down to Ardgroom from Meath late Holy Thursday. Slept in my car by Glenbeg Lough: plenty of parking. Spookily romantic under a big moon but constant fear of axe murderers peeping into my car and beheading me. Picture postcard georgeous so could get busy in holiday season. Up before dawn Good Friday: deposited bike at Healy's Pass. I fgured that a pre-walk bike ride might wreck my legs and ruin the day.
Hard to find a hidey hole for the bike as there's no vegetation at the Pass so shoved it between two monster rocks. Drove back to the lake.
Set off up Lackawee shortly before 7am mindful of promised rain belt coming in from the Atlantic. Cloud down to c350 and howling south westerly gale made progress difficult.
This is a three part route.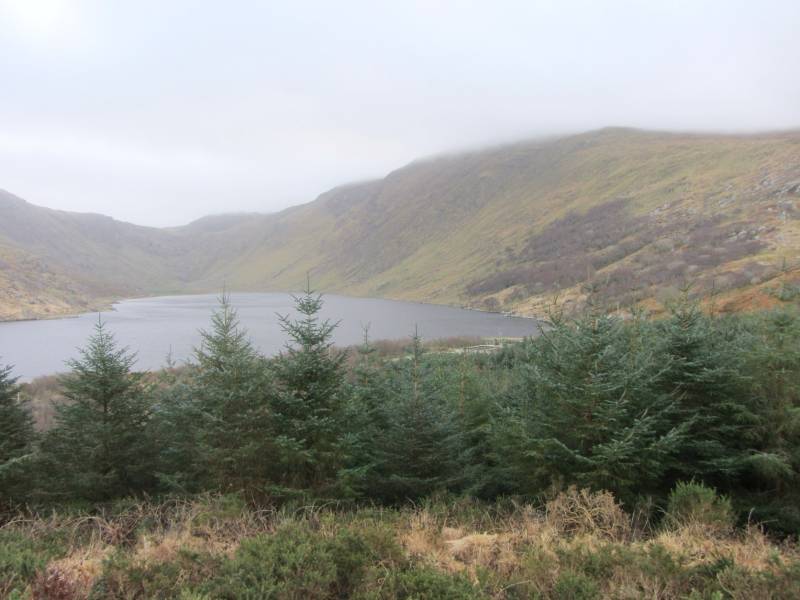 Part One: Lackawee to Maulin. Plenty of ascent straight off but gradient reasonable. Ground conditions varying from grassy to boggy. No particular obstacles.
Part Two. After you come off Maulin you enter a world of chaotic rock formations, with big vertical slabs popping up all over the place. This remains the case until you ascend Hungry Hill. Really beautiful wild place. The absence of visability meant that I could not "read the landscape" i.e. I had to deal with all obstacles as immediate problems one after the other, instead of being able to plot a sensible course over a big distance.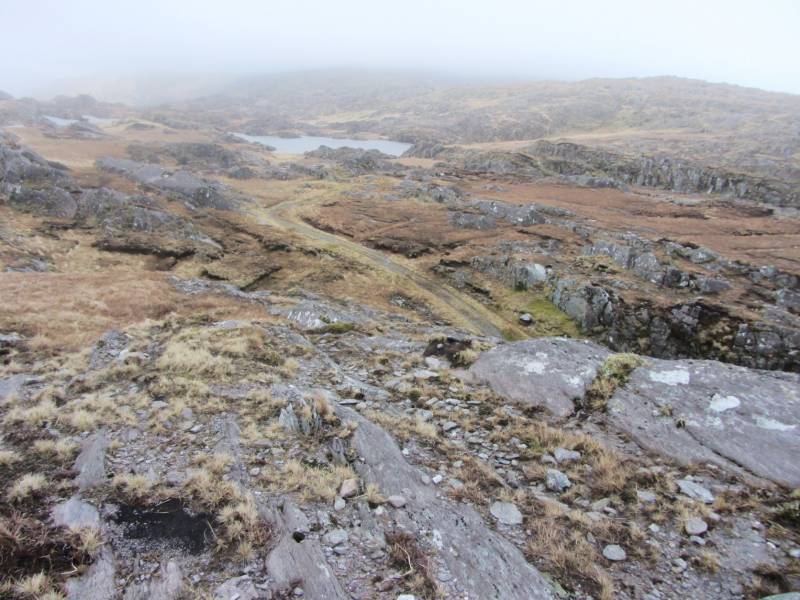 Visability would greatly help here.I already know from Rabach's Glen that the views around here are stupendous, and indeed I had fleeting flashes of them. So let's hope you get them! The final spine up to Hungry Hill signals the end of chaos, and the route to the summit is well trodden.
Part Three. From Hungry Hill to Healy's Pass is a pure walking pleasure on a wide ridge affording super views.
Very easy comfortable walking and a great sense that the work had been done. Glanmore Lake framed by the Cahas with the Atlantic in the background is magic stuff.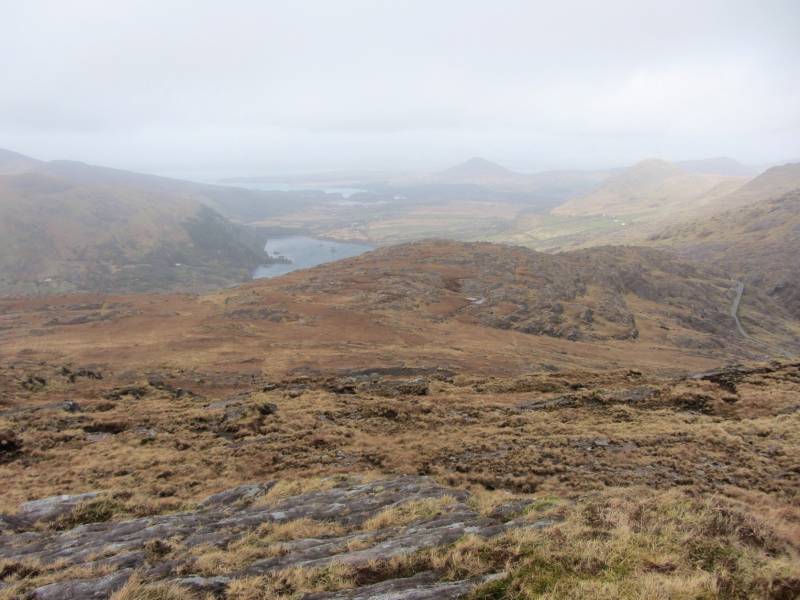 I enjoyed freewheeling down to Lauragh from the Pass but one of the pedals fell off en route to Ardgroom and thus began a long and painful walk back to the car.
Summary. A truly magnificent route perhaps best saved for a summer's day with guaranteed weather. I loved it.