May Suit Arderin Beggars
This route is certainly not for everyone. Stoney Top is not an Arderin but it is a Vandeleur Lynam and it is lately an Arderin Beg. Thus it cannot be ignored. 99 per cent of you will work it in as part of a trip to Tonelagee. I am part of the 1 per cent.
Nerdy Explanations
Way back before Lists, I tackled Tonelagee but didn't bother with Stoney Top. And when I eventually chose a List it was the Arderin List, so my omission didn't bother me. Until it dawned on me that by ticking off Arderins I was already well stuck in to the Vandeleur-Lynams, and my quest should cover both Lists So I finally realised that I would have reach
Stoney Top
, no matter how pointless that might seem!
Now I could have gone back up Tonelagee and then on to Stoney Top but that would have involved unnecessary ascent and would have meant walking the same way twice, which I try to avoid.
A Cunning Plan
I decided in a flash of inspiration to go around Tonelagee by employing the ancient art of contouring.
Contouring: Walking along the side of a hill, whilst maintaining
the same height. Sometimes done to avoid a rocky step in a
ridge, or out of laziness, to avoid walking over a bump.
I parked near the Wicklow Gap Car Park at the highest point on the road, and set off around Tonelagee, ascending as I went. Real contouring involves staying on the same height as you go round, but my work involved ascending on an ever rising curve, which takes the sting out of ascending (because it's like zig zagging without the zagging). The idea was to ascend slowly and carefully so as to reach the col betweem Tonlagee and Stoney Top effortlessly. And that's what I did.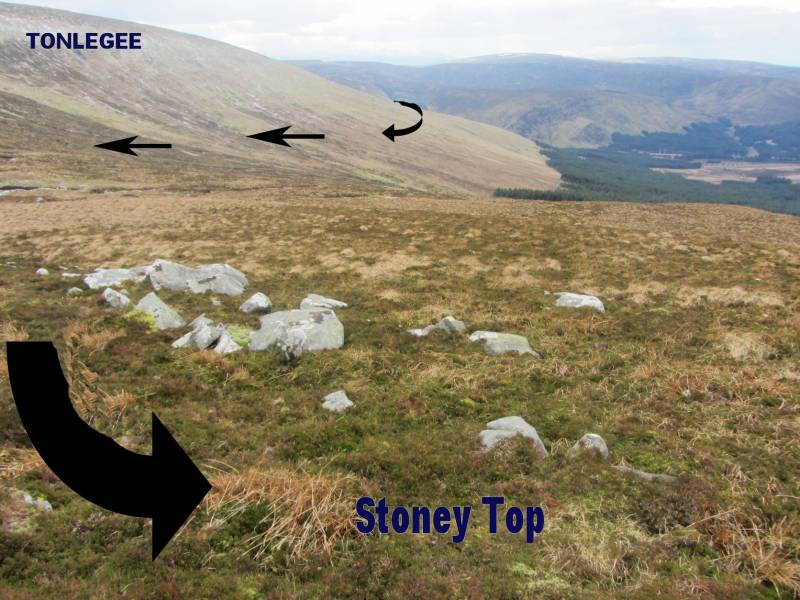 A More Exciting Way Home?
Yes. There is a more exciting way back to the car. It involves ascending Tonelagee (see below). Not overly taxing.