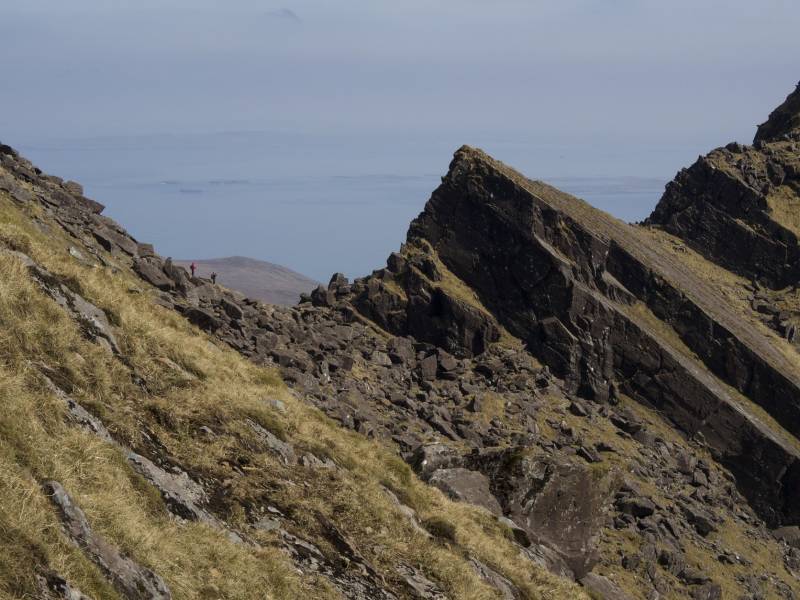 This is the "unpublished track" mentioned by Onzy in mvtrack3188, uploaded to show the variations possible in negotiating the "interesting" bit of the Faha Ridge.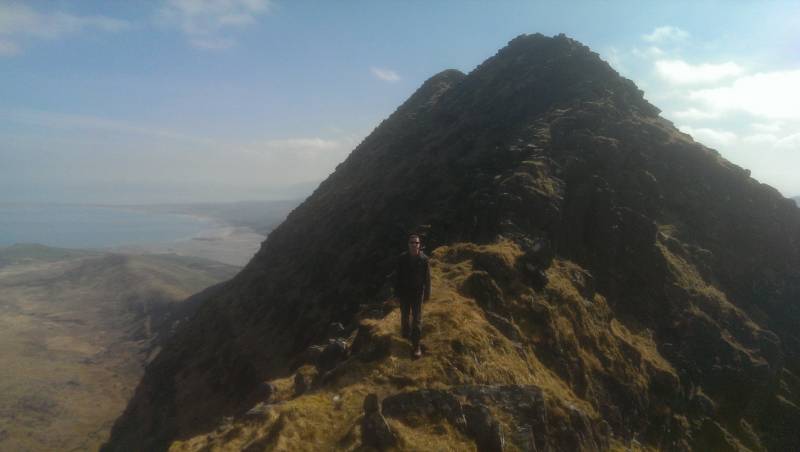 On continuing beyond the second summit on the ridge (named Faha Ridge on MV) the ridgeline is soon interrupted by a dramatic vertical drop.
Just before this it is usual to descend a short shallow groove on the right (north) of the ridge...looking down here you should see evidence of folk having gone this way before. It is a scramble but is not at all difficult. Once at the bottom of this a faint path traverses left to the top of a deeper groove shaped like a wishbone...drop down this (trickier than the previous one, but still perfectly feasible).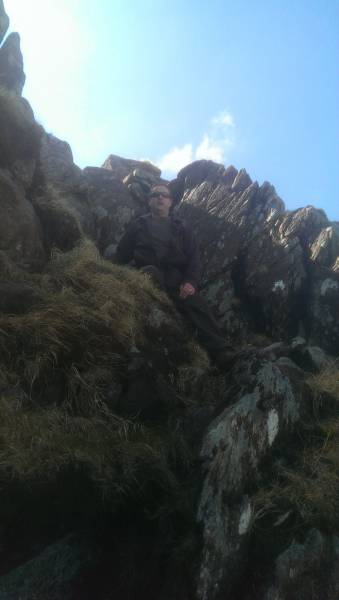 This section may well seem intimidating to some, and certainly needs respect, but I think the following need bearing in mind:
1) The scrambling on this section is actually no more difficult than that encountered between the two tops earlier on the ridge...it's just that the route finding is more involved.
2) The exposure never gets any worse that that experienced looking down from the ridge. You are descending towards some big terraced cliffs, but the correct route is never directly over any of them. If you find yourself on the edge of something genuinely vertical, you have gone wrong.
3) Never do anything you don't think you could reverse.
Anyway, once at the bottom of the second chimney a traversing line (once again, there's evidence of others
preceding you) that's really just rough walking will deposit you at the gap before the remarkable slabby fang of rock that is such a feature of the ridge. This is outflanked on the right like the previous obstacle, and faint trods indicate the passage of others...it is not necessary to lose much height.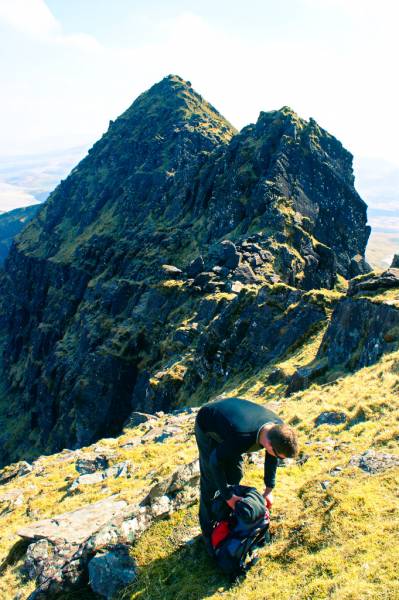 The final ascent to the main Brandon ridge is best achieved by taking to the slopes on the right of the direct line up the nose (a direct line which has a pitch of rock climbing at its foot and sustained "proper" scrambling above). The skirting line is steep walking (the occasional steadying hand will probably get deployed); celebrations upon locating a path will be short-lived, because there's several of them and they all seem to contour and vanish. Also worthy of consideration is that this ascent might seem a bit fraught if it is wet (see mvtrack3188 again!).
Satisfied with our travails (and having actually seen the view from Brandon summit in clear conditions) we descended via the Pilgrims Path, which is scarcely a chore.