Route over Faha Ridge, making a detour to Brandon itself, before heading north and down the Dingle Way.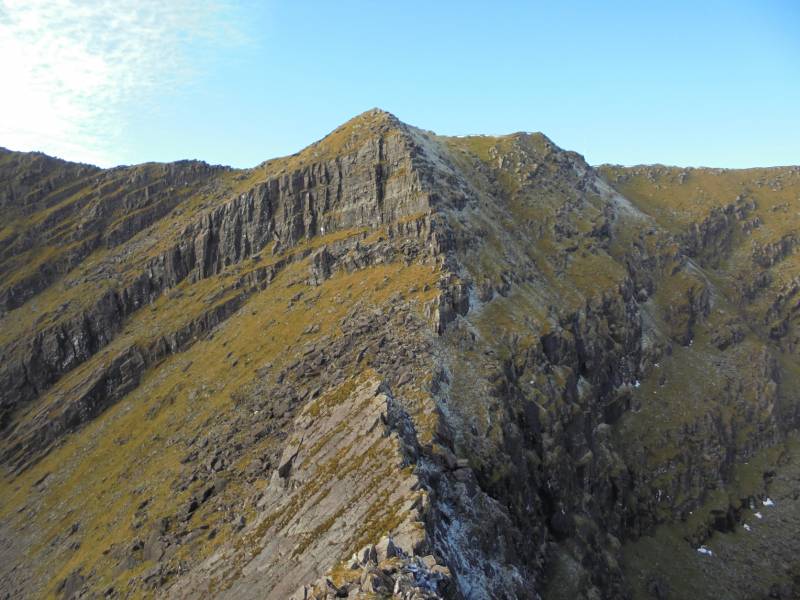 Faha had eluded me for some time mostly due to uncertainty and mixed messages as to exactly how feasible it is for a mere walker. I recall that the first track posted here was by Simoburn ... a walker yes, but more than a walker - also a professional climbing instructor! A track from Captain Vertigo (3089) and an unpublished track from Peter Walker who completed the ridge were also available to me.
I set out with the comfort of the Captain's track which indicated that I could reach the two peaks on the ridge without crossing the worst part of the ridge. However, I still had a hankering to make the entire crossing should conditions allow.
In the event, it was a good day, dry but a bit icy. I made pt 809 (Faha Ridge on the site) in good time and had the day ahead of me and ploughed on. The ridge looks terrifying from this point; several broken downclimbs followed by a even bigger ascent; Brandon NT looms ahead steep and rocky. A couple of the downclimbs are very exposed and with ice on the north side of the ridge needed serious care ... a rope would probably not be out of place on this ridge. The tilted slab in the picture above is some 30 feet below what seems to be a vertical cliff, I had to backtrack a little and head off the ridge down a very steep grassy slope to the left before climbing up to the near (east) point of the slab. Once there I could see some evidence of footfall coming from the right, so there must be a way down from on the right too. The slab is outflanked on the right (icy) side following one of a number of more or less clear tracks and sacrificing a good deal of height, though exactly how much surprises me when I look at the track again. Normally I hate to lose height but in the moment it felt right!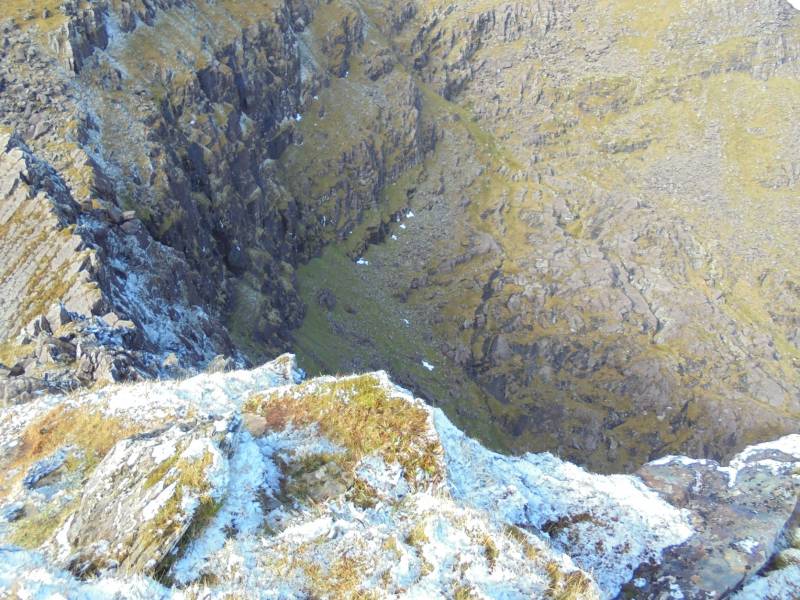 The climb to pt. 891 (Brandon NT) is particularly severe - there are no clear lines here and you must pick your own way over a mix of rock and mud, the former slippy and the latter completely unstable; I felt the ground move more than once, and not in a good way....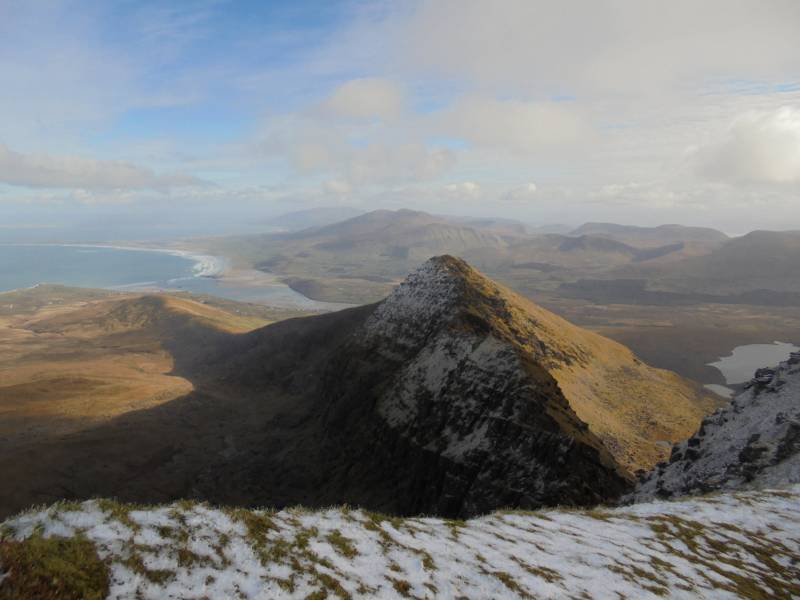 Once over 891, I headed towards Brandon just because it's Brandon, before heading north to my planned descent along the Dingle Way. This would have been a fine, if quite long, route back to Cloghane. I'm not entirely sure what prompted me to head cross bog more directly to the car - not a great idea. Brutal terrain, two river crossdings, gorse and a climb back to the ridge that runs east of Faha. I would recommend keeping to the Way; nonetheless a great day out.