Plenty of parking at the bloody bridge car park. From here you head up the infamous old smuggling route, the Brandy Pad. Nowadays this route is frequented by walkers rather than casks of fine Cognac. You follow this well established route until J3690926696, where you fork off to the right to a lesser track and head slightly downhill to ford the river. If you look to your left in clear weather you should see Carrs face on the side of Chimney mountain. If you have gone as far as the rail tracks up Chimney and the dissused quarry then you have gone too far!
Once you ford the river you will follow a narrower but still distinguishable zig zag track up to J3686927010, where it forks left and right.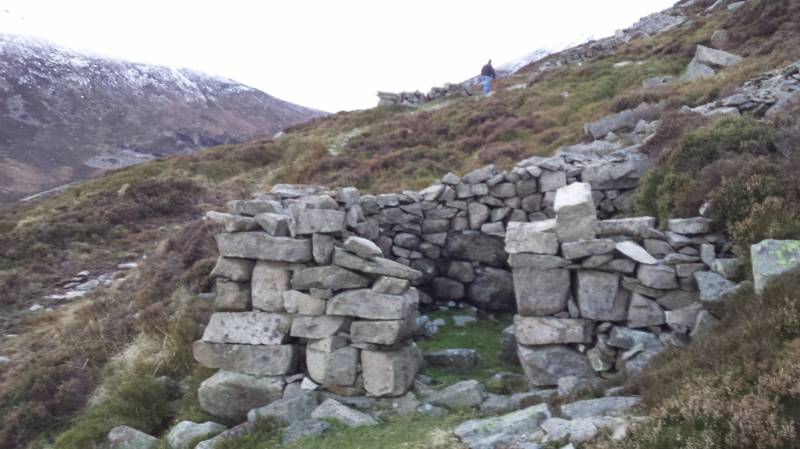 At this point you will see a few examples of these shelters. I choose to take the route to the left, I ended up ascending over trackless but gentle slopes covered in winter sleeping heather, to the clearly marked summit, which is dominated by it's big brother Donard.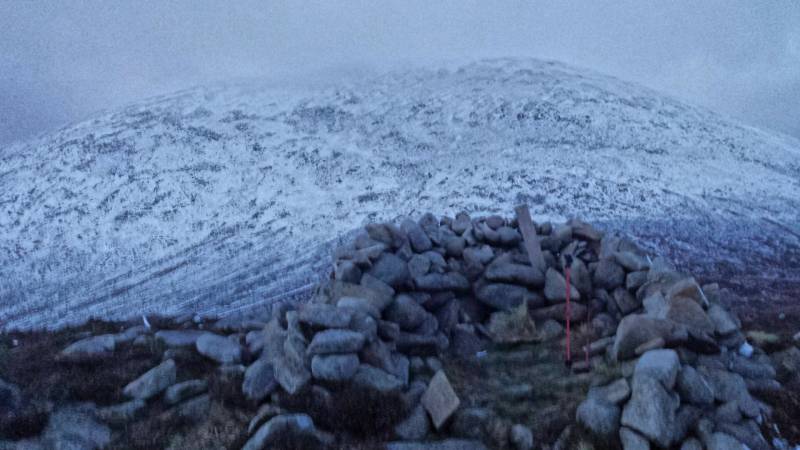 My descent to stone shelters followed a more defined, but steeper and slippery track and back to the Brandy Pad. Ignore my divergence from the track after fording the river for a second time on the descent. This is evidence of how complacency while walking a track you are familiar with can get you heading the wrong way!
I have always found the Brandy Pad an enjoyable walk and this was no different. 3 hours for the 8km trip was a slow pace, but mainly because my descent was in the dark. Most of this walk, with the exception of the final ascent is on good tracks. And I recommend that you celebrate every good walk along the Brandy Pad, with a large Cognac in the evening!