There is minimal parking at the start of this walk. The vast majority of it (up until the last 100M of ascent) is on high quality stone farm track. Not the typical "bog road" that I was expecting from travels in nearby areas of the Mournes.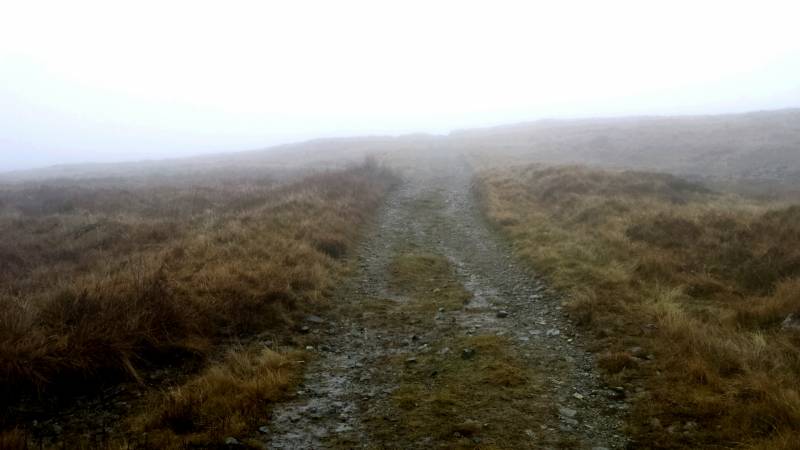 I walked this route after the recent deluge of rain that the country has received and was pleasantly surprised at how relatively good the surface under foot was. Now don't get me wrong, I was equipped with boots, gaiters and poles, but I would hazard a guess that in high summer the only danger to a pair of runners would be produced by the sheep!
At about J 24146 19830 the stone track reaches the red bog, from here on there is clearly defined track still, but as it plateaus for a short stretch, it was flooded on my visit. Even despite this it was easliy navigable.
From about J 24038 20027 ignore my outward route, as I continued on further than I should have on the track and ended up sumitting over open mountainside, although it was a relatively well drained grassy ascent. However, if you turn left at this point you will be able to follow a more faint, but identifiable track over the open hillside for your final stretch to the top.
In all the walk took me two hours for the 8km travelled. It is a nice steady ascent all the way, which I travelled at a typical post Christmas pace! However, adrenalised by my "summit high" I did a light jog most of the way back down the stony track to get back in good time.
Although this a straightforward out and back route, if you were looking for a longer circuitous route, Paddy Dillon recommends one in his Mourne Walks book, which is double the length and also includes nearby Eagle, Shanlieve and a stretch along the edge of the cliffs over the windy gap. One that I would intend on checking out in better weather myself!