This route starts at the highest point of the road above the Borlin valley.
There is a well used track down to close to Lough Nambrackderg, following the shoreline it's possible to get around a new fence by walking out into the lake on some stones, this is preferable to trying to climb the fence which is high and would easily be damaged by climbing over it. There are stiles for the other fences on the walk so perhaps one will be placed here too.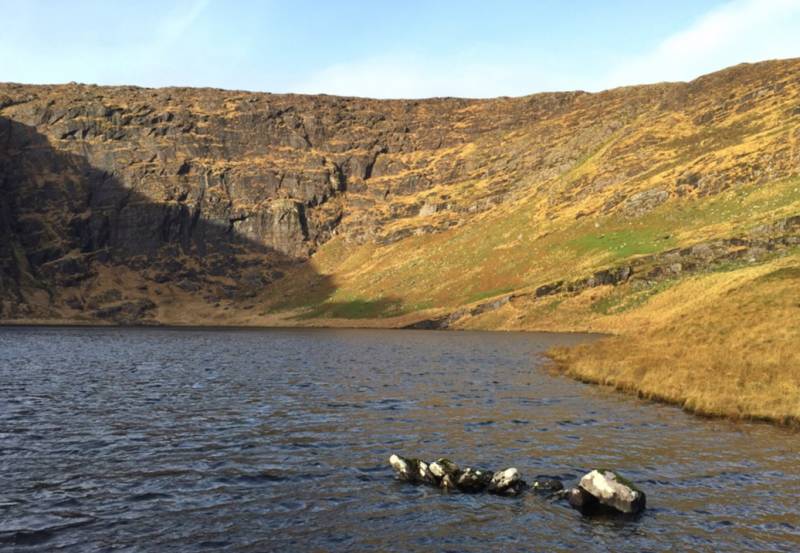 You can see a short detour on the south side of Nambrackderg, this is a track which leads up to a very usable grassy gully.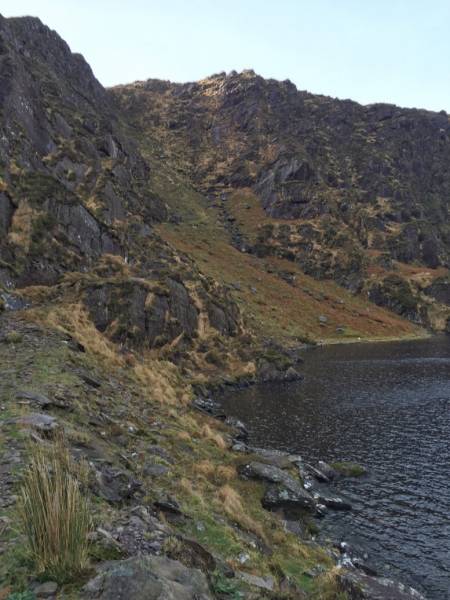 On this occasion I decided to tackle the spur between Lough Nambrackderg and Lough Beg, which is a good scramble with some unprotected moves and quite slippery in spots (not surprising given the 150mm of rain in the past 2 weeks).
Neither the gully or the spur shown on this track are suitable for people without scrambling experience, if you'd like an easier ascent or are with a mixed group, I'd suggest the spur to the south of Lough beg.

There are a few rock steps which can be outflanked if required. Eventually the spur deposits you in a flattish area where there is a fence to follow in the direction of Caoinkeen SE. Once there, there are a few candidates for the summit proper.
It would be a straightforward walk over to Caoinkeen top, but on this occasion I decided to head back for the car instead.
The route from the summit passes a small tarn which is surrounded by a fence and leads to a small lake at 559m.
From here you can take the scenic route like I did to get views to the valley to the north and Lake Nambrackderg, or take the direct route down the spur.
Like the ascent, there are some rock steps to work around, but there is a helpful fence to lead the way (although not always the easiest way): I suggest you choose your own route down - it's more fun and will stop a permanent track being made.
I was a bit dissapointed to see vehicle tracks in places, it somewhat spoils the lovely sense of isolation one gets in this area.
The fence leads to the road just a few 100 metres from the car. It's worth noting that I was really taking my time, you could probably knock an hour off this time if you were in a rush.