Welcome to MountainViews
If you want to use the website often please enrol (quick and free) at top right.
For more map options click on any overview map area or any detail map feature.
Find Suggested Walks

Find hill, mountain, island, coastal feature.
Recent Contributions

Get Notifications

Arthur's Seat
This is a walk admirably suited to the morning after the night before, and indeed those are the exact circumstances under which I undertook it. Edinburgh is one of numerous cities worldwide legendarily built on seven hills, and Arthurs Seat is the biggest of them.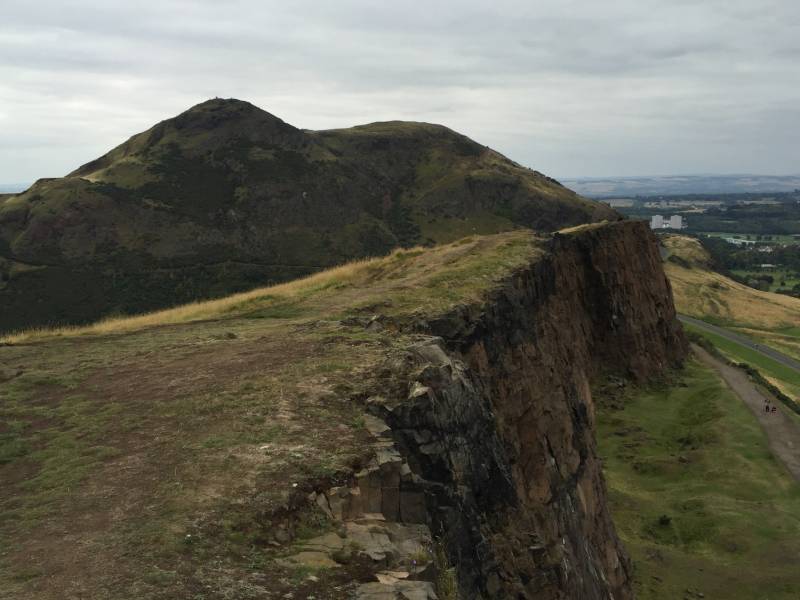 I started from Holyrood Park and followed the crest of Salisbury Crags, a wonderful promenade of basalt overlooking the Old Town. This was considerably less eventful than the previous days visit to the area when myself and my friends looked on as most of Edinburghs emergency services amused themselves for several hours rescuing a cragfast teenage girl. Eventually the ridgeline drops down to a col, best reached by an outflanking manouvre on the left. From here the ascent to Arthurs Seat itself is on a newly constructed path: given its brutal steepness, its thankfully brief.
From the summit more steep rocky slopes lead down to the east, arriving soon at a hollow where most of the city seems to walk its dogs. From here I followed a very blunt ridge north, soon angling down to the left (west) to drop back to the start, passing the impressive ruin of St Anthonys Chapel (entirely accidentally) en route.