Circuit taking in Benbulbin and Benwiskin, their satellite tops and Annacoona Top from parking at Luke's Bridge. The route is broadly as outlined in Adrian Hendroff's '
Donegal..
.' book and by David-Guenot in track 2872. I had worried a little about access in this area, given the reports on the site; however, in the event we had no issues, despite descending from Benwiskin through a turf-cutting party. In addition, the parking available here (c. 6 places) indicates a more welcoming attitude to walkers than expected.
After crossing the bridge, the route heads south along a network of bog roads until these peter out at about G701 462. From here Benbulbin, the first target, looks unfeasibly steep; but head directly west onto its slopes and, though you might find the going slow, it is definitely climbable. A hard, but short, pull up will see you on the plateau a short distance from the summit and the hard climbing over for the day. From here it is a matter of romping over the u-shaped plateau over Benbulbin SE top over to Annacoona Top. The walk now starts to get interesting with steep cliffs on the right keeping the views interesting as you head north to Benwiskin. It was not a great day for photography, and apart from a few hazy long distance shots of Benwiskin from Benbulbin, the camera did not really come out until this point.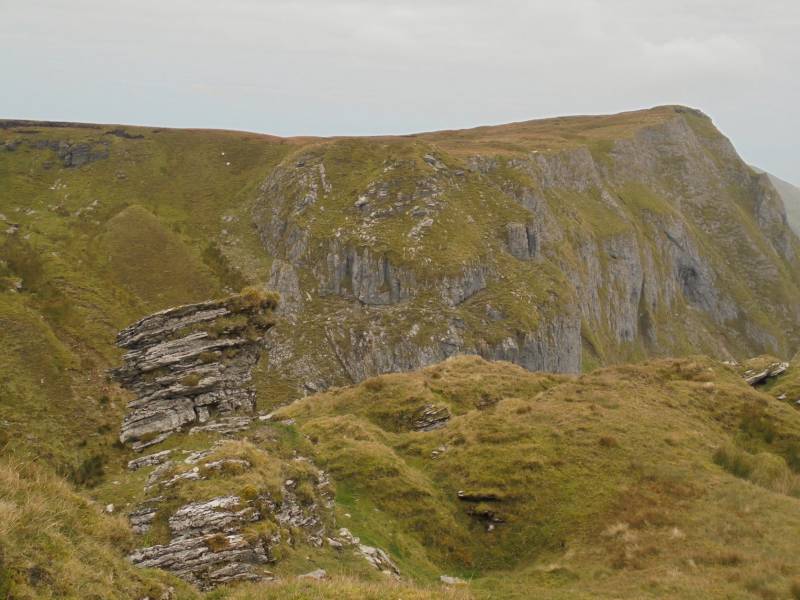 There is evidence all around here of the area's mining heritage, with a cast off winch wheel visible some way down the cliff and a narrow rock fissure which looks natural but appears to be spanned by iron bars and leads to an opening in the north of the cliff face.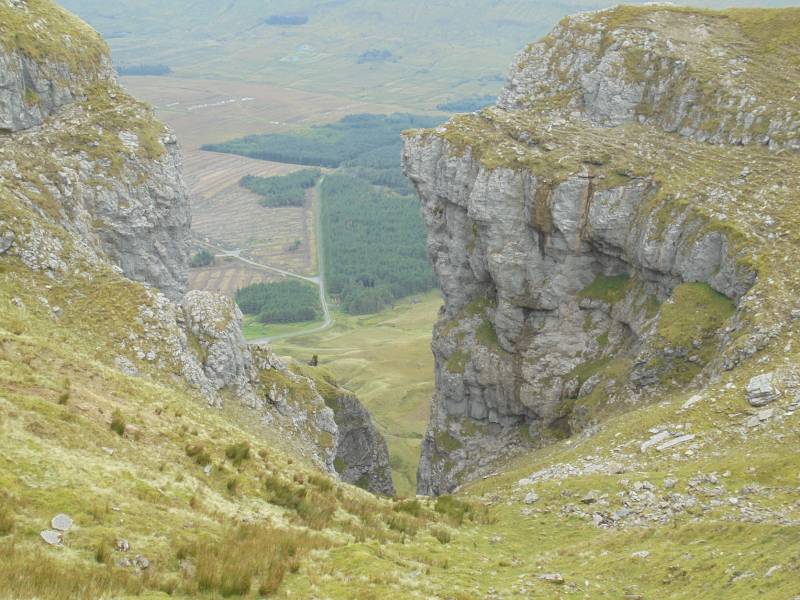 Walking from Annacoona Top towards the South Top of Benwiskin is something to take slowly and not only in order to savour the views; there are a number of very sharp falls around this edge of which you should be very wary. The entire plateau is also home to a huge number of what look like sinkholes, where the ground has apparently collapsed leaving some quite steep and quite deep pits, not all of which might be easily exited if you were to wander into one.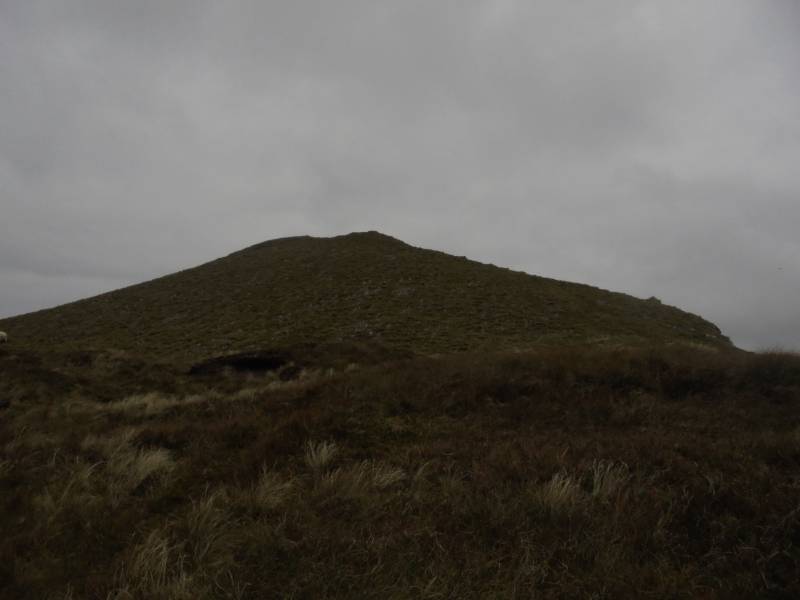 Once over the easy rise to Benwiskin South Top, the drops to your right become less spectacular as you rise towards Benwiskin itself. Benwiskin is a curious hill; johnstna and I had previously seen it from the roadside to north east, while on a visit to Truskmore. On that occasion, the jaw-dropping sight of its breaking wave shape had sent us diving for the cameras. From Benbulbin to the west you can appreciate the sheer falls from its prow and though you might look twice, its impact is less spectacular. Approach the hill from the south however, and it makes no impact at all, appearing as just a gentle rise to a nondescript summit.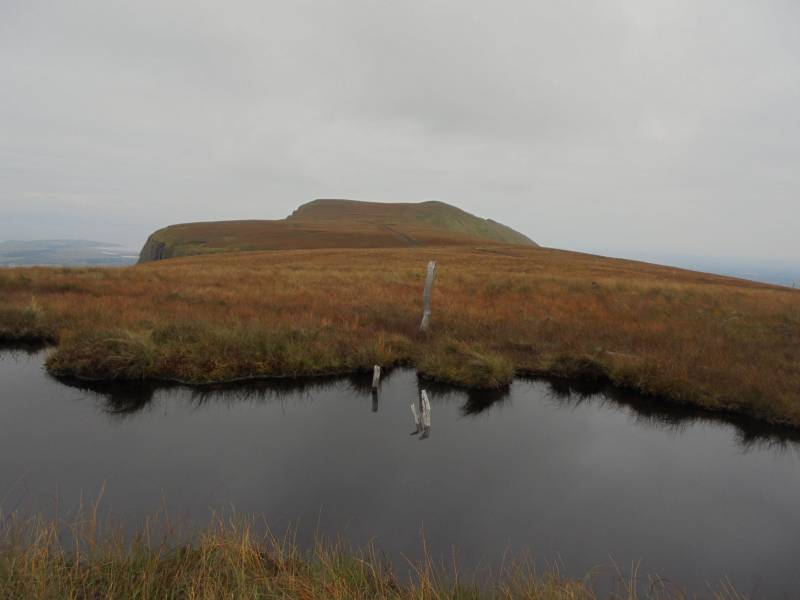 Arriving at the summit area itself does little to dispell this notion; just a confluence of fences, some discarded fenceposts and random footprints. Head 200m north however, and it all looks worthwhile.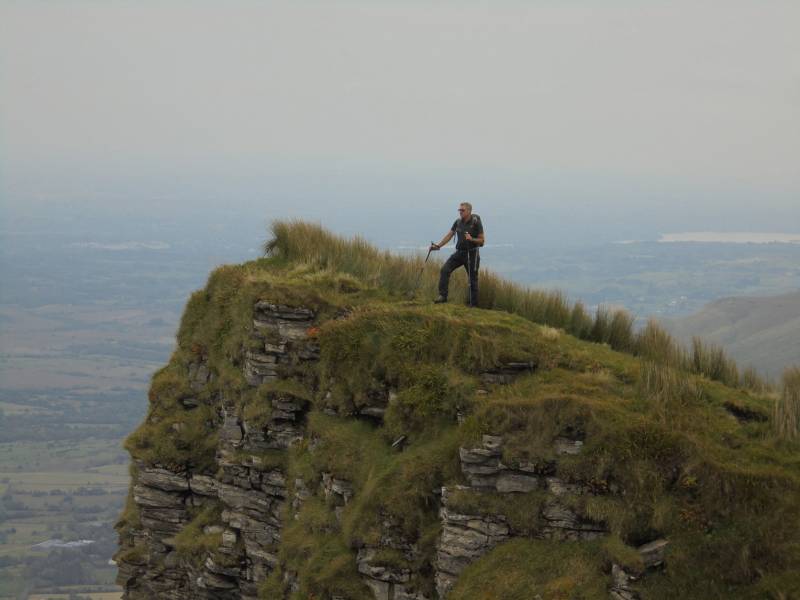 The return to the car involves heading back south for about 800m until the slope falling to the west eases and working your way down to the bog roads below and thence to your parking place.