Musings & Desires
Long before I ever read Adrian Hendroff's walking guide "The Dingle, Iveragh and Beara Peninsulas"  (Walk 16) I mused over the construction of a "big" walk in these parts with Stumpa Duloigh as the centrepiece.  I will admit that, in the early stages, I had grandiose delusions involving a traverse from Mothaillin to Stumpa, dropping down to Knockaunanattin, back to Stumpa, across to Broaghnabinnia and (wait for it!) a final "up and down" Brassel.  Mad in the extreme, you might think, but we must dream of great routes and work back to reality.  In my case the issue was more than what might be physically possible, I also had to take into account the Cinderella time segment available to me in the middle of a family holiday.  Onzy's Track (No. 3080) proved to be extremely useful: he not only completed the standard Hendroff route, but also took in Broaghnabinnia. Other people's Tracks are a superb basis for calculating real world times provided you factor in their pace, and I am well aware that Onzy travels a lot faster than me.  I paid great attention to all the comments on this site, and also carefully studied the OSI Adventure Map 1:25,000, as well as my old Harvey Superwalker.
  My final plan was to simply extend the longer Hendroff/Onzy route by walking along by the valley lakes to Mothaillin, and start from there. I dumped the Knockaunanattin fantasy and indeed ruled out Brassel but still harboured desires for Broaghnabinnia.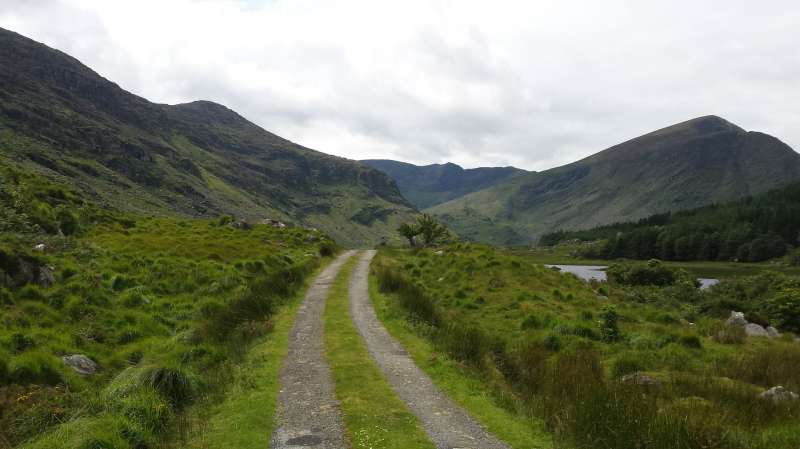 The Surreal and Misty Start
Approaching the little car park at V82183 81299 by night is like arriving at The Valley at the End of the Universe. The road trip is surreal with twists and turns along the way revealing a bizarre rock strewn landscape and eerie misty lakes. Somewhat reminiscent of the Star Trek lads materialising on a new planet. I was mildly spooked and it certainly occurred to me that were I to be confronted by the Walking Dead I should expect no assistance from the living. My children tell me that to avoid becoming a victim oneself one must swiftly and clinically batter the head off the approaching zombie. Yes, this would involve the risk of finishing off a local farmer but no doubt the courts would appreciate the quandary one had faced...Such were the thoughts that bedevilled me  as  I began to walk east along the valley floor south of the lake.
Approaching Mothaillin in the pre dawn gloom I became delusional
, and decided that I could take a short cut up to Mothaillin instead of contouring around the back of it to go up the more gentle eastern slopes. Let me pause here to point out that in the sobriety of pre planning I knew from the maps that there was really steep ground all along the northern side of the Mothaillin Stumpa ridge and I had positively ruled out any attempt to ascend to Mothaillin prematurely. It was most ill disciplined of me to "recalculate on road" without the benefit of daylight and there would be a price to pay.  What proved exhausting in the end was two hours of wrestling with almost impenetrable rhododendron foliage.  The foreign species is both vigorous and dense. Where it grows over uneven rocky ground the walker has a job to place one foot safely in front of the next. But where it achieves total dominance one would need a freshly sharpened machete to get through. It was a mess. By the time I reached Mothaillin I was a physical and nervous wreck and wondered if I should jack in the whole enterprise. I would have loved to issue a curt "Beam me up Scotty" into my mobile.
Dawn lights, courage beams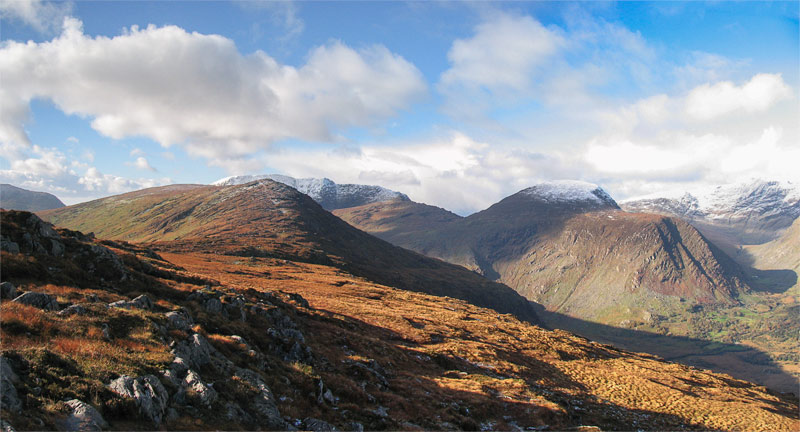 But some food and rest, and the glory of sunrise, restored my courage and I realised I was now where we all long to be, on the high ground over some of the most beautiful countryside in the world. I will spare you the descriptive passages but what a pleasure it was to walk west along the broad ridge over Crossderry and beyond. And restorative too given its flattish lie until you drop down to the col after Knocknabreeda  where work begins again in earnest requiring the ascent of a staircase, steep in parts, and zig-zagging here and there, from circa 500m to Stumpa Duloigh at 784m.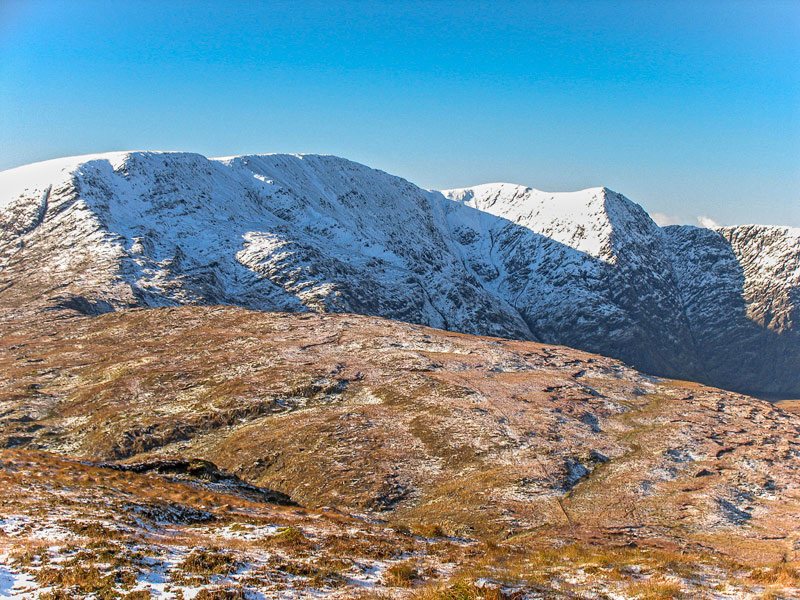 The later stages of this ascent are so sublimely perfect that is is inevitable that time will briefly slow down, you will carry the keys of the Kingdom in your hands , and all the choirs you have ever heard will sing the final movement of Beehoven's Ninth, the bit where he drifts off into the Elysian fields. Avoiding falling into the said fields sooner than one might wish requires requires a degree of groundedness that is second nature to the experienced but be warned that this is no place for the giddy, the uninitiated or the weak of heart.  The descent northwest  from point 776 (to allow a walk along the ridge to point 665)  was short but terrifying. I had crossed from Benagh to the peak on Faha Ridge a few days earlier without any real worries. It struck me as odd in the extreme that so much has been said about Faha when the there isn't really a word about the northern crest of Stumpa Duloigh.  I would rate this as one of the most dangerous places  I have been on the mountains. A descent here in high wind could prove fatal. Onzy has not redflaggeded this place in Track 3080 but he was ascending rather than descending and that can make a huge difference. He certainly mentions the steep ground and the plaque to the Kenmare walkers who tragically died.  Please be very careful.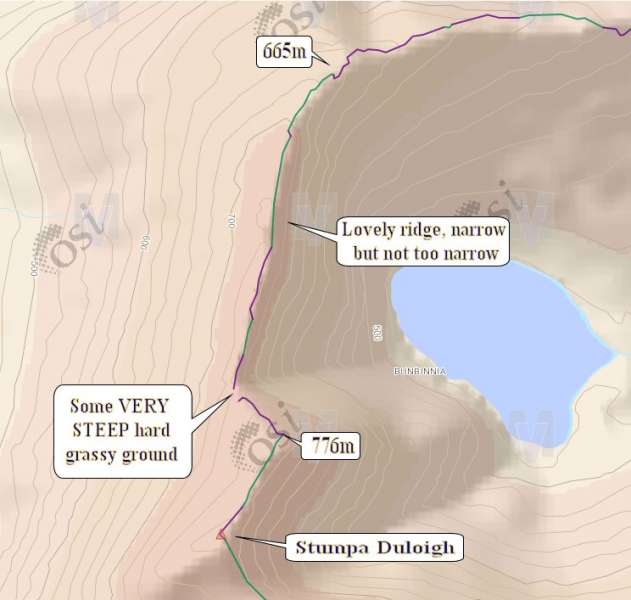 After the morbid terror engendered by the descent off 776 the traverse to 665 is not just a relief but
a pure pleasure
. It's a narrow but not too narrow ridge with fantastic views.There is a staircase heading east from point 665 but it has more upright rock slabs than Stonehenge so I dropped off it and took a line east and then northeast for home. Broaghnabinnia was left for another day. I had simply wasted too much time and energy duelling with rhododendrons at dawn. I was tempted to swing in a southerly direction to the bank of the river gleaming on the valley floor,suspecting that conditions underfoot might be easier there but I wasn't prepared to discover that I was wrong and thus held my contour way above it. 
Don't follow the last couple of hundred metres of my Track back to the car park. I got boxed into a well fenced field and had to climb a gate to get into a farmyard and walk down a private laneway. I was too knackered to go back and find the right way out. Sure enough I met the farmer as I exited onto the public road and began profuse apologies for my trespass. He was as genial as the early autumn day, and seeing my dishevelled state wondered how I was going to get home. He was relieved to hear that my car was parked just a few metres away and bemused that I had just come down from Stumpa Duloigh. A true gentleman.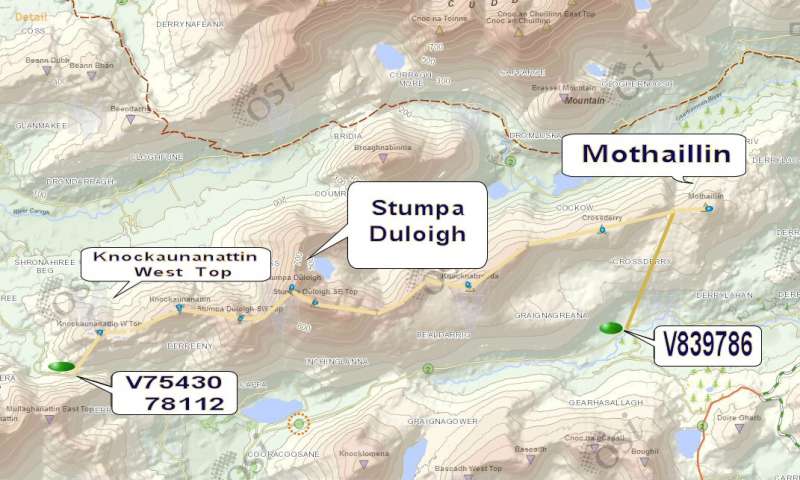 Concluding Suggestions
I want to conclude by saying that if you are part of a two car team there would be much to be said in favour of a linear walk from Ballaghbeama Gap over Knockaunanattin West Top' on to Stumpa Duloigh and down to Mothaillin, or vice versa. (Thanks to simon3 re the parking space at V839786) A two car team would open up many many great routes but so long as I move through the night to begin walks at dawn I suspect that my pleasures, great though they are, will remain solitary.
(Thanks to simon3 for providing me with the winter photos above. In addition to all my other woes, my mobile/camera died amongst the rhododendrons.)