Welcome to MountainViews
If you want to use the website often please enrol (quick and free) at top right.
For more map options click on any overview map area or any detail map feature.
Detail Map Features
Showing 20 of a total of 78 items:
Tonelagee 815.8m,
Conavalla 734m,
Stoney Top 713.7m,
Camaderry Mountain 698.6m,
Tomaneena 682.4m,
Camaderry South East Top 677.3m,
Tonelagee E Top 668m,
Camenabologue SE Top 663m,
Lugduff 652m,
Lugduff SE Top 638m,
Tracks:

1441, 34km
1898, 33km
3395, 29km
3030, 25km
3549, 25km
2583, 21km
4628, 21km
2332, 21km
2333, 20km
2684, 20km
Find Suggested Walks

Find hill, mountain, island, coastal feature.
Videos




DOBIH Surveying Visit
Day 2 of the visit of the Database of British & Irish Hills survey team to Ireland.
Todays prime target was Tomaneena (Turlough Hill) which is interesting from a surveying point of view as the highest point is a man-made structure, a resevoir which is inaccessible.
We (that is ... Jackill & Mcrtchly)  took the opportunity to survey Fair Mountain and Camaderry Mtn East Top.  Both of these hills have previously had their inclusion (or exclusion) in MVs lists based on map analysis rather than survey data, so once the data is crunched we will have more accurate data for Fair Mtn, and data which might possibly justify the inclusion of Camaderry Mtn East Top.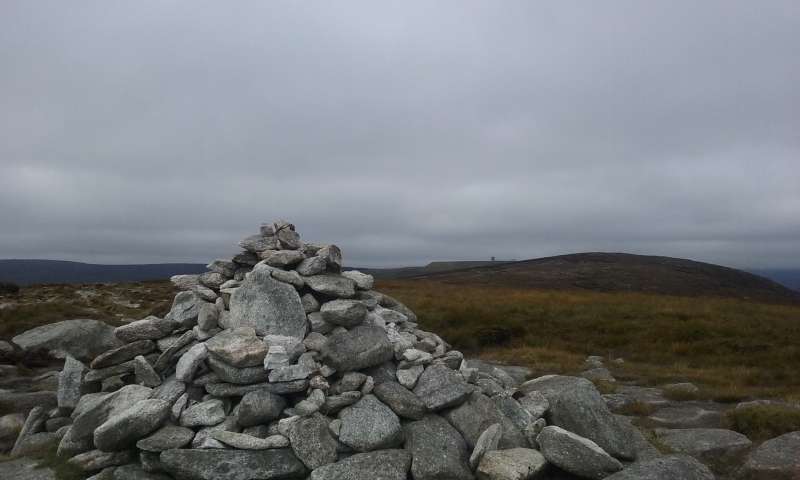 The East Top (sh 677 on OS) has a more substantial cairn than Camaderry itself and feels sufficiently separate to the main top to merit its inclusion.  However, I am told that 'feels' is not a surveying term.
---