When trying to pick out a walking route for myself on the Amalfi coast I was drawn to one location in particular, Santa Maria dei Monti. A former convent, that is now a mountain refuge on an important hiking crossroads. I think that it had a lot to do with that beautiful Frames Song, "Santa Maria, why did you have to go" ringing through my head! A beautiful song, that was matched by the beauty of the walk itself.
Before I go any further I want to apologies. I have always looked at the foreign routes posted by others over the last few years and jealously cursed those contributors. However, when the first chance came to take my hiking gear on a foreign trip in seven years I can't help myself but write about it here!
I found research for possible walking routes quite difficult, a lot of maps were very poor and if there is an Italian version of Mountainviews I didn't come across it. The one resource that I bought which was worth getting was the Amalfi Coast Paths 2 Map, which I got from the tourist office for €5, but I believe that you can buy at www.carteguide.com. I had originally thought of doing the well-known "Path of the Gods" near Positano, but changed tac for one that I could do from my hotel and back. When it comes to GPS I use the viewranger app on my phone and was delighted to be able to download a very good Openview Street Map that gave all the paths and could be used offline. However, it should be said, the first and last part of this route is in residential areas and is relatively easy to navigate. As is the mountain section for that matter, as you are pretty much following one path most of the way
This track starts from a back street behind the Hotel Luna, from where it is straight down to the main square. My first brief stop was here, as I filled my water bottle at the "diddy fountain"! One last stop to get a couple fresh caprese salad ciabattas and I was eventually off for real.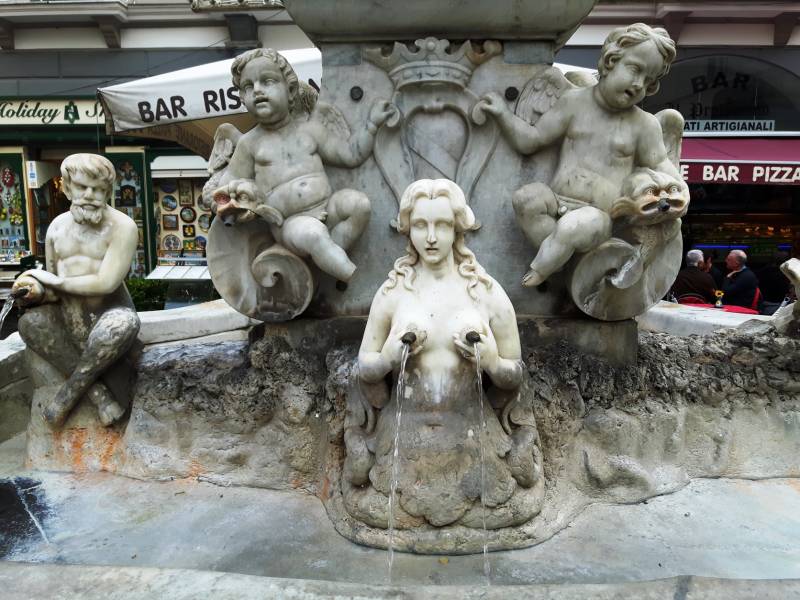 The walk only really starts when you leave the town with the first of many, many, many steps.
Due to enjoying a few too many aperol spritz and glasses of vino rosso the night before I was late setting out and my early morning start moved to 1pm! To paraphrase an old saying, something about mad dogs and Irish men! I suppose if it was easy somebody smart would be doing it!
I found the first part of this walk particularly difficult, given both the height gain, steps and the time of day. For the first 350M of ascent I really, really struggled. Along the way you will come to such sites as the Bascilica di Sant' Eustachio and Chiesa Dell' Annunziata o Santa Maria di Minuta. There are drinking fountains near both of these, make sure that you are fully stocked leaving the latter of them, as these are the last you will pass for a good while. There is also one café bar in Pontone along this route, the Blue Bar.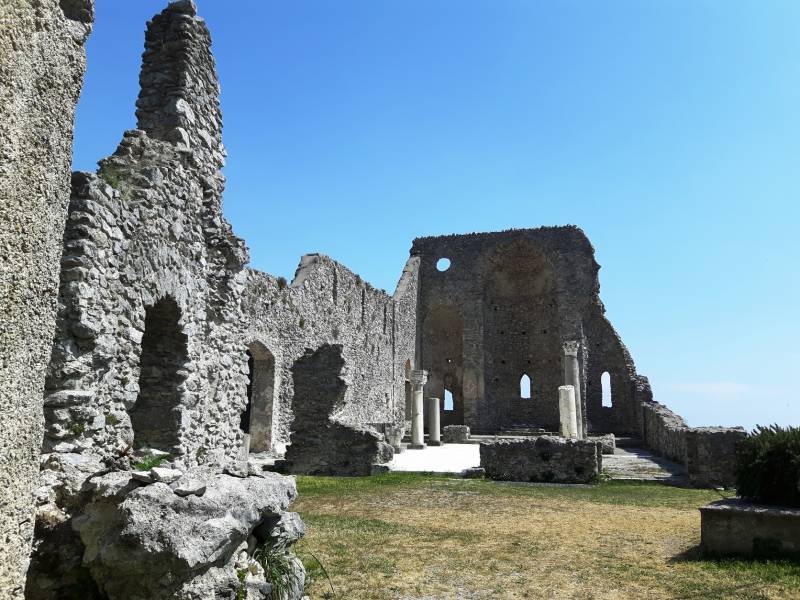 I found spring to be a fantastic time to walk in Amalfi, but I was blessed with great weather. I was still relieved to have some cloud cover and even a light shower on the higher reaches of this walk, while listening to the thunder claps in the distance, which I thankfully avoided.
The best part of the walk starts at an elevation of approximately 500 metres and I would be pretty certain could be reached by bus if you wanted to cut out the earlier part and all those steps! It is mountain track all the way up from here. On a Wednesday afternoon in spring I met only one person for the entire time that I was on the mountain and that was a farmer and only towards the end of the walk. A great walk of solitude, with the only company being the flora and fauna.
This part of the walk follows the CAI path number 351 to Santa Maria de Monti and you will notice the red painted way markings along the way. This is the best stretch of the walk and is absolutely beautiful, still a few steps, but less steps, a bit more broken up, a bit more rustic. It passes from Mediterranean vegetation to mountain forests and high altitude pastures. Your surroundings at this time of year are daisies, primroses, bluebells and beech forest. The entire stretch to Santa Maria dei Monti it is like this and none of my pictures do justice to it's beauty! Although the ultimate destination of the walk was a bit disappointing and anti-climactic. The place is not in a good state of repair; even the outside water tap has been broken. Although, it does have picnic benches and would be a good spot to camp out.

Having went in a clockwise loop the views down to the coast and far off hills are amazing on the descent, while the immediate environment is not to the high standard that it is on the other side. In other words, you are looking to the distance more so than around you for the beauty. On leaving the mountain track I eventually negotiated my way back on to the route that I ascended by, took a break for a bite to eat, before making my descent at a rate of knots . In relation to my general walking pace if you are looking at the timings on this route, I would say that it was slow until I left the town because of a few stops, slow but steady until I reached the open mountain and then a reasonable pace from there until I sped up on the descent.
Just a final note on the wildlife that accompanies so many parts of this walk. There are geckos everywhere on the early part, scurrying up walls and into undergrowth. Then you will come across the donkeys, which are used to carry loads on the lower mountainside. There was a proliferation of butterflies, before coming across a herd of goats near the summit of the walk and finally even frogs on the final stretches home! So I suppose, the people are scarce, but you still have plenty of company on this walk.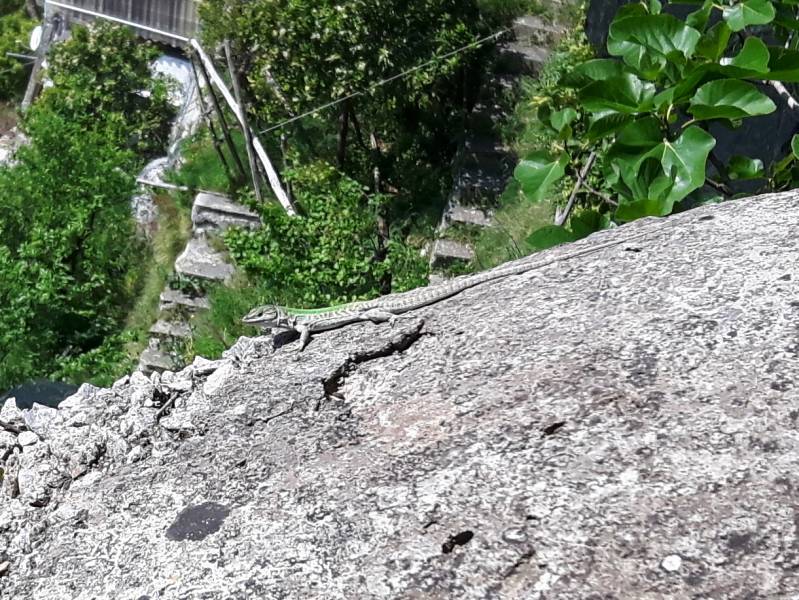 A very enjoyable and challenging walk that earned at least one spritz at the end of it all! Salute!