Welcome to MountainViews
If you want to use the website often please enrol (quick and free) at top right.
For more map options click on any overview map area or any detail map feature.
Find Suggested Walks

Find hill, mountain, island, coastal feature.
Recent Contributions

Get Notifications

Conditions and Info
Use of MountainViews is governed by
conditions.
General information about the site is
here.
Opinions in material here are not necessarily endorsed by MountainViews.
Hillwalking is a risk sport. Information in comments, walks or shared GPS tracks may not be accurate for example as regards safety or access permission. You are responsible for your safety and your permission to walk see
conditions.
Credits and list definitions are listed here
Credits
Ramshaw Rocks - Dangerous Crocodile Snogging
Ramshaw Rocks is a remarkable escarpment of bristling gritstone throwing grotesquely beautiful shapes above the A53 from Leek to Buxton. A minor road runs around the back of the rocks and is well placed for their exploration with its substantial parking.
An obvious path leads from the layby up along the crest of the rocks, but as it keeps generally on their less interesting western side I used thinner tracks to cross over to the other side of the escarpment and made my way across the slope immediately below the outlandish stone shapes. This is one of the most famous gritstone climbing venues and a walk along here may well give you the chance to see rock climbers vanquish or be mauled by such notorious routes as Ramshaw Crack, The Crank and Clippity Clop Clippity Clop Clippity Clop. Eventually I worked my way back to the path on the other side of the crest and followed it to the top. Just past the summit is a frog carved into the rock by the Victorians.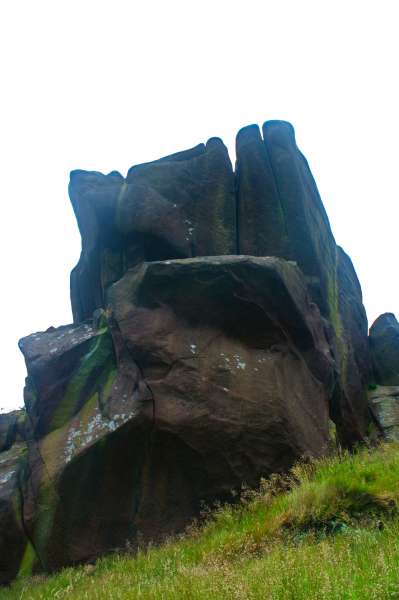 Descent to the car is quick and easy via the path.