A route designed to take in three Arderins; Knockresagh, Coomnadihia and Cummeenbaun, easily extended to take in three of the new 'Arderin Beg' summits, Droppa, Caha FSET and Cahe SET.
A longish route which necessitated a bit (about 4k) of road walking. I'm not sure there is any real way to avoid this - Simon's track 1963, starts deep in Glantrasna itself and takes the road section first; but today I just couldn't face that. Parking (V805 606) is at the bottom of a farm track which heads east almost to the summit of Knockreagh,, giving a nice easy start which I couldn't resist. In order to minimise the road walk, I descended well west of Simon's track rather than into the valley, saving a klick or two.
This part of the Cahas is not typical, although the ground is very broken, there were almost none of the rock benches which I associate with the Cahas, and a lot of bog, which I don't! The area overall is reminiscent more of the Dunkerrons, perhaps particularly immediately west of Moll's Gap.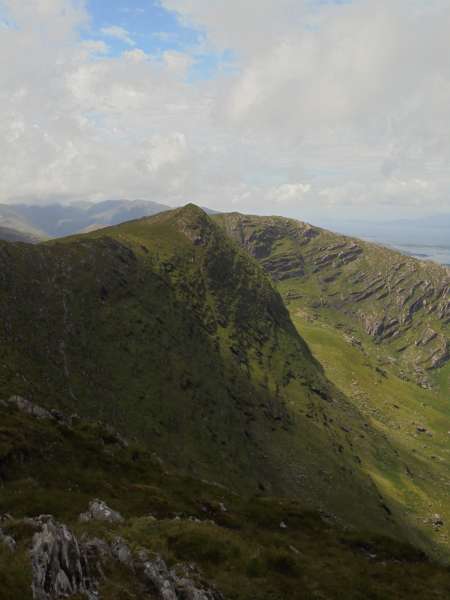 Of the three putative Arderin Begs, only Droppa feels like an individual hill - the two Caha summits are mere humps among other humps and would not merit a visit if it wasn't for a list.