WARNING - since I walked this route , the Committee for Dementing Summiteers has added Coomcathcun South Top as an Arderin. Adjust!
Getting Started
There is room for a couple of cars a few meters east of the bridge over the Oweveen at V93526 80439. I parked there, south of the lakes, and set off north across the bog between Namona and Cloonaghlin. It was way too early to knock on doors to seek permission so I hoped that my traverse would not cause any upset. Crossing the river between the lakes was facilitated by a miniature pedestrian bridge (far too secure to be called merely stepping stones) and I had no difficulty finding the old farm road that led up to the public road, across which lay the wild (but fenced) mountain.
An Bhinn Lair
An Bhinn Lair is a long west-east ridge with stunning views of Namona and Cloonaghlin to its south, and Derriana to its north, and Lough Currane and Ballinskellig's bay to the west. Its really top class and if you manage to get up and back on a fine day and go no further, you will have experienced something very special.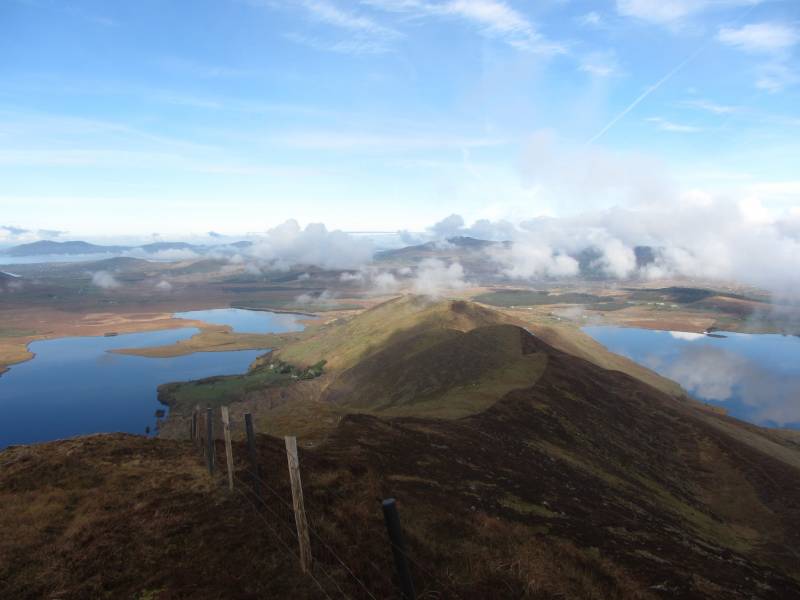 As one leaves the summit of Bhinn Lair and journeys east the terrain becomes increasingly difficult, a bombsite of rocks and lakes. It would have been so easy to cross to Coomcathcun by gentle slopes. But I had to inch my way down to Lough Coomavanniha (losing valuable height) before ascending the awesome bare rock of Breasail. Be very careful about your descent to the lough: it would be best to stay close to the fence that appears to be set in the middle of a stream (perhaps a waterfall in heavy rain). There are cliffs to your left as you descend and I almost took that short cut...The environs of the Lough are extraordinary: it's as if the little lake was simply set into huge folds of cooling lava that now constitutes bare rock. I lingered a while, ate, and then ascended Breasail (usual stunning views), then effectively back down near the lake and up to Coomcathcun.
Explaining Breasail
Cnoc Breasail is not really a natural part of this route. I knew that I would be "passing nearby" so I felt that I really must make the effort to visit. This turned out to be as sensible as American relatives on a trip to Paris feeling that they should visit Ireland since its "so close". Drop Breasail and do Coomcatchun South Top?
Coomcatchun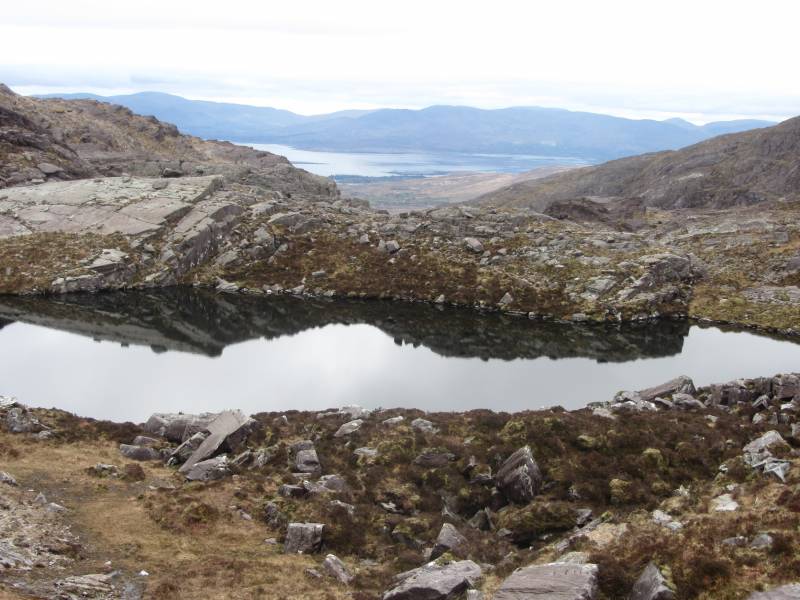 Coomcatchun is simply the roughest series of rises and falls, rocks and ponds, that I can remember encountering. The entire traverse from Coomavanniha to the base of Coomahornia is an obstacle course that taxes one's navigation and stamina in equal measures. But some of the little lakes are magical and it is difficult not to stop and wonder at the exposed strata, so twisted and bent.
Coomnahornia
Next on your list is Coomnahornia currently number 17 on our list of highest rated mountains. It is easily ascended and indeed its a relief to look back at the horizontal bands of rock on Coomcathcun's southern slopes and feel good to be above and beyond them.
It is the 360 degree panorama from Coomnahorna that has put it into our Top Twenty.
Coomcallee, Beann na Stiocairi and An Bheann Mhor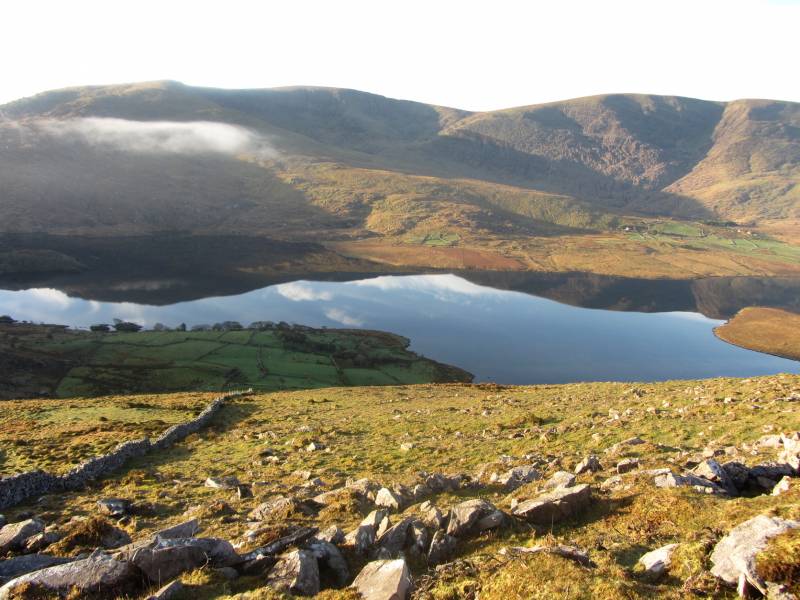 The descent to the col before Coomcallee allows a careful study of Callee's terrible lower flanks looking like the worst of the Reeks. But Callee's upper slopes are grassy and tedious, although the world as seen from it's summit, and those of the twins Mhor and Stiocaire, a broad ridge which narrows, is stupendous, with Currane and the Atlantic to the south and Namona and Cloonaghlin to the north.
The descent off Bheann Mhor to Glanbeg is quite exhilarating: my crippled knees and the gloomy cloud prevented me for drinking in the full glory of it all.
I cannot leave this note without congratulating conormcbandon and simoburn on their 50k Waterville routes. In the time it took me to complete 25km, they managed to do 50km...I rest my case!