Preface
Back in those days, I was anxious to achieve the greatest number of Arderins possible in a single session, taking my own abilitiies, daylight and all other variables into account. My route design was based on the principle of One Car, One Bike, One Walker. Because of the promised frost, I drove down the night before and stayed in an inexpensive but comfortable B&B in Dungarvan, so that I was "up and at it" and ready for the approaching dawn. It was a bright cold frosty day, and it turned out to be a hugely enjoyable walk.  One of my boys  telephoned me from Medellin,Colombia  around 10.30am at a stage when I was already  well up on the mountains. He had just received news that he had passed a critical exam back home, which was a source of great relief and joy for both of us. I rested against a large rock, basking in the sunshine, and we chatted for longer than finances deemed sensible. He mentioned, in passing, that he was about to take the Pablo Escobar bus tour, which would be conducted by Pablo's brother. In this mellow moment, I reflected on the madness of the world below, and the counterpointed peace and purity of the high ground.
Route Plan
I parked my car at S31414 07816, on the edge of the valley leading to Mahon Falls. I cycled broadly south, downhill, to the river, before hiding my bike and proceeding west through the woods to the base of Coumaraglin Mountain. The gradient is soft enough to the base and then you have about 400 metres of serious ascent to Coumaraglin top at 617m. Contouring around the edge of the coum gives a great sense of "the edge", something I particularly love. And of course, I then headed north, dropping about 100m into the col and ascending over  200m to Seefin at 726m. This was brown, peaty, grassy terrain, noticeably different from the iconic coumed plateau that lay ahead. In essence I was getting the dull stuff out of the way and preparing for the wonderful plateau.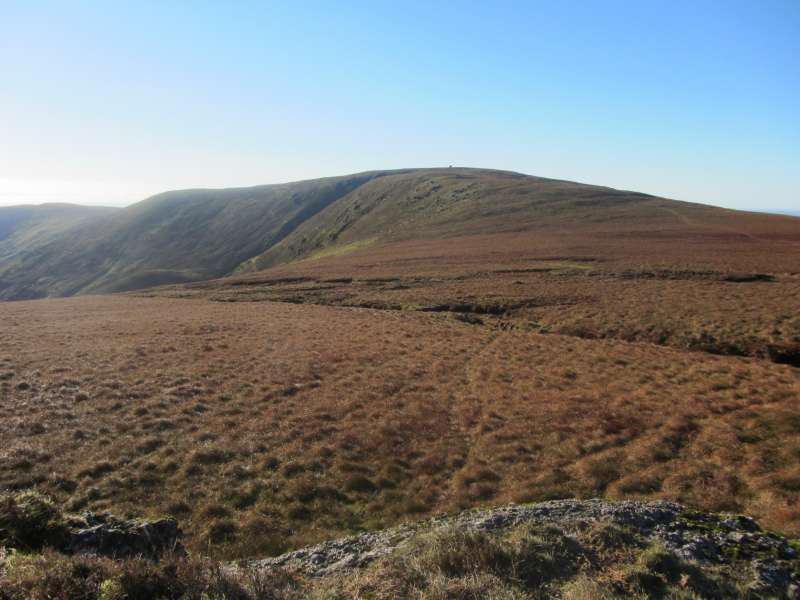 The Plateau
The Comeragh Plateau is like a one huge table mountain with significant bites missing. Walking the rim of this table gives really great views of the coums and their lakes, and the luxurious farmland below. Although it was sinful to shoot about so quickly, I will never forget the cyrstal clear light, the blue skies of early winter, and the magnificent views.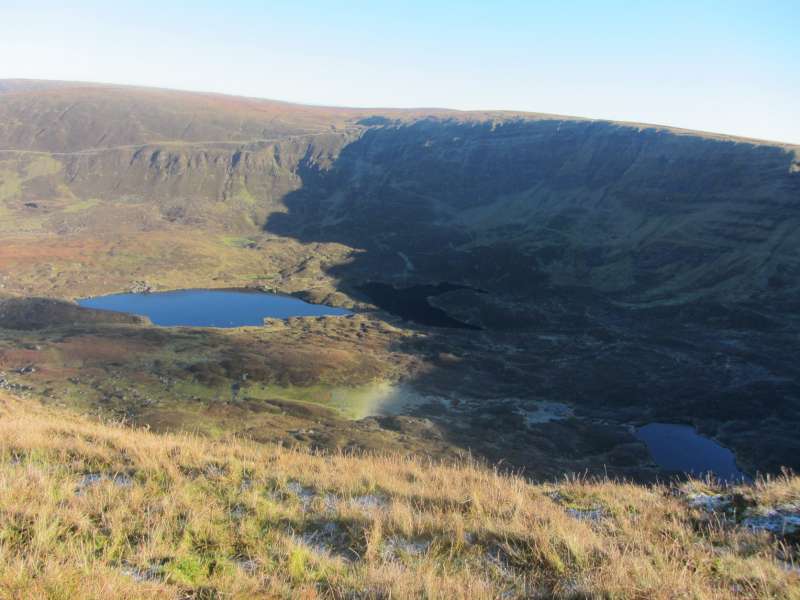 Regrets?
I was still in my "nothing but Arderins" phase and simply ignored Knockaunapeebra, an undisputed Vandaleur Lynam. But in fact it is great to have an excuse to go back up there, some fine day, to complete my VL list. 
Guess the Coum