Welcome to MountainViews
If you want to use the website often please enrol (quick and free) at top right.
For more map options click on any overview map area or any detail map feature.
Find Suggested Walks

Find hill, mountain, island, coastal feature.
Videos

Recent Contributions

Get Notifications

Iveragh NW
Area
SW: Skelligs
Subarea
Place count in area: 18,
OSI/LPS Maps: 83, 84
Highest place:
Knocknadobar, 690m
Maximum height for area: 690 metres,
Maximum prominence for area: 565 metres,
Places in area Iveragh NW:
Cen: Cahirsiveen:
Beenduff 479m
Beentee 376m
Foilclogh 497m
N: Castlequin:
Castlequin 361m
N: Killelan:
Killelan Mountain 275m
N: Knocknadobar:
Kells Mountain 633m
Kells Mountain East Top 612m
Knocknadobar 690m
Knocknadobar North Top 602m
SW: Ballinskelligs:
Bolus 410m
Killurly 331m
SW: Portmagee:
Formaoil 206m
Knocknaskereighta 395m
Puffin Island 159m
SW: Skelligs:
Skellig Rock Little 131m
Skellig Michael 217m
SW: Valentia:
Bray Head 239m
Geokaun (Valentia Island) 266m
Note: this list of places includes island features such as summits, but not islands as such.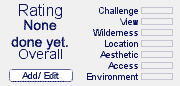 Skellig Rock Little
Hill
An Sceilg Bheag
A name in Irish
, also
Small Skellig
an extra name in English
Ir. An Sceilg Bheag [GÉ], 'the little rock'
Kerry
County
in Munster
Province
, in

Binnion, Irish Islands

Lists
, Red conglomerate, sandstone & mudstone
Bedrock
Reachable "On Foot " Y
Height:
131m
OS 1:50k

Mapsheet: 83
Grid Reference:

V269

00

617

00
Place visited by
2
members.
Recently by:

finkey86

,

DavidWalsh
Island visited by
4
members.
I have visited this place:
NO
(You need to be a logged-in member to change this.)
I have visited this island:
NO
(You need to be a logged-in member to change this.)
Longitude: -10.509066, Latitude: 51.781367
, Easting: 26900, Northing: 61700
Prominence: 131m

, Isolation: 2.5km
ITM: 4268

88

5617

64
, GPS IDs, 6 char: SklgRc, 10 char: SklgRckLtl
Bedrock type: Red conglomerate, sandstone & mudstone, (Old Red Sandstone (undifferentiated))


Small Skellig is home to nearly 70,000 gannets,making it the second largest gannet colony in the world. It is a statutory nature reserve. The public is not permitted to land on the island and there is no public access. The word sceilg is probably an early alternative form of speilic, both derived from Latin spelunca, 'cave, den', a word sometimes applied to hermit's dwellings. The change sp- > sc- probably occurred in the early Christian period when Irish had no native words with p, cf. Ir. Cáisc, 'Easter', < Latin Pascha. It is no coincidence that two of the best known and earliest recorded instances of sceilg are at 6th century monastic sites with hermitages, namely Skellig Michael and Templenaskellig near St. Kevin's Bed at Glendalough. An Sceilg Bheag is the 1492th highest place in Ireland. An Sceilg Bheag is the second most southerly summit and also the second most westerly in the Iveragh NW area.
Linkback: https://mountainviews.ie/summit/1366/
COMMENTS for Skellig Rock Little (An Sceilg Bheag) of 1

Follow this place's comments