New Hill-Name Information at MV - August 2008
Paul Tempan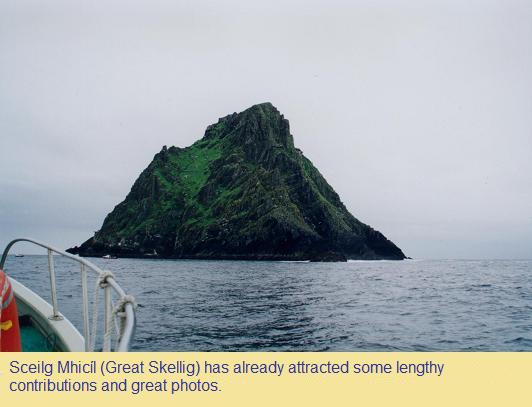 The recently expanded list of Irish summits at Mountain Views, now including significant hills below 400m, has attracted considerable interest. Some newly added peaks, such as Slieve na Calliagh in Co. Meath (site of the Loughcrew archaeological complex) and Sceilg Mhicíl (the remote, rocky island of Great Skellig in Co. Kerry) have already attracted a good number of contributions. For some time now I've working as part of a community of volunteers helping Simon Stewart to expand and improve the list of summits on Mountain Views. When working on providing place-name information for the peaks over 500m, it was often a challenge to find Irish forms for some of the lesser-known peaks. As we have included more hills in the list, first in the 400-500m height range and now below 400m, the nature of the work has changed: the challenge with the lower peaks was often to find any name at all, English or Irish!
If a summit is unnamed on the OSI Discovery or OSNI Discoverer 1:50,000 series map, the first step is to check the OS 6" to a mile map. Craigcannon in NW Donegal and Knockomagh in W Cork are just two of the names ascertained in this way. The Ordnance Survey Memoirs provided some other names, such as Clondermot Hill near Derry, which is nameless on maps, and Slievetrue near Carrickfergus, which, oddly enough, is marked as Carn Hill on the OSNI Discoverer map.

An excellent new online database Bunachar Logainmneacha na hÉireann / Placenames Database of Ireland (www.logainm.ie), has been developed by Fiontar (an Irish language business unit at DCU) and An Brainse Logainmneacha / the Placenames Branch. This provided Irish forms for a good number of hills which previously lacked them, such as Carn Clainne Aodha ('cairn of Clann Aodha or the children of Hugh'), the Irish name of Corn Hill in Co. Longford.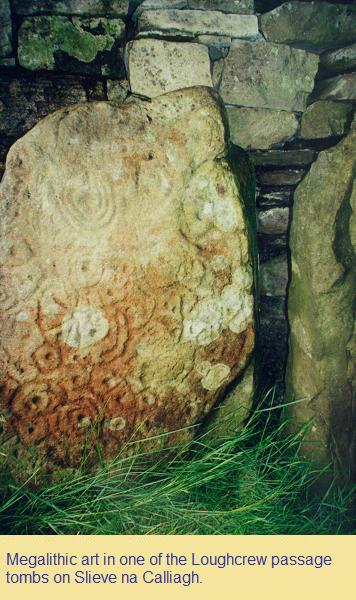 A variety of sources, particularly books and articles on local history, were used to tackle those peaks which remained nameless. The names Collon Hill (in South-East Wicklow) and Carranarah (near Foxford, Mayo) were found in James Fraser's Hand Book for Travellers in Ireland (1844) and then confirmed from other sources. The name Krinnuck in Mayo was found on William Bald's excellent map of the county (1830), and confirmed in the bilingual walking guide to Achill and Corraun, Siúlóidí Acla, which also gave the Irish version as Cruinneoc, 'little round one', a very apt name as you'll see if you look at the perfect contour rings on the map.


Inevitably, a hardcore of hills still resisted attempts to find names for them. These have usually been dealt with by naming them after the nearest townland as an interim measure, and in this situation information and local knowledge on the name of the hill itself has been requested from MV members, as in the cases of "Cashloura" and "Coolsnaghtig" near Dunmanway in Cork.


Looking to the future, we plan to make pronunciations of the hill-names available on MV as sound files, and to this end I have been working on finalising the place-name information, and particularly the Irish forms, for the counties of Mayo and Galway. Mayo is a particularly difficult area, as, more than any other part of Ireland, many hills are unnamed on OS maps. Take Corranabinia, for example, which at 716m is probably the highest major Irish peak to be unnamed on the Discovery series. In August 2007 I wrote wistfully in Motley Views that it seemed likely we would have to continue using 'names of convenience' (derived from townland names or other nearby named summits, e.g. Ben Creggan South Top) for a number of peaks in Mayo, as elsewhere, "pending the discovery of some other source which will provide authentic names in local use, now or formerly."

William Bald's map, which I mentioned earlier, is almost exactly the source I dreamed of finding for Mayo. It has recently been made available online by Mayo County Library: www.mayolibrary.ie/en/LocalStudies/MayoMapsOnline/bald/index.htm . It is described as follows on the website: "The publication of the map aroused a certain amount of controversy locally because of what was perceived as being its exorbitant cost - £6372, which was a considerable sum in 1830. However it is considered to be the finest example of Irish cartography prior to the Ordnance Survey maps. Apart from the detailing of the physical features, a very important aspect of the map from a historical perspective, is the fact that it contains nearly 5,000 place-names." Bald's map, has enabled me to find names for about 15 peaks in Mayo. If only the equivalent existed for every county!

There are still plenty of interesting lower peaks that remain uncommented in MV, such as Krinnuck on Achill and Cnoicín an tSeabhaic on Clear Island, so go explore!



MountainViews.ie <<< Return to resource view page.