on Mountain Views
Mountain name research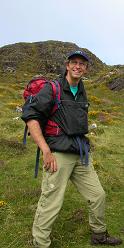 If you are a regular user of MV you may have noticed recently that Irish forms of mountain names and meanings have been provided for the majority of peaks in the database. In addition, a few changes have been made to the English/anglicised forms of individual summit names and of names of ranges, while there has also been some restructuring of the ranges. Why have these changes been made and where has this information come from?
The new list of peaks is the result of a collaboration over the last 3 years between Simon Stewart and myself. I have been carrying out research into Irish hill and mountain names for the last 6 years and in 2004 I completed an MA dissertation on this subject at Queen's University Belfast. My dissertation focussed mainly on some common generic elements found in Irish mountain names, particularly cnoc, sliabh, binn, cruach and mullach. However, for the purposes of my research it was necessary to compile to an extensive database of Irish hill and mountain names. This database includes more than 1,050 names and I have continued developing the database since completing my Master's Degree. I hope that my full database will be widely available in the not-too-distant future as I have plans to write a book on the topic.
The fields in the database include the following: name(s) in English (including anglicised name-form); name(s) in Irish; meaning of the Irish name(s) (where available from reliable sources); generic element; syntactic structure; height; 7-figure grid reference; province; region; county; barony; parish; notes (discussion of name(s), folklore, etc.). It is the name(s) in Irish and their meanings which are of particular interest to users of Mountain Views.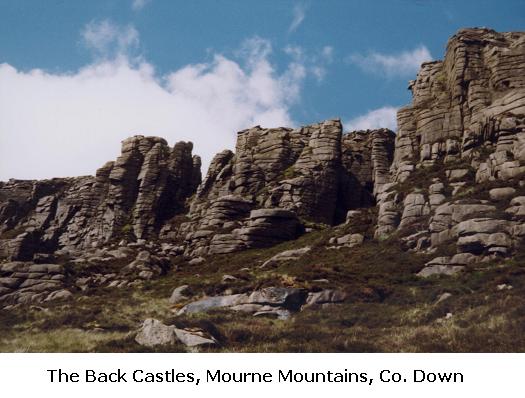 Although Irish place-names have been the object of a wealth of research and the study of place-names is valued more highly in Irish culture than in many other cultures, it cannot be denied that this research has focussed primarily on habitative names (e.g. towns and townlands) at the expense of topographical names (e.g. mountains, glens and lakes). Dr. Mícheál Ó Mainnín of Queen's University Belfast observed in 1994: "of all the place-names which have been subjected to the attention of scholars in the last 100 years it seems to me that those of physical features have been the most neglected." With the rise of hill-walking as a leisure activity in Ireland over the last few decades, there has been increased interest in the names of the summits, glens, loughs, rocks, passes and all the other topographical features which you are likely to encounter on a walk in the hills.
Irish names
The most important source for Irish forms was the Discovery (1:50,000) series of maps for the Republic of Ireland. Irish forms are not given on the equivalent Discoverer Series which covers Northern Ireland. However, even in the Republic many hills are named in English only. Broadly speaking, it is the peaks located in the Gaeltacht and major peaks elsewhere for which an Irish version is given.
A variety of sources was used in the remaining cases to establish the Irish form: authoritative place-name works, e.g. Gasaitéar na hÉireann and Liostaí Logainmneacha by the Place-Names Branch of the Ordnance Survey (now An Brainse Logainmneacha); Place-Names of Northern Ireland by members of the Northern Ireland Place-Name Project; A Dictionary of Ulster Place-Names by Patrick McKay; Place Names of County Wicklow by Liam Price; Tríocha Chéad Chorca Dhuibhne by 'An Seabhac' (Padraig Ó Siochfhradha); Toponomia Hiberniae by Breandán Ó Cíobháin (covering the baronies of Dunkerron North and Dunkerron South in South Kerry); The Place-Names of Decies by Canon Patrick Power and Connemara by Tim Robinson.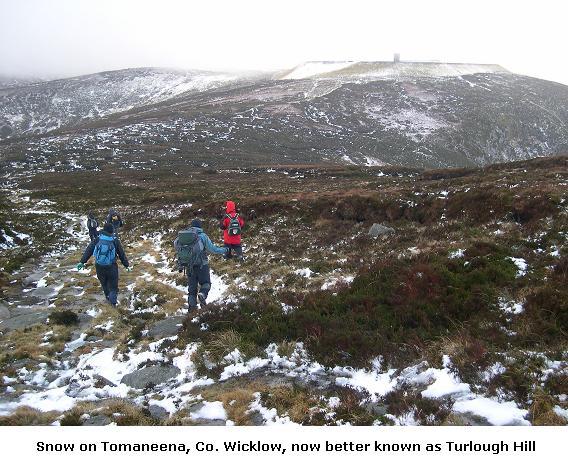 However, for about one third of the entries in my database no Irish name could be obtained from reliable sources. Often an intelligent guess could have been made at the Irish form based on the English or anglicised form, but I avoided doing so unless the elements were very common, as the correct form can only be reliably ascertained by an examination of earlier documented forms. Where an Irish form has been proposed without access to historical forms, I have flagged these as 'probable'.
For the same reason I have avoided relying on walking guides for place-name information. The interpretation of place-names in such guides is of very inconsistent quality and is often based on guesswork rather than the examination of documented early forms. There are some notable exceptions, such as Seán Ó Súilleabhán's Walk Guide: South-West of Ireland, which shows a keen understanding of language, lore and place-names.
The data has mainly been gathered from secondary sources such as the place-name surveys mentioned above and from local history books. I did not carry out a programme of primary research, e.g. by interviewing local informants to establish the current names, their pronunciation and their interpretation, as this would have been beyond the scope of the dissertation. In any case, I maintain that the most pressing task in the study of names of physical features in Ireland today is to gather together and present in an accessible form the existing material currently scattered across a wide variety of sources. However, in some instances I have collected local information since finishing the dissertation which has provided useful evidence for or against a particular interpretation. I would be very interested to hear from readers who have alternative names or information, such as local lore or pronunciations, which may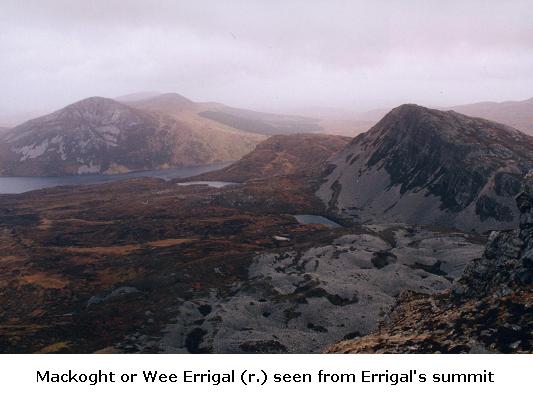 throw light on the more obscure names.
You may be wondering why I refer only to Irish and anglicised forms of names. After all, some Irish place-names are of Norse, English or Scots origin, so why are these languages not mentioned? The short answer is that, by and large, the names of Ireland's mountains have remained Irish as these are the areas which have seen the least population influx over the centuries. The Norse names refer almost exclusively to ports and other coastal features. Some Scots names are found among the minor hills of Ulster, such as Scawt Hill in Co. Antrim, but none are high enough to make the current list of 500m peaks, unless one counts Mackoght in Donegal, also known as Wee Errigal (the first element being Scots). However, as MV expands its list to include more of the minor hills, it will include some more peaks, such as Bessy Bell and Mary Gray (both Co. Tyrone), whose modern names have a Scots origin. A few mountain names appear to have been coined in English, such as Purple Mountain in Co. Kerry, first recorded in the 19th century, but this is very much the exception to the rule among the major peaks.
Meaning
The meaning given is that of the Irish name. Note that in some cases the English name may bear no relation to the Irish name quoted, even where it is obviously an anglicised form of an Irish name. Thus, under the entry for Slievanea (Central Dingle) the meaning "mountain of the smooth plain" relates to the Irish name Sliabh Macha Ré rather than the anglicised name 'Slievanea'. Where the meaning is not immediately evident from the Irish form, only reliable works on place-names have been quoted.
Incorporating data into Mountain Views
In order to integrate the data into the MV database, it was necessary to go through the time-consuming process of matching the peaks in the two lists by name and/or grid reference. Simon's list was drawn from several sources, including a list compiled by Joss Lynam. Not all of Simon's peaks were on my list, and vice versa. A little extra research was therefore necessary to provide Irish froms and meanings for the
whole MV list.
A few points should be made about the principles used in compiling this new place-name information. Firstly, where the English name identifies a peak as a satellite of another, e.g. Crockfadda North-East Top, no Irish form has been provided. Crockfadda itself is explained as Cnoc Fada in the entry for the main summit. The Gaelgeoir will be able to devise asuitable name from this, such as An Mullach Thoir Thuaidh de Chnoc Fada, if s/he so wishes. Secondly, the source used for a particular name appears in abbreviated form after the Irish form. A key to the abbreviations is given below. My own suggestions bear my initials: [PDT]. Finally, in a few instances the word 'mountain' has been dropped from the name of the peak where there was evidence that the Ordnance Survey forms conflicted with common usage. For example, the forms 'Mangerton' and 'Brandon' have been preferred to the official 'Mangerton Mountain' and 'Brandon Mountain', where the second element is somewhat redundant. On the other hand, 'Brockagh Mountain' in Wicklow has been left unaltered, as 'Brockagh' on its own would refer to the townland of this name rather than the peak.
Discussion of name
In some cases explanatory notes have been added to the Irish form and meaning. Historical and legendary references are sometimes included. So far, this has only been done consistently for two ranges: the Mournes and the Twelve Bens of Connemara. Over time this will be added to for all the peaks on the list.
Other changes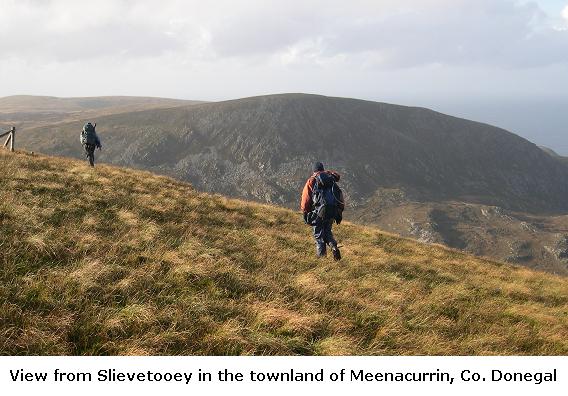 In a few cases the English/anglicised name of a peak has been changed. For example, the Donegal mountain previously listed as 'Meenacurrin' has been renamed 'Slievetooey', as the former is merely a townland name. The error had arisen because the name 'Slievetooey' appears on the Discovery map some considerable distance from the summit. The peak formerly listed as 'Teermoyle Mountain' (Co. Kerry) has been given its correct spelling 'Teeromoyle Mountain' as it is derived from a townland of this name. The townland is spelt correctly but the mountain incorrectly on the Discovery Series.
The names of some ranges have been altered: 'Sheefry Mountains' has been altered to 'Sheeffry Hills' (with 2 Fs). The word 'mountains' has been dropped where redundant, particularly if the name already contained the word 'slieve' < Ir. sliabh, ("mountain or range of mountains"). Thus 'Slieve Mish Mountains' has been replaced with 'Slieve Mish'. In some cases name changes have been combined with re-structuring. The group formerly listed as 'Sligo Mountains' has been divided in two. The north-western half has been named 'Dartry Mountains', as this is the traditional name for the group including Benbulbin and Truskmore, and the name is still in use locally. The south-eastern half has been amalgamated with the former 'Cuilcagh Mountains' group to create a new group named 'Breifne', an ancient name - also still current - for this region including parts of Counties Leitrim and Cavan.
Contribute!
Contributions on mountain names from MV users would be welcome. Do you know of alternative names, folklore or pronunciations which may help in the interpretation of mountain names? There are still several peaks in the MV list which are listed under the name of a townland or nearby valley (e.g. Tawny Rower in the Sheeffry Hills, Coomcathcun in Iveragh, etc) because no evidence has yet been found for a hill-name. If you are aware of a name for one of these peaks which is in use locally, we would like to hear from you and we will consider a change of name. Information provided by several MV users has already been included in the latest batch of data.
Key to Abbreviations for Place-Name Sources
AMacAB Unpublished notes on the element sliabh in Irish Place-names - Alan Mac An Bhaird
DUPN A Dictionary of Ulster Place-Names - Patrick McKay
GE Gasaitéar na hÉireann - Ordnance Survey of Ireland
HU A Hidden Ulster - Pádraigín Ní Uallacháin
IPN Irish Place Names - Deirdre Flanagan and Laurance Flanagan
JOK James O'Kane - article on placenames of Inishkeel and Kilteevoge parishes in Zeitschrift für Celtische Philologie
LL Liostaí Logainmneacha - An Brainse Logainmneacha. Available for counties Limerick, Louth, Waterford and Monaghan, Offaly and Tipperary.
MD Metrical Dindshenchas - edited by Edward Gwynn
OG Onomasticon Goedelicum - Edmund Hogan
OSI Ordnance Survey of Ireland maps (usually from the Discovery Series, 1:50,000, unless otherwise stated)
OSM Ordnance Survey Memoirs
OSNB Ordnance Survey Name Book - with Irish versions mainly proposed by John O'Donovan
PDT Suggested Irish version proposed by Paul Tempan in the absence of other published sources
PND Place-Names of Decies - Canon Patrick Power
PNCL Place-Names of Co. Leitrim - Rev. John Pinkman
PNCW Place-Names of County Wicklow - Liam Price
PNNI Place-Names of Northern Ireland - published by the Institute of Irish Studies, Queen's University Belfast, esp. volume III (The Mournes) by Mícheál Ó Mainnín.
SOD Dinnseanchas na gCruacha - Seoirse Ó Dochartaigh
TCCD Tríocha-Céad Chorca Dhuibhne - An Seabhac (Pádraig Ó Siochfhradha)
TR Connemara, map and gazetteer - Tim Robinson
T6000 map of Beara by Eoghan Ó Súilleabháin in Tuosist 6000
UR Logainmneacha Uíbh Ráthach - An Seabhac (Pádraig Ó Siochfhradha)
An asterisk (*) after the source abbreviation indicates that the Irish version provided here is not exactly the form in the source quoted. The usual reason for this is that the source gives a form in dialect or in Classical Irish, whereas the version provided here has been adjusted to conform to standard modern Irish.
A cross (†) after the source abbreviation indicates that the version provided here is inferred from a related name in the source cited.
Note that the English translations of the meanings are not necessarily those offered in the works cited. These have been modified in some cases to standardise and/or improve them.
PDT 2006.